Lashkar-e-Jhangvi al-Alami: A Pakistani Partner for Islamic State
Publication: Terrorism Monitor Volume: 15 Issue: 2
By: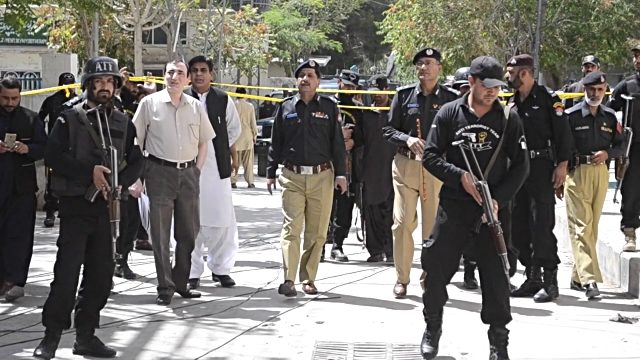 Among the terrorist attacks that shook Pakistan last year, three jointly claimed incidents made clear that a branch of the Pakistani terrorist organization Lashkar-e-Jhangvi (LeJ) has formed an alliance with Islamic State (IS), one  that is proving worryingly beneficial to both organizations.
While there has been no pledge of allegiance to IS leader Abu Bakr al-Baghdadi, LeJ al-Alami, a faction of the broader LeJ network, claimed joint responsibility with IS for three mass-casualty attacks, all in Baluchistan province — two in Quetta district and one in Khuzdar district (Geo TV, October 6, 2016). On August 9, a suicide attack in Quetta killed 70 civilians, most of them lawyers, at a legal protest, while an attack on a police college in October saw 60 cadets killed (al-Jazeera, October 25, 2016). In November, a suicide attack on a Sufi shrine in the Khuzdar district of Baluchistan province killed 52 people and injured more than 100 others (Express Tribune, November 13, 2016).
The new partnership has given IS a greater platform in Pakistan and potentially reinvigorated the ailing LeJ, which has been significantly degraded over the years by Pakistani counter-terrorism efforts.
The Evolution of LeJ al-Alami
LeJ is at heart a Sunni-Deobandi supremacist group, intending to transform Pakistan into a Sunni caliphate. This goal is similar to that of international jihadist organizations like al-Qaeda and Islamic State (IS), albeit on a less ambitious and more regional scale. LeJ developed strong bonds with al-Qaeda in Taliban-ruled Afghanistan between 1996 and 2001, when scores of LeJ militants received instruction at al-Qaeda-run training camps in the country.
LeJ was established as a centralized group that spun out of its mother organization Sipah-e-Sahaba Pakistan (SSP), following the assassination of founder Haq Nawaz Jhangvi in 1991. The leaders of SSP — Mailk Ishaq, Riaz Basra and Akram Lahori — founded and ran LeJ, then based in Pakistan's Punjab province. They carried out attacks against the Shia community, assassinating prominent Shias and orchestrating suicide attacks on Shia processions.
As a result of its links to al-Qaeda, after the start of United States' so-called War on Terror, LeJ faced a crackdown by the Pakistani state, which fragmented and decentralized the organization. This resulted in the establishment of a number of cells and factions, including LeJ al-Alami.
Under New Management
The leader of LeJ al-Alami is Yousaf Mansoor Khurasani (a.k.a. Syed Safdar Shah). Thought to be a resident of Karachi, little is known about Khurasani, although police sources say he was at one point briefly in their custody.
Khurasani previously worked with LeJ's different factions in Karachi and appears to be a frequent visitor to neighboring Afghanistan, where he has developed links with leaders of other jihadist organizations. He played a pivotal role in organizing and coordinating a meeting of eight different TTP factions in Ghazni, Afghanistan, in November 2016 (Geo TV, November 15, 2016).
Khurasani appears to represent a younger generation of LeJ leaders who have gained prominence as many of the LeJ old guard have either been arrested or killed in encounters with police. The long-standing LeJ chief, Malik Ishaq, was killed in July 2015, along with his two sons and 11 other high-profile leaders, during a firefight with police when gunmen allegedly tried to free him from arrest (Dawn, July 29, 2015). Another high-profile LeJ leader, Usman Kurd, was also shot dead in a police "encounter" in February 2015, while two other LeJ leaders, Asif Choto and Naeem Bokhari, were arrested and most of the members of their cells killed (News International, February 17, 2015).
'Working Relationship'
Although LeJ adheres to the Deobandi school of thought, rather than IS' Salafi sect, their shared sectarian hatreds are a binding force. IS' hardline anti-Shia and anti-Sufi stance makes it a natural fit for LeJ al-Alami. The group's alliance with IS, however, is informal. It has never pledged allegiance to IS, and LeJ al-Alami is not considered one of the 43 Islamist terrorist organizations that form part of IS' broader global network of more than 30 wilayat (provinces)(TSG IntelBrief, May 27, 2015; IntelCenter, December 2015).
According to Azaz Syed, an Islamabad-based security analyst, LeJ al-Alami wants to maintain a "working relationship" with IS, assisting in its sectarian and anti-government operations in Pakistan, but not in recruiting for IS. [1]
This arrangement, a kind of joint venture, is of benefit to IS as its operations in Iraq and Syria come under pressure. LeJ is one of the best-established terrorist organizations in Pakistan, maintaining a strong and widespread network of Deobandi madrasas across the country. Access to that network will be useful to IS if, as it appears, the group has plans to broaden its own network in the country.
The relationship is practical for both sides. IS is in a better position to back the group financially than al-Qaeda and, according to a senior officer with the Counter Terrorism Department (CTD) of the Sindh police who spoke on condition of anonymity, members of IS' Khurasan chapter in Afghanistan's Nangarhar province have joined LeJ al-Alami's ranks, alongside militants from the Tehreek-e-Taliban Pakistan (TTP). [2]
According to the CTD officer, although LeJ members had a deeper attachment to al-Qaeda than IS, the killing of Osama bin Laden in May 2011 lowered the group's morale and pushed many of its members to join IS.  The officer also noted that the militants arrested for the 2015 Safoora Goth massacre — extremists gunned down 45 members of the Ismaili community on the outskirts of Karachi — had progressed through membership of different militant organizations, moving initially from LeJ to al-Qaeda and eventually to IS.
Fears for the Future
The jointly claimed attacks suggest IS does not yet have the capability to perpetrate the act of terrorism and relies on LeJ al-Alami's network on the ground.
Meanwhile, the influence of IS on LeJ al-Alami is clear from the group's violent tactics. All the attacks claimed by LeJ al-Alami have involved mass civilian casualties.
That suggests the younger generation of LeJ militants may be intent on unleashing a new wave of Islamist violence on Pakistan in association with IS. The partnership with IS may yet reinvigorate the broader LeJ network across Pakistan under a younger, more adaptable and more ruthless leadership.
NOTES
[1] Author interview with Azaz Syed, an Islamabad-based senior security analyst and journalist (January 2, 2017).
[2] Author interview with a Karachi-based senior police officer from the Counter Terrorism Department of Sindh police (December 3, 2016).