Western Balkans Struggles With Returning Militants and Religious Identity
Publication: Terrorism Monitor Volume: 15 Issue: 2
By: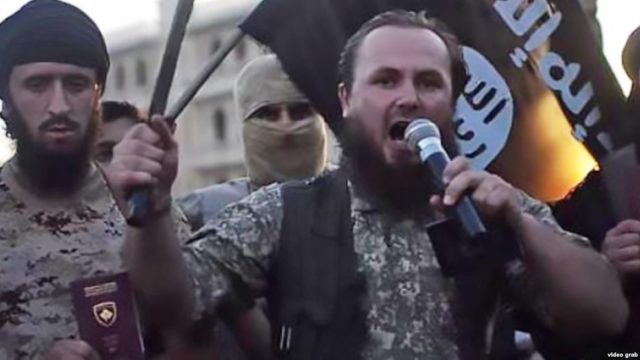 Coalition bombing campaigns against Islamic State (IS) strongholds in both Syria and Iraq have degraded the group's military capabilities and reduced its territory. However, as these losses continue, the group is expected to increase its engagement with former combatants who have returned to their home countries. The countries in the Western Balkans are no exception in this regard.
More than 1,000 citizens from the Western Balkans joined the group, mainly from majority-Muslim populations, such as Albania, Kosovo and Bosnia-Herzegovina, as well as minority Muslim communities residing in Serbia, Montenegro, Croatia and Macedonia (see Terrorism Monitor, June 24, 2016). As the conflicts in the Middle East have shifted, the numbers of foreign fighters joining IS from the Balkans is believed to have decreased since 2015 (Balkan Insight, August 11, 2016). Some attribute this decline to government policies aimed at countering violent extremism, while others consider it a result of stronger security measures (see Terrorism Monitor, June 24, 2016).
Recent events in Albania and Kosovo, however, have poured cold water on just how effective either of these strategies has really been.
Lavdrim Muhaxheri
In November 2016, security forces in Albania and Kosovo thwarted an attempted large-scale attack targeting the Israeli national soccer team during a World Cup qualifying match in Shkodër, northern Albania's second largest city (Gazeta Express, November 9, 2016). Information about the attack reportedly came from online conversations between Lavdrim Muhaxheri, a Kosovar-Albanian militant, and a number of his followers, intercepted by Israeli intelligence.
Muhaxheri, an important IS leader for many ethnic Albanians who have joined the group but remain based in Albania and Kosovo, first appeared on the jihadist scene in 2014, when he posted pictures of himself on social media beheading a man and called on Albanian Muslims to join IS. Several (apparently false) reports surfaced of his death on the battlefield in Syria, but later images of him in different IS propaganda videos have raised questions about his exact whereabouts and his role within IS ranks (see Militant Leadership Monitor, August 31, 2014).
Over the past year, several local media reports have alluded to his return to the region, including a recent report from L'esspresso, an Italian news agency, which suggested Muhaxheri had returned to his hometown, Kaçanik, along with 400 former IS fighters from Syria and Iraq (L'esspresso, December 26, 2016). All of these reports have been repeatedly denied by Kosovar authorities and by local experts, who say there is no credible evidence to support them (Gazeta Express, January 4).
Adrian Shtuni, a senior foreign policy and security analyst with a regional focus on the Western Balkans, currently based in Washington, DC, commented: "The fact that they [the media reports] mention only an unspecified source means the news is little more than speculation, similar to ones we've seen before published in other media outlets. In my estimate, the return of Muhaxheri to Kosovo, while not impossible, is unlikely at this time." [1]
Failed Attack
The intercepted conversations, supposedly with Muhaxheri, related to the smuggling of explosive material into the Loro Boriçi stadium in Shkodër, where the soccer teams were scheduled to play (Gazeta Tema, November 10, 2016). Counter-terrorism police operations arrested four key alleged organizers in northern Albania, including an Albanian former military officer who had served in Iraq, a self-proclaimed imam from Dibër, a barber from Shkodër and a doctor from the Highlands of northern Albania (Gazeta Tema, November 10, 2016; Panorama, November 11, 2016).
In addition, over 170 individuals from at least five regions across the country were detained and questioned in connection to the attempted attack. Media reports suggested more than 30 of those detained were returning former combatants from the war in Syria, while others were supporters of IS known to Albanian intelligence authorities. Kosovo's authorities similarly arrested seven individuals allegedly linked to the attack (Panorama, November 13, 2016). The soccer match, meanwhile, was rescheduled to take place in Elbasan, a town an hour away from Albania's capital.
Although government officials in Albania and Kosovo were quick to capitalize on the successful prevention of what appears to have been intended as a major attack, the operation also demonstrated the security agencies' weaknesses. As events in Shkodër gained traction in the local media, heightened security measures were put in place.  In addition to the over 1,000 Albanian police already on site, Israeli Special Forces were deployed to Elbasan (Balkan Web, November 13, 2016). The move was controversial, with Albanian commentators asking why their country, a NATO member state and a contender to join the European Union, had handed almost full control of its domestic security measures to Israeli Special Forces (Shekulli, November 11, 2016).
Security Risks
The incident also highlighted the risk posed by returning former IS fighters to national and regional security, as well as the underpinning networks that exist between cells in both Albania and Kosovo. According to a recent study by the U.S. Institute of Peace, "an estimated 140 Kosovan nationals were still in the conflict theater as of May 2016." The report also notes that as many as 117 people have returned from the frontlines. [2]
Although police and security operations have proved effective at arresting key operatives and recruiters of ethnic Albanians, counter-terrorism measures have proven less effective at combating the ideological messaging of the group (see Terrorism Monitor, June 24, 2016).
The hundreds of ethnic Albanians who continue to fight alongside IS frequently display their support on social media and on Albanian-speaking groups on encrypted Telegram channels, such as Minarja e Bardhe (The White Minaret). The group was previously banned from Facebook, but its content and that of other online publications remain widely accessible. In addition to social media, personal interactions, family and other kinship ties remain strong drivers of radicalization.
Developing Religious Identity
While interreligious harmony has been an integral component of Albanian society, the increasing influence of Salafist and Wahhabist ideologies has led to a shift in views and attitudes, causing rifts between community leaders. A recent study conducted by the Kosovar Institute for Policy Research and Development, based in Pristina, looked into how religion affects identity among Kosovar Albanians. According to their findings, there has been a visible shift in identity away from ethnicity and toward religious observance. A significant percentage of respondents defined themselves as "Muslims first and then Albanian," something the author of the study describes as a shift from the "so-called language nation, to a religious ethnic society." [3] These dynamics are similarly highlighted in other analyses, whereby new religious influences are believed to have "planted the seeds of a new group identity shaped in the mold of political Islam that gradually came into fruition with the galvanizing effect of the armed conflict in Syria and Iraq." [4]
This has had some troubling manifestations in everyday life. As 2016 drew to a close, numerous Islamist preachers and social media sites called on Albanian Muslims throughout Kosovo and Macedonia to refuse to celebrate Christmas and New Year's Eve, defining them as "pagan" celebrations that go against Islamic teachings. [5] Hundreds of pamphlets were similarly seen in the streets of major cities delivering the same message.
This sets a worrying precedent for Albanian Muslims as Albania has historically upheld peaceful interreligious relations between Christians and Muslims as a building block of national identity.
NOTES
[1] Author interview with Adrian Shtuni (January 7).
[2] "Dynamics of Radicalization and Violent Extremism in Kosovo," by Adrian Shtuni, U.S. Institute of Peace, Special Report (December 19, 2016). Available here.
[3] "What happened to Kosovo Albanians: The impact of religion on the ethnic identity in the state-building period," by Lulzim Peci, Kosovar Institute for Policy Research and Development (June 2016), available here.
[4] "Dynamics of Radicalization and Violent Extremism in Kosovo," by Adrian Shtuni, U.S. Institute of Peace, Special Report (December 19, 2016). Available here.
[5] Minarja e Bardhë, available here; E vërteta e qartë, available here.