GUAM REVIVAL SUMMIT INCONCLUSIVE
Publication: Eurasia Daily Monitor Volume: 2 Issue: 80
By: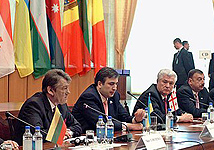 Presidents Mikheil Saakashvili of Georgia, Viktor Yushchenko of Ukraine, Ilham Aliev of Azerbaijan, and Vladimir Voronin of Moldova — the GUAM group of countries — took part in the group's summit in Chisinau on April 21-22. Presidents Valdas Adamkus of Lithuania and Traian Basescu of Romania led observer delegations to the summit. The United States was officially represented, but the European Union was not.
Expectations that the event would reanimate the long-dormant GUAM (see EDM, April 20, 21) were only partially borne out. Advance preparation of final documents at the staff levels and coordination of policy positions at the top levels turned out to have been inadequate on some major points, leaving some gaps in the final declaration, the authorized text of which was not immediately available. Ukrainian National Security and Defense Council Secretary Petro Poroshenko prevailed upon President Yushchenko to use this multilateral event to launch a unilateral Ukrainian initiative regarding the Transnistria conflict. The controversial move diverted summit and media attention away from GUAM's agenda, necessitated a time-out, and prevented the adoption of a GUAM statement on conflict-resolution.
Nevertheless, the concluding "Chisinau Declaration on Democracy, Stability, and Development" reflects a breakthrough in GUAM's view of its mission and prospects. It states that member countries would pool efforts "to advance democratization of society in member countries, their integration into Europe, and their partnerships with NATO and the United States." And it solicits international support for the withdrawal of Russian forces from Georgia and Moldova. Describing secessionist conflicts, ethnic cleansing, and seizures of territory perpetrated against GUAM member states as offenses to European values, the declaration calls for conflict-resolution with international support and on the basis of international law. The document envisages (for the first time in the group's eight-year history) "close political-military cooperation, including for peacekeeping operations" and calls for earliest possible implementation of the GUAM Free Trade Agreement (signed in 2002 and subsequently ratified, but not implemented by member countries).
Opening the summit as its host, Voronin described the regional context as one characterized by "growing interest on the part of the main international organizations and global players toward the Black Sea region, as well as an irreversible course toward European integration, encompassing the GUAM countries." In this context, Voronin cited the GUAM countries' common view that "the old mechanisms of conflict-resolution have proven their ineffectiveness and can no longer be used" (a reference mainly to the Russia-dominated, OSCE-blessed formats).
Saakashvili spoke of a third wave of democratic liberation, now reaching the broader Black Sea region, following the first wave in Central and part of Eastern Europe post-1989, and the second wave that saw NATO and EU enlargement from the Baltic to the western Black Sea. Saakashvili defined GUAM as a common vehicle for member countries to express their European aspirations. He called for the removal of Russian military bases from Georgia and Moldova, countries that are "no longer parts of an empire. Not a single base can be located in another country against its will."
Yushchenko took the lead in calling for GUAM's transformation from an informal group into a fully-fledged regional organization for democracy, economic development, and regional security. He termed the creation of a GUAM Free Trade Zone the highest for GUAM in the short term; called for coordinating this GUAM project with the European Union; and proposed the creation of GUAM peacekeeping units for UN- or OSCE-mandated missions.
Aliev remarked that GUAM countries are united by their participation in the U.S.-led anti-terrorism coalition and in NATO Partnership for Peace programs, as well as "our common pain from the frozen conflicts, which do not allow us to develop and prosper." Aliev proposed that GUAM countries work out a common, uniform approach to conflict-resolution, based on the notion that "these conflict have the same roots," which he went on to identify as armed separatism. Accordingly, he urged GUAM to develop solutions based on autonomy within the territorial integrity of states.
(GUAM summit documents, Moldpres, April 21-23)