Hamas Attacks on Israel Mobilize Supporters in Europe
Publication: Terrorism Monitor Volume: 21 Issue: 21
By: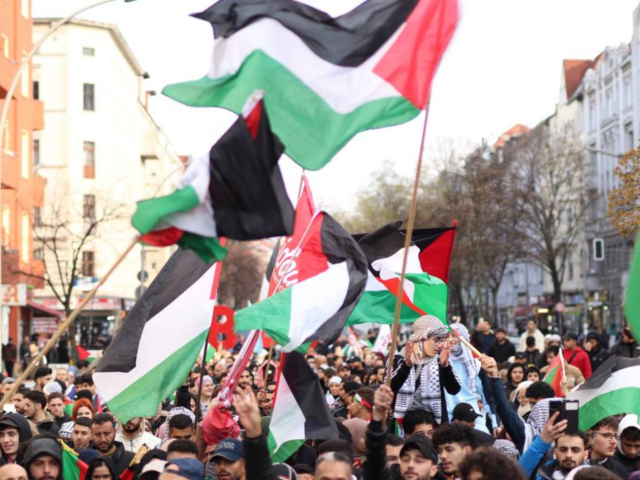 Echoes of the surprise attacks launched on October 7 from Gaza into Israel by the Palestinian militant group, Hamas, have reverberated throughout Europe. In particular, the attacks have energized radical Islamist groups and radicalized individuals, who have since committed terrorist attacks and held anti-Israeli and anti-Semitic demonstrations. With the conflict in Gaza escalating, developments there continue to have the potential to inspire in Europe new manifestations of anti-Semitic sentiment, street demonstrations, and attacks.
Public Celebrations
After Hamas's attacks on Israel, Berlin saw Hamas sympathizers take to the streets to celebrate the attacks and to distribute candy to passers-by (Tageszeitung, October 9). The celebrations were organized by the Palestinian organization "Samidoun," which was established in 2012 by members of the Popular Front for the Liberation of Palestine (PFLP). This group was designated as a terrorist group by the EU in 2022 (Official Journal of the European Union, L 025, February 4, 2022). This came one year after Israel designated the organization a terrorist group (National Bureau for Terror Financing in Israel, April 3, 2021).
The official goal of Samidoun is to secure the release of Palestinian prisoners in Israel and elsewhere (Samidoun, accessed October 24, 2023). However, in practice, the organization serves as a front for the PFLP abroad. While ideologically socialist rather than Islamist, the organization's anti-Semitism and hatred towards Israel seem to have bridged any ideological differences with Hamas. Samidoun influence can be seen in its amplifying of the PFLP's anti-Israel propaganda; likewise the group engages in fundraising and recruitment in several countries in Europe, including Sweden, Spain, Greece, France, Belgium, and the Netherlands.
In Germany, Samidoun has been under surveillance by the German Internal Intelligence Service (BfV). According to the director of BfV's Berlin branch, Michael Fischer, the activities of Samidoun have increased in Berlin in the last two years; its membership is estimated to be in the "lower double-digits" (Rbb24, October 10). As recently as April, Samidoun garnered widespread media coverage in Germany for organizing an anti-Israel rally in Berlin attended by a crowd of 500, mostly German Muslims. During the demonstration, "Death to the Jews" and "Death to Israel" were chanted (Times of Israel, April 12). Confronted with pictures of people celebrating the killing of Israelis, Chancellor Olaf Scholz announced a ban on Samidoun activities on October 12 (ZDF, October 12). [1]
Terrorist Attacks
Besides these public shows of sympathy for Hamas, the increased tensions took a turn for the worse after former Hamas leader Khaled Mashal called on October 12 for a "Global Day of Rage" on Friday, October 13 (Jerusalem Post, October 12). On the "Global Day of Rage" in France, Mohammed Moguchkov, a man of Chechen origin, stabbed teacher Dominique Bernard to death and critically wounded two other people in Arras. The perpetrator, who was already under surveillance by the French security services for his suspected radicalization, chose to conduct the attack at his former high school.
The French intelligence services stated that Moguchkov was born in 2003 and had been closely monitored (France24, October 13, 14). It is likely that this attack was influenced by the "Global Day of Rage," but the selection of the target was inspired by a more "local" motive. For instance, it came almost exactly three years after the murder of another teacher, Samuel Paty, on October 16, 2020 by another Chechen man, Abdoullakh Anzorov.
In addition to this case in France, on October 16, two Swedish nationals were shot to death in Brussels, Belgium. Both Swedes were in the city to support their football team when they were shot by a 45-year old Tunisian man, who was identified as Abdesalem Lassoued. The attack came after al-Qaeda had called specifically for attacks against Sweden in revenge for Quran burnings in mid-August (see TM, September 8).
However, Lassoued published a short video before he was killed by Belgian police, in which he announced his support for al-Qaeda's rival—Islamic State (Le Soir, October 17). Nevertheless, before his attack, Lassoued also shared a number of messages supporting Palestine on social media networks (RTBF, October 17). This pointed again to the mobilizing effect of the Hamas-Israeli conflict.
Conclusion
Al-Qaeda is attempting to benefit from the Israeli-Hamas conflict with its branches in Somalia, the Arabian Peninsula, the Indian Subcontinent, and Syria [2] and is publishing statements in support of the Hamas attack. [3] It is, therefore, likely that the anticipated Israeli counter-offensive against Hamas in Gaza will keep the highly emotional conflict at the center of media attention. This, in turn, risks mobilizing further pro-Palestinian and pro-Hamas actors, but also more globally orientated radical Islamists, and could lead to an increased threat of attacks in Europe, if not also elsewhere in the world.
Notes:
[1] Germany was not the only country with public celebrations for the Hamas attacks in Israel. Islamists also celebrated in London. In addition, Muslim migrants from the Middle East celebrated on the island of Samos in Greece (Daily Mail, October 8; Greek City Times, October 8).
[2] The Syrian branch is Hurras al-Din.
[3] See Caleb Weiss, "Shabaab celebrates Hamas-led invasion of Israel, calls people to jihad," October 11, 2023, https://www.fdd.org/analysis/2023/10/11/shabaab-celebrates-hamas-led-invasion-of-israel-calls-people-to-jihad/, and Lorena Atiuas-Lvovsky, Eitan Azani, Michael Barak and Assaf Moghadam, "In Word and Deed? Global Jihad and the Threat to Israel and the Jewish Community," September 2023, https://ctc.westpoint.edu/ctc-ict-focus-on-israel-in-word-and-deed-global-jihad-and-the-threat-to-israel-and-the-jewish-community/, which pointed out that Islamic State has a better track record than al-Qaeda in following through with attacks after threats against Israeli/Jewish targets.