Hizb-ut-Tahrir Leaders, BBC Journalist Arrested in Tajikistan
Publication: Eurasia Daily Monitor Volume: 8 Issue: 133
By: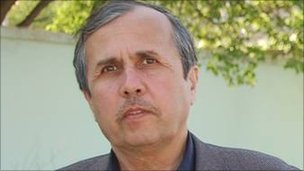 In June, two alleged leaders of Hizb-ut-Tahrir (HuT) were arrested in Tajikistan. On June 8, police detained a 46 year-old resident of Bobojon Ghafurov district in Tajikistan's northern Sughd province. The detainee, whose name has not been disclosed, purportedly served as head of the banned group's cell in the province and was in charge of disseminating HuT literature and recruiting new members in the region (www.news.tj, June 9).
On June 14, police announced that they detained Sharifjon Yoqubov (43) in the previous week in Dushanbe. According to Tajik interior ministry press service, Yoqubov has been among key HuT leaders in the country. His arrest reportedly became possible after his email correspondence with HuT's London-based leadership and the movement's cell in Russia was monitored by investigators. According to media reports, Yoqubov already spent 10 years in jail for membership of the forbidden group (www.news.tj, www.ozodi.org, June 14).
Hizb-ut-Tahrir (aka Islamic Party of Liberation) is an Islamic movement which was banned in Tajikistan in 2001 and is outlawed elsewhere in Central Asia. The movement's main goal is to create a caliphate, or an Islamic state, which would incorporate all Muslim communities across the world. In Central Asia, HuT is particularly active and has thousands of members in the volatile Fergana Valley, which includes Tajikistan's Sughd province. Despite the movement's official commitment to non-violence, Tajik authorities continue to persecute its members. Over the last decade, some 500 Tajik nationals have been convicted for alleged membership of HuT. In 2010, Tajikistan jailed 150 HuT members, and another 40 members have so far been convicted in 2011 (https://almanac.afpc.org/hizb-ut-tahrir, April 8; www.centrasianewswire.com, June 15).
Shortly after the two arrests, Tajik police detained local BBC reporter Urunboy Usmonov, saying he was also suspected of being a member of HuT. His arrest on June 13 sparked a wave of criticism by local and international media freedom watchdogs, as well as UK and US embassies in Dushanbe. Global media rights watchdog "Reporters Without Borders" claimed that it had "little doubt that Usmonov was arrested because of his journalistic activities." The journalist reported critically on politically sensitive issues such as Tajikistan's controversial Rogun Dam project. "Using the fight against extremism in order to crack down on dissidents is standard practice in Tajikistan," the watchdog said in a statement (https://en.rsf.org/tadjikistan-bbc-world-service-reporter-held-in-17-06-2011,40479.html, June 17).
Confronted with growing international pressure, the State Committee for National Security (GKNB), the KGB successor in Tajikistan, issued a statement, suggesting that the "initial investigation, based on witness testimony and evidence, confirms Usmonov's membership in Hizb-ut-Tahrir." According to the GKNB, Usmonov was in contact with HuT leaders both in the country and abroad, and supported the development and distribution of "printed material, calling for the violent seizure of power and change in the constitutional design of Tajikistan" (www.khovar.tj, June 18).
It remains unclear at the moment whether the Tajik security agencies really have hard evidence against Usmonov or if his arrest was motivated by an intention to silence a critical reporter. It is possible that his detention was prompted by the testimony of Yoqubov, who could name Usmonov as one of his fellow party members. According to Yoqubov's sister, police detained his three young daughters, most likely in order to pressure him to talk (www.ozodi.org, June 14). It is worth noting that Usmonov, Yoqubov and the unidentified purported HuT member detained on June 8 are all natives of Bobojon Ghafurov district, part of the Sughd province where the banned movement is particularly active.
The high-profile arrests have generated considerable debate in Tajikistan. Some experts suggest that the increasing detentions of HuT members demonstrate that the movement is expanding its activities in the country. Tajik political analyst Abdugani Mamadazimov believes that this expansion reflects a global upsurge in the activity of extremist and terrorist organizations, spurred in part by the Arab revolutions.
Other analysts believe that the arrests of HuT leaders attest to the fact that Tajik law-enforcement agencies have become more professional. HuT is considered to be the best-organized clandestine group in Central Asia. The group is cell-based, and most members only know the people in their cell. Therefore, it is very difficult to capture the movement's country or regional leaders. Expert from the government-run Centre for Sociological Research Farrukh Umarov believes that the recent arrests are a direct result of intensified efforts by Tajik police to fight extremism (Asia-Plus, June 20).
Tajik experts also increasingly argue that the growth of HuT and other radical Islamic groups in Tajikistan is significantly fuelled by the repressive tactics adopted by the authorities and their repression of Islam outside of state control. Over the recent years, authorities have closed down or demolished many unregistered mosques and Islamic schools in the country. More recently, the government introduced legislation banning children from attending mosques and making it almost impossible for Tajiks to receive Islamic education abroad.