Hot Issue: After Chávez: Succession in Venezuela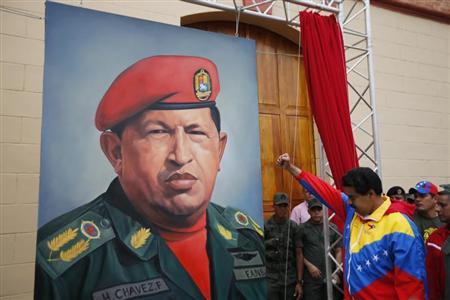 Executive Summary
After four consecutive presidential terms and fifteen years in office, Hugo Chávez died on March 5 leaving behind a mixed legacy. While his supporters proudly call him El Comandante and vow to continue his socialist revolution, others decry his parochial economic policies, which have left Venezuela with 25 percent inflation, rising public debt at 70 percent of GDP, basic goods shortages, power outages, widespread crime and a serious contraction of its important hydrocarbon sector (El Universal [Venezuela], February 11). In the absence of Chávez, observers around the world are asking, can Chavismo survive? His likely successor Nicolás Maduro seems to embody the Chavista political philosophy, yet his election credibility is being challenged by a determined opposition coalition. If Maduro succeeds in winning the April 14 election, he will not only have to deal with attacks on his political credibility, but he will also face a declining hydrocarbon sector which has been the lifeline of Venezuela for several decades. His hostility toward the United States and affinity for China, coupled with China's increased role in the Venezuelan oil industry, make it likely that the focus of Venezuelan will shift toward Asia in the coming years. Most importantly however, the economy of Venezuela is in shambles after a decade of mismanagement, and it will be up to Maduro to stabilize the Venezuelan bolívar (Venezuelan currency), increase oil exports, prevent shortages of everyday goods and keep corruption to a minimum.
The Election
Even in death Chávez could not avoid controversy. Chávez was re-elected as President of the Bolivarian Republic of Venezuela on October 7, 2012, beating his opponent, Henrique Capriles Radonski by 11 percentage points (National Electoral Council [Venezuela], October 7, 2012). The election pitted Chávez's United Socialist Party of Venezuela (PSUV) against the main opposition, a 30 party coalition known as the Mesa de la Unidad Democrática (MUD, Democratic Unity Roundtable) led by Capriles' Primero Justicia (First Justice party). Normally, Chávez would have been sworn in on January 10, but was unable due to pelvic cancer. This seemingly minor transgression caused a constitutional crisis.
Citing Articles 229-234 of the 1999 Venezuelan Constitution, the opposition coalition MUD argued that Chávez no longer had a presidential mandate because he missed the swearing in ceremony and therefore the National Assembly speaker, Diosdado Cabello, should become interim president. Supporters of Chávez, (a.k.a. Chavistas), countered that the swearing in ceremony was only a formality, a view supported by Venezuelan Attorney General, Cilia Flores. While this dispute continued, Chávez remained the nominal president of Venezuela but left day to day governing to Vice President Nicolás Maduro.
Chávez made clear his own views on the political succession, stating "If by any chance, something that could make me incapable of ruling happened, I repeat, Nicolás Maduro must finish the presidential term…my firm opinion, as clear as the full moon—irrevocable, absolute, total—is that you elect Nicolás Maduro as president" (El Universal [Venezuela], January, 19). Eventually, Venezuela's Supreme Tribunal of Justice (TSJ) weighed in on the matter, officially lending its support to Nicolás Maduro to fill in as interim president for up to 180 days, at which point the National Assembly would decide whether Chávez's absence should be considered "permanent" (El Universal [Venezuela], January 16). Chávez died during this period and three days later on March 8 Vice President Maduro was officially sworn in as President of Venezuela igniting a public outcry from opposition parties that charged him with hijacking the presidency without calling for constitutionally mandated elections within 30 days. Succumbing to public pressure and vociferous opposition, the head of the Colegio Nacional Electoral (CNE, National Electoral Council), Tibisay Lucena, announced that presidential elections would be held on April 14.
Hugo Chávez's United Socialist Party (PSUV) immediately nominated interim President Maduro as their candidate, while the opposition coalition MUD nominated their former candidate and Governor of the State of Miranda, Henrique Capriles. Several others lesser known candidates also put in their names for nomination.
Though the future of Venezuela's political leadership seems to lie with Maduro or Capriles, other groups are vying for political power, such as the armed Chavista rebel groups La Piedrita (Little Stone) and Tupamaros. These groups boast memberships of around 1,500-3,000 colectivistas who live within eight miles of the Miraflores Presidential Place (codigovenezuela.com April 30, 2012). [3] These die hard Chavistas are sincere believers in the 21st century socialist cause and have repeatedly vowed to carry on the Bolivarian Revolution that Chávez began in 1998. If these groups become mobilized in opposition to an unfavorable electoral outcome such as the defeat of the PSUV, they could cause significant political disruptions in Caracas.
The Fuerza Armada Nacional Bolivariana (FANB, Bolivarian National Armed Forces) is also a contender for power and has long been a formidable actor in Venezuelan politics. It is unlikely that the FANB would stand idly by and watch an election outcome they considered unfavorable. Defense Minister Diego Molero Bellavia is a strong supporter of Chavismo and has been a vocal supporter of continuing the Bolivarian Revolution. Nonetheless, reports indicate that some in the FANB do not overwhelmingly favor Maduro and instead look to National Assembly Speaker Cabello for leadership; this is because Cabello is a former military man who served in the FANB. Despite this, Minister Bellavia recently told reporters that "the mission" of the armed forces would be to "bring Nicolás Maduro to the presidency of the Bolivarian Republic of Venezuela" (El Mundo [Venezuela], March 6). Cabello has also ruled out challenging Maduro for the presidency, realizing that such a strategy would drive a wedge in the PSUV and open up a possibility of victory for Capriles. Provided Maduro wins, it seems the military will most likely stay out of electoral politics, yet if Capriles wins, then Venezuela may face a much larger political crisis.
Though campaigning continues, opinion polls suggest that Maduro and the PSUV will win in a landslide, due to name recognition and strong support from those in poverty, which account for about one third of the country. [4] Additionally, the PSUV is benefiting from a strong outpouring of sympathy from the death of their leader and constant media coverage. The latest March poll from the preeminent Caracas-based polling firm Datanalisis showed Maduro with a 48.8 percent to 33.8 percent advantage over Capriles (+/- 2.5 percent). A previous February poll from Venezuelan polling firm Hinterlaces showed another large lead for Maduro at 50 percent to 36 percent (+/- 3 percent).
Henrique Capriles Radonski
Though the future path of Venezuela seems tied to the political sympathies, economic beliefs and foreign policy views of future President Maduro, it is also worth examining the beliefs of Capriles, as he has yet to be officially ruled out of the presidency.
Capriles is a political centrist, who has denounced the leftist policies of Chavismo, while declaring his intent to govern down the middle. He has repeatedly stated that former Brazilian President Luiz Inacio Lula da Silva is his political idol and he shares Lula's enthusiasm for courting business interests while also spending generously on domestic social programs. Mimicking Lula's "Third Way" on economic policy, Capriles favors a mix of socialism and capitalism, with continued spending on anti-poverty programs but also a strong pro-growth business agenda that would likely see the return of foreign investors and foreign oil companies to Venezuela.
Though Capriles may be diametrically opposite to Maduro, it is still Maduro that is likely going to be the next President of Venezeula, and therefore his policies are particularly important in order to understand how Venezuela will fare in the post Chavez era.
Nicolás Maduro
Maduro is an unapologetic Chavista who even routinely calls called himself "the son of Chávez" (Argentina Independent, March 11). Originally a bus driver and union leader in the Caracas metro system, Maduro was a close friend of Chávez dating back to the latter's days in the Venezuelan Armed Forces
(Analitica.com [Venezuela], March, 12). In 2005 he became the Speaker of the National Assembly, Foreign Minister and in 2012 the Vice President. As foreign minister he worked to enhance the relationship between Venezuela and states like Iran, Syria and Belarus, and as vice president he accused the United States of inflicting cancer on Chávez and referred to the United States as the "historic enemy" of Venezuela (El Financiero [Mexico], March, 6). If there were any confusion as to the principal allegiance of Maduro, it was made clear when he formally registered as a presidential candidate stating "[I am] asking the father and redeemer of this Bolivarian nation, Commander Hugo Chávez, to give me the strength and the wisdom to carry out his orders in full" (Miami Herald, March 3).
Foreign Policy After Chávez
Given this allegiance, if elected, it is unlikely that Maduro would immediately implement large scale economic changes. Most likely he would follow the Chavismo foreign policy of scaling back relations with the United States and increasing ties with China. Under Chávez, the U.S.-Venezuelan relationship was strained, despite 40 percent of total Venezuelan oil exports being sent to the United States. Over the coming decade however, some of this oil will be replaced with Canadian Alberta oil, which is of the same variety as the heavy crude extracted from Venezuela. This trend has already begun, with U.S. oil imports from Venezuela down from 1.7 million barrels per day (b/d) in 1998 to 951,000 b/d last year). [5] Much of this Venezuelan oil will now be sent to Asia, specifically China where a new trend has also began to emerge; in 1998 Venezuela shipped no oil to China but by 2015 Venezuela is expected to export 1 million b/d to China (China Daily, December 1, 2012). Much of this oil is legally owed to China as a result of generous loans the Chinese government has provided to Venezuela over the past decade. Since 2008 the Chinese Development Bank (CDB) has lent Venezuela $46.5 billion and these loans are backed with sales contracts for crude oil, making China a long term recipient of Venezuelan oil (Asian Daily Wire [Tokyo] February 18). This trend will continue unabated as result of these prepaid oil contracts, even when a new Venezuelan president is elected or if U.S.-Venezuelan relations improve substantially.
Signaling his intent to further strengthen the Venezuelan-Chinese relationship, interim President Maduro recently told Zhang Ping, the Chairman of China's National Development and Reform Commission, "The best tribute that we could give to our commandant Chávez is to deepen our strategic relationship with our beloved China" and he told reporters that if elected in April, his first trip will be to China (Asia Times [Hong Kong], March, 12).
While much of this rhetoric seems nothing more than diplomatic overtures, both China and Venezuela are actually likely to greatly increase cooperation in the coming years, as a result of mutually beneficial economic opportunities. China essentially wants Venezuelan oil for energy security and Venezuela badly wants to replace the U.S. market with the Chinese market. Additionally Venezuela has long been wary of loans from the IMF that have strings attached and has looked to China to provide loans and long term financing for its struggling energy sector. Even Capriles, who disagrees with most of Maduro's policies, has stated that he favors increasing economic ties with China, especially trade and energy relations.
In the coming years, largely as a result of oil and ideology, China may overtake the United States as Venezuela's largest trading partner, and that will signal the beginning of a new relationship between Latin America and Asia, one that will be based on strong trade and economic relations (MercoPress [Uruguay], August 16, 2012).
Terrorism and Venezuela After Chávez
Since the mid-1960s the Revolutionary Armed Forces of Colombia (FARC) and the National Liberation Army (ELN) have been at war with the Colombian government over what they perceive to be disenfranchisement in the political process and excessive privatization and corporatism under US influence of the Colombian state. Under the former president of Colombia, Alvaro Uribe, the Colombia government repeatedly charged Venezuela with supporting, harboring, and encouraging ELN and FARC rebels in their fight against the Colombian government. This ongoing political rift between Colombia and Venezuela eventually turned into a full-fledged diplomatic crisis in 2009 when Colombia broke off diplomatic relations with Venezuela over the FARC issue (Colombia Reports, July 16, 2010).
While the Venezuelan government, and Chávez, always denied such accusations, there is overwhelming evidence to suggest that indeed the Chavismo government has provided generous support to the rebel groups and in 2009 the U.S. State Department released a report confirming this assistance, financial, political and geographic (Fundacion InSight Crime [Colombia], March 14, 2012).
Under Chávez the Venezuelan government did enjoy congenial relations with FARC and ELN and, from an ideological perspective the groups had much in common with Chavismo. The Venezuelan government not only erected a statue of FARC guerrilla founder Manuel Marulanda in their capital city of Caracas, angering the Colombia government (Justice for Colombia, September 26, 2008), but they have also provided strategic and tactical support for FARC rebels by sheltering them on Venezuelan soil (Colombia Reports, July 16, 2010).
Several other Latin American states have also accused the Chávez government of harboring anti regime groups. Most recently Paraguayan president Federico Franco accused the Chaves government of "direct and malicious" involvement in his country's affairs in support of a terrorist group, the Popular Army of Paraguay, EPP. According to President Franco, the Venezuelan government has provided training programs, education and scholarships for the EPP (MercoPress (Uruguay) September 27, 2012). In addition, the United States has raised concerns that Venezuela may be supporting Iranian Islamic terror groups in Latin America, specifically Hezbollah, and in June 2008 the Treasury Department imposed sanctions on two Venezuelan officials, Ghazi Nasr al Din (a Venezuelan diplomat in Lebanon) and Fawzi Kan'an—for providing financial and other support to Hezbollah (Congressional Research Service, January 10).
As Chávez has now passed on, the question remains, will Venezuela continue its support of these groups under Nicolas Maduro? The answer is complex. Since 2010 the newly elected president of Colombia, Juan Manuel Santos, has repaired bilateral relations with Venezuela, which prompted the Chávez government to initiate peace talks between FARC and the Colombia government, and also tone down Venezuela's tactical support for FARC (El Tiempo.com [Colombia] March 5). As a result, the peace process is now in its second year with much progress having been made and Cuba recently announced its desire to help the process move forward. Maduro recently announced that he has full intention to proceed with the FARC-Colombia peace process, telling reporters "We are committed to peace in Colombia" (Noticias Caracol [Colombia], March 26). While this may only be rhetoric it seems likely that Maduro will in fact continue to push for the peace process, while distancing Venezuela from tactically supporting FARC, as that was a cornerstone of Chávez's most recent policy toward Colombia, and Maduro has signaled his intent to continue the Chavismo policy as literally as possible. This is also the opinion of Colombia's President Santos who recently told reporters that "Maduro has also been collaborating and helping a lot since the beginning (of the process)… He is equally excited about the chance to see peace in Colombia." (La Nacion [Costa Rica], January 14). In addition, solving the FARC-Colombia crisis would help Venezuelan relations with other countries in the region, notably Brazil, at a time when Venezuela's political system and economics are in a precarious state.
It seems reasonable to conclude that Maduro will forge ahead with the peace process initiated under his predecessor Chávez, and that in the coming years Venezuela will most likely begin to distance itself from FARC in terms of tactically supporting the FARC agenda. This will not only help its relations with Colombia and Brazil, but also with the United States and other Latin American countries that have viewed the FARC-Venezuela relationship with unease. In addition, in the extremely unlikely event that Capriles wins the election, he has also pledged support for the Colombia peace process, telling reporters that "A government led by us would accelerate the Colombia peace process. A progressive government in Venezuela will stop being a refuge for rebels, for armed groups" (MercoPress [Uruguay] October 2, 2012).
While Venezuela seems destined to shift away from FARC, it appears FARC has also been preparing for such an outcome for some time. Since Chávez was diagnosed with cancer, FARC has been slowly shifting itself into a more conciliatory mode toward the Colombian government, offering prisoner swaps, ending kidnappings and toning down its violent rhetoric. Most recently Iván Márquez, FARC's chief negotiator, issued a statement thanking Maduro for his help in the peace process and vowing to strive for end to the conflict, stating "Thank you, President Maduro. We will work hard here in Havana to make progress in the roundtable (discussions), seeking to reach an agreement with the Colombian Government, based on peace" (El Universal [Venezuela], March 13). It seems both FARC and the Venezuelan government are preparing for a future with a less cozy relationship, but whether or not that lasts is up to the peace process.
As for Hezbollah, it is unlikely that Venezuela will officially begin to support this group with state funds. The U.S. government has never charged Venezuela with providing official support for Hezbollah, but many civil society groups in Venezuela have raised funds and politically support the Islamic group (Congressional Research Service, January 10). Going forward, it is unlikely this will change and Maduro has not signaled any intention on cracking down on this practice; given his immense dislike of the United States it seems that such a crackdown is unlikely in the near future.
Oil After Chávez
Oil not only plays an important role in Venezuelan foreign policy but is quite literally the economic lifeline of the country, accounting for 94 percent of total exports, 50 percent of its the budget and 30 percent of its GDP; it is estimated that Venezuela has the largest oil reserves in the world with 297.4 billion barrels of extra-heavy crude and bitumen in the Orinoco Belt. [6] Oil essentially propelled Chávez into the presidency and kept him in power as he tapped the cash flow from the state oil company Petroleos de Venezuela (PDVSA) to initiate generous domestic spending programs. If Maduro expects to benefit similarly from this vast oil reserve, he will have to address Chávez's reckless energy policies.
From 1998-2013 Venezuela witnessed a 40 percent decline in total crude exports and a 30 percent decline in total crude output costing the government billions in revenue. In addition, because Venezuela heavily subsidizes its domestic fuel, their gas prices are the cheapest in the world at $0.06 per gallon of premium gasoline, which led to a 39 percent increase in domestic oil consumption over the last decade and further reduced supplies available for export (Bloomberg, February, 13). [7]
Equally problematic is the Chavismo policy toward international oil contracts and International Oil Companies (IOCs). Chávez used oil as a tool of foreign policy, creating organizations like PetroCaribe and the Bolivarian Alternative for the Americas (ALBA), which allow strategic allies of Venezuela to purchase Venezuelan oil under generous terms, such as paying 5 percent to 50 percent of the bill within three months and 25 years to pay off the rest, at one percent interest (Council on Hemispheric Affairs, July 22, 2008). These generous subsidies end up costing the Venezuelan government over $4 billion a year in lost revenue.
In 2007 Chávez went even further with his socialist policies when he made the decision to force foreign oil companies to give PDVSA a 60 percent share in all production projects (Energy Information Agency, October 3, 2012). This caused a flight of foreign investment capital and a technical brain drain as foreign companies were forced to either accept this new Production Sharing Agreement (PSA) or surrender their assets and flee. Unable to accept these terms, many multinational oil companies such as ConocoPhillips and ExxonMobil were forced to exit the Venezuelan oil market, losing billions in revenue and assets, which Chávez then nationalized (El Universal [Venezuela], September 21, 2012).
Immediate changes to these energy policies seem unlikely, particularly given the assurances from the President of PDVSA Rafael Ramírez, who told reporters outside the National Assembly on March 8 that "while our government is here and the people remain in charge, our oil policy will remain unchanged" (InfoLatam, March 12). However, if Maduro is to succeed as president and revive the Venezuelan economy he will have to address these failed energy policies on three fronts.
First, Maduro will need to find a way to bring back IOCs to Venezuela to boost production output and bring back technical expertise and foreign investment, while ensuring he does not lose political credibility with Chavistas. In the long run Venezuela will need to renegotiate the PSAs with IOCs and relax their strict currency controls allowing companies to repatriate profits.
Second, Maduro will need to decide if Venezuela will reduce the volume of subsidized petroleum products it exports to Petrocaribe and ALBA, which cost the government billions in lost revenue. However, if these subsidies are suspended or drastically reduced, it would cause gas price shocks for Venezuelan allies like Cuba and Nicaragua and likely cause political instability. It is therefore unlikely that Maduro will go this route.
Finally, Maduro must decide if he can cut the domestic petroleum subsidies that allow Venezuelans to enjoy such cheap gas. This popular domestic social program has further eaten away at oil export profits. However, the last cut to domestic fuel subsidies in 1989 caused the El Caracazo riots in the streets of Caracas killing hundreds of people. [8]
Economic Problems in a Post Chávez World
Beyond oil, Maduro will have to manage the shortages of everyday goods that have plagued Venezuela for decades. It seems likely that some time post-election, Venezuela will see another currency devaluation in order to boost oil exports and gain hard currency to offset any increased cost of imports. The government is concerned about political instability from shortages and has been handing out hard currency recently in order to boost imports. This policy is unsustainable in the long term but the continued depletion of Venezuela's hard currency leaves little room for short term economic policy. Fiscal stimulus packages are inflationary, as is the continued devaluation of the currency, thus the only long term solution for Maduro will be to increase oil exports to gain enough dollar reserves and hard currency to stabilize Venezuela's economic imbalances.
Conclusion
At the start of this article the question was proposed, can Chavismo survive without Chávez? The answer seems to be yes. Although Chávez was known to be an irreplaceable character, his cultural beliefs, political philosophies, and economic and financial opinions are wholly embodied in Maduro, and Maduro seems to have the nominal backing of Cabello, the FANB, the PDVSA, and the overwhelming support of the Venezuelan people. He helped Chávez develop his early political beliefs and shares his same admiration for General Simon Bolivar. If Marxism can survive without Marx, Leninism without Lenin, Peronism without Peron and Sandinismo without Sandino, then Chavismo can survive without Chávez.
Notes
1. Chavismo is characterized by a strident belief in socialism, redistributive wealth, anti-imperialism, anti-aristocracy, social justice, Venezuelan nationalism and poverty reduction.
2. Christian pastor, Eusebio Mendez of the Nueva Visión para mi País or New Vision for My Country (NUVIPA) party, Reina Sequera of Poder Laboral, Maria Bolivar of United Democratic Party for Peace and Freedom (PDUPL), Fredy Tabarquino of Juventud Organizada de Venezuela (Joven), Gonzalo Contreras of Cambio Pana, and Julio Mora of Unidad Democrática (Udemo) (Ministry of People's Power for Foreign Affairs, March 12).
3. Colectivistas is term that refers to the people who prefer to live in a community where economic wealth is shared and redistributed and the individual is subordinate to the collective society. It is the antithesis of individualism where each person is responsible for their own economic outcome.
4. The World Bank, Development Indicators – Global Poverty Working Group, 2011, Available at: https://data.worldbank.org/indicator/SI.POV.NAHC/countries/VE?display=graph.
5. U.S. Department of Energy – Energy Information Agency (EIA), February 12, Available at https://www.eia.gov/countries/country-data.cfm?fips=VE.
6. Organization of the Petroleum Exporting Countries – Annual Statistics Bulletin, March 2012, Available at https://www.opec.org.