Hungarian MOL Active Upstream in the North Sea and Kazakhstan
Publication: Eurasia Daily Monitor Volume: 10 Issue: 224
By: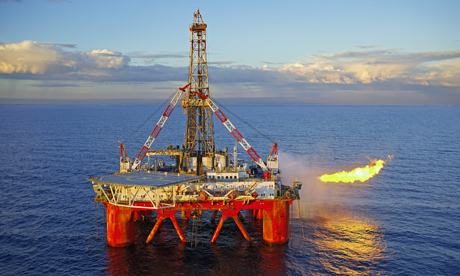 Hungarian MOL and Wintershall of Germany have signed an agreement whereby MOL acquires ownership stakes in 14 offshore oil fields originally licensed to Wintershall in the North Sea. Signed in Budapest on December 13, the agreement is expected to be closed in early 2014 pending regulatory approval.
While the financial transaction is a medium-sized one at $375 million, MOL's acquisition as such is of historic significance. An oil and gas company from the former Communist-ruled Central Europe is entering the North Sea basin to boost the company's oil production and its reserve portfolio.
MOL's just-acquired ownership stakes range in size from 20 percent to 50 percent working interest. Equity stakes in relevant infrastructure, such as Wintershall's shares in the Brent Pipeline System, are included in MOL's acquisition package (MTI [Budapest], December 13).
The transaction covers proven and probable reserves of 28 million barrels of good quality crude oil, plus some contingent resources. These new MOL assets are, for the most part, in the development and production phase. The combined production of these assets is expected to add 1 million barrels of oil equivalent per day to MOL's overall production in 2014, rising to 6 million barrels a day in 2015, and 16 million to 18 million barrels per day in 2018–2019.
MOL is financing this acquisition in full from its operating cash flow. It expects to invest overall $500 million to $600 million in the next ten years in development and extraction operations at these North Sea fields. Net profits are foreseen from 2017 onward (Platts, Dow Jones, December 13).
These ownership stakes fall short of giving MOL the operating rights in these projects. Instead, it partners with smaller companies such as EnQuest, Premier Oil, and TAQA—smaller, but experienced in this area. Through such projects, the Hungarian company stands to gain access to participation in future licensing bids in the same area, potentially in joint operatorships with experienced offshore operating companies.
Wintershall is the oil and natural gas subsidiary fully owned by German BASF, the largest chemical industry holding worldwide. Wintershall retains its own exploration and development projects in the North Sea, some of them operated by Wintershall itself. Also on December 13, Wintershall and MOL signed a long-term cooperation agreement to pursue exploration and production opportunities in the North Sea and elsewhere (Joint press release, https://sites.merchantcantos.com/companies, December 13).
MOL is ranked as a leading oil-refining company in Central Europe, processing mainly Russian-delivered oil. MOL's upstream operations, however, have been affected by certain political risks in the last two years. The war in Syria has compelled MOL to suspend its oil development project in that country, thereby reducing MOL's overall upstream production. MOL has long been involved in oil and gas projects in Croatia, directly or via INA; but in the meantime, the Croatian government is harassing MOL with a view to wresting operating control over INA (see EDM, November 14, 15).
Apparently alluding to these situations, MOL Chairman/CEO Zsolt Hernadi commented at the signing ceremony with Wintershall that the North Sea basin with its stable and transparent regulatory environment "carries a low political risk level, compared with some of our other investments" (MOL press release, December 13). The North Sea projects and those in Kazakhstan (see below) can, in due course, offset the current trend of decreasing daily production in the Hungarian company's overall portfolio.
Kazakhstan is another investment-hospitable area. There, the Hungarian company is developing the North Karpovsk and Fedorovsk oil and gas blocks onshore, in a joint venture with Kazmunaigaz Exploration & Production. MOL has committed some $350 million as its share of the investment in these twin projects thus far. Located in each other's proximity and near the city of Uralsk (West Kazakhstan Region), the two projects necessitate drilling deep sub-salt exploration wells. The reserves are estimated at 240 million barrels of oil for North Karpovsk and 200 million barrels of oil and condensate for Fedorovsk. Commercial production is tentatively expected to start in 2015 (Trend, December 4, 6).
MOL's twin joint projects show that Kazakhstan is open also to a medium-sized oil company expanding its business from Central European downstream operations to international upstream activities.