HUNGARY AND THE NABUCCO PROJECT: TIME TO END THE AMBIGUITY
Publication: Eurasia Daily Monitor Volume: 4 Issue: 11
By: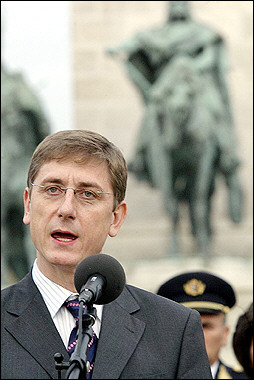 In its comprehensive package of strategy documents, "Energy Policy for Europe," just released in Brussels, the European Commission has proposed appointing a European Coordinator for the planned Nabucco gas pipeline, deemed a "critical project" by the EU (Press release, January 10). The pipeline is designed to carry some 30 billion cubic meters of Caspian and Middle Eastern gas to Europe annually, its first stage to become operational by 2011 if construction starts this year as planned.
The countries along the 3,300 kilometer pipeline route — Turkey, Bulgaria, Romania, Hungary, and Austria — formed a consortium in 2006 with EU encouragement in an effort to diversify gas supplies to the EU away from overdependence on Gazprom. That dependence is especially heavy in the EU member countries involved in the project, which therefore answers to their national interests as well as to common EU interests. The European Bank for Reconstruction and Development agreed last year to finance 70% of Nabucco's construction costs (see EDM, June 30, July 3, September 20, 2006).
During a January 15 meeting with his Romanian counterpart Traian Basescu, Ukrainian President Viktor Yushchenko announced that Ukraine is also interested in joining the Nabucco project and would submit specific proposals in that regard (Rompres, Interfax-Ukraine, January 15).
For its part, Gazprom seeks to stop the Nabucco project at both ends. Upstream, it resists the proposed trans-Caspian pipeline that would carry Turkmen and Kazakh gas via Azerbaijan and Georgia to eastern Turkey for this pipeline to Europe. Downstream, Gazprom apparently counts on leading elements in the Hungarian government to thwart this EU project. Gazprom intends to prolong its own Blue Stream pipeline from Turkey along the same route, via Bulgaria and Romania, into Hungary, using the latter country for Gazprom's further expansion into Central Europe.
Although Hungary is a member of the Nabucco consortium, the Hungarian government and the MOL oil and gas company are negotiating with Gazprom at the same time and concluded documents of intent with the Russian monopoly. Moreover, top officials such as Prime Minister Ferenc Gyurcsany and Economics Minister Janos Koka are implicitly or explicitly signaling their preference for Gazprom. These signals contradict EU policy as well as ignoring U.S. recommendations for Hungary to opt for Caspian gas via Nabucco.
A decision by Hungary to go with Gazprom's project while procrastinating on Nabucco would result in cutting off this pipeline route for Caspian gas to Europe. It would also render the Nabucco project commercially nonviable for Bulgaria and Romania along the route, as well as expose Austria to deeper inroads by Gazprom. In practice, the wrong decision by the Socialist-led Hungarian government could kill the Nabucco project for all the other participants and for the EU as a whole.
The issue of Hungary's position on Nabucco, and generally of Gazprom's opaque actions in Hungary, has turned into a major issue in that country with international ramifications. The Fidesz opposition party is casting the issue mainly in non-political terms, focusing on the need to diversity the energy market, alternative supply sources and routes, transparency, and public accountability.
However, the government's apparent tendency to break ranks with the EU and its neighbors on this issue while maximizing the country's dependence on Russian energy has obvious political implications as well. In recent media interviews, Fidesz leader (and former prime minister) Viktor Orban and the parliamentary Foreign Affairs Committee chairman Zsolt Nemeth have cautioned against a policy that might result in Hungary slipping back into Moscow's sphere of influence, this time not in a military sense but rather in the sense of economic influence through special interest groups, affecting the country's political independence (see Budapest Analyses, no. 133, January 16).
The present government has allowed Hungary to become a base for operations of Gazprom's suspect offshoots, in the lineage of EuralTransGas and RosUkrEnergo. These groups' founding father, the FBI-most-wanted Semyon Mogilevich, operated for several years in Hungary before moving to Moscow. The RosUkrEnergo branch in Hungary, Emfesz, has made deep inroads into Hungary's energy market. It sold 2.6 billion cubic meters of gas — mostly of Turkmen provenance — in Hungary in 2006 (amounting to one-quarter of all imported gas in the country) and plans to expand that share.
Gazprom itself currently supplies some 85% of Hungary's gas requirements. Prolonging Gazprom's Blue Stream pipeline into Hungary and building storage sites in the country for Gazprom's further expansion into Europe would seal Hungary's long-term dependence on this monopoly, precluding alternatives.
Gyurcsany and other government officials have more than once expressed confidence in Russia's reliability as an energy partner and the desirability of bilateral relations with Russia in this regard. Koka and other officials have publicly deprecated the feasibility of the Nabucco project, thus intentionally or unintentionally undermining investor confidence. Those statements were made before the recent seizures of Western energy projects in Russia and interruptions in Russian oil transit via Belarus, all of which shattered the already diminishing European confidence in Russia's reliability or in bilateral dealings with Russia. These events, as well as the EU's latest reaffirmation of support for the Nabucco project, might register even with this Hungarian government.