Hungary-Romania Gas Interconnector: First Step Towards Region-Wide Network
Publication: Eurasia Daily Monitor Volume: 7 Issue: 186
By: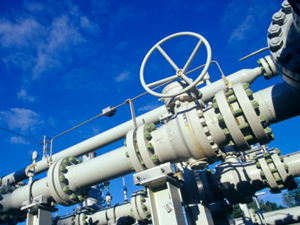 On October 14, Hungary and Romania inaugurated a gas pipeline connecting the two countries' transmission systems. The Szeged (Hungary) – Arad (Romania) pipeline is the first in a series of interconnector projects supported by the EU in Central and Southeastern Europe. The EU's Energy Commissioner, Guenther Oettinger, joined the Hungarian and Romanian Prime Ministers, Viktor Orban and Emil Boc, for the inauguration ceremony at the Csanadpalota metering station on the two countries' border.
Jointly built by Hungarian MOL's gas transmission unit FGSZ and Romanian system operator Transgaz, the line runs for 109 kilometers (km) –62 km on Romanian and 47 km on Hungarian territory. Amid financial hardships in both countries, the line took almost two years to build, and underwent testing operations from July to date. The EU covered 50 percent of the pipeline's aggregate cost of some 68 million Euros from the European Energy Economic Recovery Program (EERP) funding.
Initially operating at an annual rate of 1.5 billion cubic meters (bcm), the line can increase the throughput to 3 bcm per year, according to Hungarian reports; and to 4.5 bcm per year by adding compressor capacity, according to Romanian reports. The pipeline currently operates in one direction, from Hungary to Romania; but is expected to be equipped for bi-directional use when the Romanian side takes the necessary measures. In line with EU requirements, all gas interconnectors should be equipped within three to five years for bi-directional operation, so as to ensure flexibility and increase security of supply (MTI, Vilaggazdasag, Mediafax, Agerpres, MOL and Transgaz press releases, October 14).
Further gas interconnector projects encouraged by the EU in this region include:
Croatia-Hungary: 294 km (including 88 km in Croatia and 206 km in Hungary), with a design capacity of 6.5 bcm per year, under construction by MOL's FGSZ and Croatian system operator Plinacro, scheduled to start operations in mid-2011.
Hungary-Slovakia: approximately 100 km, to be built by FGSZ and Slovakia's transmission system operator EuStream, feasibility study under way.
Hungary-Slovenia: to be built by FGSZ and Slovenia's Geoplin, feasibility study in preparation.
Romania-Bulgaria: planned to run under the Danube River from Giurgiu (Romanian bank) to Ruse (Bulgarian bank), the interconnector will be built by Transgaz and Bulgargaz under an existing agreement, with completion intended by the end of 2011.
Hungary's gas transmission system is already connected with that of Austria, enabling the other countries in the region to join an integrated European market which is in the process of evolving. Romanian Transgaz has already started test-run imports of gas from the Central European Gas Exchange at Baumgarten near Vienna through the Szeged-Arad pipeline. This will enable Romania for the first time ever to access gas at flexible spot-market prices, rather than Gazprom's contractual prices. In Croatia, the interconnector will enable short-distance gas imports via Hungary, less expensive than Croatia's imports via Austria on a long circuitous route crossing multiple borders.
The concept of interconnecting the national gas pipeline systems in this region originated with Hungarian MOL in 2006, as New Europe Transmission Systems (NETS). The European Commission further developed the concept into EU policy. The Russian gas supply cutoff in January 2009 provided added impetus to EU funding of interconnectors, albeit below the levels deemed urgent by countries exposed to Gazprom monopoly abuse. Interconnector pipelines will enable countries in this region to:
1. Access non-Russian supplies in emergency situations, and trade those volumes with each other.
2. Enable gas flow transmission in multiple directions, including north-south, thus ending the dependence on Soviet-legacy east-west pipelines, and gaining significant flexibility.
3. Diversify their gas import sources on a regular basis, liberalizing markets and leading to price competition between suppliers.
4. Open region-wide access for gas supplies from the Caspian region via the Nabucco project, as well as potential LNG (liquefied natural gas) supplies via Croatia's Adriatic coast or through the Black Sea.
5. Develop an integrated regional gas market in Central and Southeastern Europe, with enhanced security of supply, and improved negotiating position vis-à-vis suppliers to this region.
6. Jointly implement the EU's legal and regulatory regime at an accelerated rate.
7. Advance from regional gas market integration to joining an integrated European network, and an evolving European gas market.