India and the Taliban: Is a 'Soft Power' Opening Emerging?
Publication: Terrorism Monitor Volume: 20 Issue: 7
By: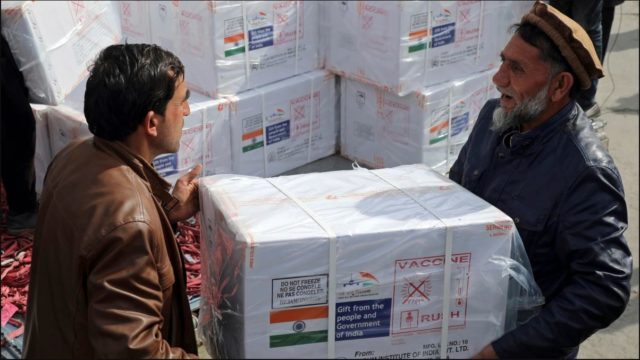 India and the Taliban: Is a 'Soft Power' Opening Emerging?
Sudha Ramachandran
On February 22, a convoy of 50 trucks carrying a consignment of 2,500 tons of wheat set off from India via Pakistan to Jalalabad in eastern Afghanistan. The consignment, which is the first of several consignments, will see India deliver 50,000 tons of wheat to Afghanistan in the coming months (India Ministry of External Affairs, February 22). Since December, India has also delivered four consignments of emergency medical assistance to Afghanistan. Unlike the wheat consignments which are being transported overland, the medical assistance is being flown to the war-ravaged country (India MEA, January 29).
India's humanitarian assistance to the Afghan people provides New Delhi with a toehold in Afghanistan. This is an important milestone in its relations with Taliban-ruled Afghanistan. When the Taliban came to power in Afghanistan on August 15 last year, India's influence in that country shrank, especially as India has neither extended diplomatic recognition to the Taliban regime, nor retained a diplomatic presence in Kabul. Worse for India, its relations with the Taliban over the past 25 years have been hostile. In these circumstances, New Delhi's humanitarian outreach directly to the Afghan people could provide it with an opening to engage official Taliban representatives while it supports the Afghan people through the crisis.
However, how long India's humanitarian outreach can continue is a moot point since Pakistan is uneasy with New Delhi's interaction with the Taliban. Pakistan has raised obstacles to the aid transiting its territory and its apprehensions are unlikely to go away soon as Pakistan's own relations with the Taliban have come under strain in recent months.
The Decline of Indian and Rise of Pakistani Influence in Afghanistan
Between 2002 and the Taliban's return to power last year, India had strong ties with Afghanistan. It had built significant influence in the country, not just in government circles but among an array of politicians across ideologies and ethnicities, as well as civil society organizations and ordinary Afghans. Indian infrastructure and development projects, training of civilian and military officials, and extension of scholarships for Afghan students in India earned it public goodwill (Indian Express, August 29, 2021).
However, this all changed with the Taliban's return to power. What made the situation particularly difficult for India was that it had failed to cultivate contacts among Taliban leaders; indeed, by the time it reached out to several 'moderate' Taliban leaders, Kabul had already fallen to the Taliban (Terrorism Monitor, December 16, 2021). Given the vulnerability of its nationals to Taliban attacks, India evacuated them and shut down its diplomatic presence in Afghanistan.
The Taliban's power grab in Kabul prompted political commentators to point out that "New Delhi lost its grip in one fell swoop" (Dawn, September 19, 2021). The Taliban victory, moreover, was also a strategic victory for Pakistan. It now had a friendly government in Kabul and had achieved its long-standing ambition of securing strategic depth in its future confrontations with India.
Pakistan's clout in Kabul has been on display repeatedly in the months since the Taliban returned to power. In early September 2021, in a brazen display of its influence, Pakistan's then-intelligence chief, Lieutenant Gen Faiz Hameed, flew to Kabul reportedly on the invitation of the Taliban to resolve infighting among Taliban leaders over ministerial portfolios (India Today, September 4, 2021). The interim administration that was announced soon after included leaders like Sirajuddin Haqqani and Amir Khan Mottaqi, who are known to have close ties with Pakistan's Inter-Services Intelligence (ISI) (Militant Leadership Monitor, October 6, 2021;Militant Leadership Monitor, January 2022). Leaders like Abdul Ghani Baradar and Sher Mohammad Abbas Stanekzai, in contrast, who had been functioning out of the Taliban's Qatar office for several years and thus out of Pakistan's grip, were reportedly in touch with Indian officials and were allotted less influential positions.
Problems in Pakistan-Taliban Ties
Pakistan's 25 year-long support of the Taliban was expected to pay off once the insurgent group came to power. It was expected that the Taliban, in the context of its continued dependence on Pakistan due to global isolation, would avoid ruffling Islamabad's feathers. That expectation, however, has not materialized on at least two issues: the two countries' border dispute and the Taliban's relationship with the Tehreek-e-Taliban Pakistan (TTP), also known as the Pakistani Taliban. On both issues, the Taliban has openly defied Pakistan.
Between December and February 2021, Taliban fighters repeatedly clashed with Pakistani security personnel along their disputed border known as the Durand Line. In addition to damaging stretches of the fence that Pakistan erected along this border, the Taliban even briefly detained seven Pakistani paramilitary forces near Paktika province (Terrorism Monitor, February 8).
Pakistani officials sought to downplay the clashes (Dawn, December 25, 2021). However, the Taliban signaled an inflexible position. "We will not allow the [Pakistani] fencing anytime, in any form…. There will be no fencing anymore," Mawlawi Sanaullah Sangin, a Taliban commander in eastern Afghanistan stated (Tolo News, January 5).
As for the Taliban's ties with the TTP, there were expectations in Islamabad that the former would act against the TTP and deny its fighters sanctuaries on Afghan soil. Pakistan even handed the Taliban a list of "most wanted [TTP] terrorists" based in Afghanistan in August last year (Express Tribune, August 23, 2021). However, the Taliban has failed to rein in the TTP or halt its attacks on Pakistani targets from Afghan soil. While it did encourage talks between the Pakistan government and the TTP and mediated between the two, when the month-long ceasefire ended and the TTP accelerated its violent campaign against Pakistan, the Taliban did not criticize these attacks. Given the ethnic Pashtun solidarity between the Taliban and the TTP, their long history of co-operation, and the fact that the TTP provides the Taliban with strategic leverage over Pakistan, the Taliban is unlikely to snap ties with the TTP (Terrorism Monitor, February 8).
Taliban Overtures to India
Within weeks of its capture of power in Kabul, Taliban leaders began reaching out to India. On August 31, Stanekzai, who was subsequently appointed the Taliban deputy foreign minister, met India's Ambassador to Qatar, Deepak Mittal, at the Indian Embassy in Doha. The meeting, which was the first ever public contact between the two sides, was reportedly "on the request of the Taliban side" (India Ministry of External Affairs, August 31, 2021). Taliban officials also reached out to the Indian government to resume commercial flights between the two countries and provide visas for Afghan students to resume their studies in India on Indian scholarships (Hindustan Times, September 29, 2021). The Taliban have also requested India to reopen its embassy in Kabul and resume its development projects in Afghanistan (Economic Times, September 2, 2021).
Engagements at higher levels have also been initiated. In October, Indian diplomats met Taliban Deputy Prime Minister Abdul Salam Hanafi at the Moscow Format Consultations, hosted by Russia. Indian and Taliban officials held a closed door meeting at the sidelines of the consultations, where India offered to provide Afghanistan with humanitarian aid (The Hindu, October 21).
India's Humanitarian Aid
Of all the interactions between India and the Taliban regime in recent months, it is their engagement on the transport of wheat to Afghanistan that has been more than simple one-off talk and is likely to continue for several months ahead. For several months Pakistan refused to allow India overland access to Afghanistan and then opposed Indian trucks traversing its territory. Throughout this period, Indian and Afghan officials found themselves on the same side, trying to persuade Pakistan to come on board the initiative. The deadlock was eventually broken with Pakistan allowing Afghan trucks to carry the wheat from the Wagah checkpoint on the India-Pakistan border to Afghanistan (The Print, February 23).  With several more wheat consignments scheduled to head to Afghanistan via Pakistan, India-Taliban engagement on transport of the wheat will continue. In addition to providing Indian and Afghan officials opportunities to engage, India's supply of humanitarian aid will revive public goodwill in Afghanistan.
It is significant to note that while India has not recognized the Taliban government, it plans to persist in its provision of development aid to Afghanistan — as it did in previous years. India's recently announced 2022-2023 budget has allotted $26.74 million to the Ministry of External Affairs as development aid for Afghanistan. While this year's allotment is less than the $47 million allotted to Afghanistan under the Ashraf Ghani government in last year's budget, it is on par with the revised allocation made last year. Indian officials have said this will go towards old projects, humanitarian aid, and scholarships (Indian Express, February 2). This bodes well for the revival of scholarships and other soft power initiatives that India has extended to Afghans in the past.
India and the Central Asian Countries
In recent months, India has also stepped up its diplomatic ties with Afghanistan's neighbors with an eye on developing a regional approach to engaging the Taliban. In November, it hosted the Third Regional Security Dialogue on Afghanistan, which was attended by top security officials from Russia, Iran, India and the Central Asian Republics (CARs) (First Post, November 10, 2021). Meetings among the foreign ministers and then the National Security Advisors of India and the CARs followed in Delhi soon after, culminating in a virtual summit in late January that saw the leaders of these countries set up two Joint Working Groups, one relating to Afghanistan and the other relating to Chabahar Port in Iran (Asian Affairs, March 2022).
India's heightened engagement of the CARs aimed not just at improving trade with the region but also drawing on their support to engage with the Taliban. Like Afghanistan, the CARs are landlocked. Their trade with India is being obstructed by Pakistan's reluctance to allow overland transit. India has been rallying the CARs to use the route through Chabahar port via Afghanistan and Iran to boost trade (The Print, January 27). The CARs and India, therefore, will have to work together to persuade the Taliban to facilitate this access. Stability in Afghanistan is essential for such trade to grow, and India will be hoping to get the CARs, Afghanistan, and Iran on board to enable such stability.
All these Indian efforts and initiatives indicate that the Indian government is keen to engage the Taliban and is preparing the ground for such engagement. Its security interests, as well as economic ambitions in Central Asia have been hit hard by the loss of a friendly government in Kabul. Establishing a relationship with the Taliban, however small, is seen to be necessary to protect New Delhi's interests.
Conclusion
While India's humanitarian aid has provided it with a toehold in Afghanistan, it is too early to see this as a breakthrough in Indian-Taliban relations. There are many obstacles ahead. For one, any Indian initiative that revives its influence and presence in Afghanistan, even minimally, is bound to draw Pakistani ire and prompt it to press the Taliban to desist from such engagement. There may be strains in the Pakistan-Taliban relationship but theirs is a long-standing connection that is symbiotic and mutually beneficial. The Taliban will not risk a rupture at this point on the question of engaging India.
India, too, remains uneasy about dealing with the Taliban, given its hardline Islamist ideology and proximity to Pakistan. Although calls for reopening the Indian diplomatic mission in Kabul are growing in its security establishment, it will adopt a cautious approach on the matter and maintain a minimal presence due to security concerns. There is nevertheless ample scope for co-operation between India and the Taliban. Afghanistan is in dire need of infusions of food and medical aid and India has the capacity to provide such support. Besides, the health and nutrition situation in Afghanistan has assumed alarming levels under Taliban rule. India has considerable experience in running projects in these areas in Afghanistan and should explore the possibility of reviving them.
The main source of India's power in Afghanistan has been its soft power. While the Taliban is likely to block important elements of India's soft power—such as Bollywood movies and music, which are immensely popular among the Afghan people— there is no reason for the Taliban to reject India's work in the fields of education, health and nutrition.