India: One of the Biggest Beneficiaries of the War in Ukraine
Publication: Eurasia Daily Monitor Volume: 20 Issue: 69
By: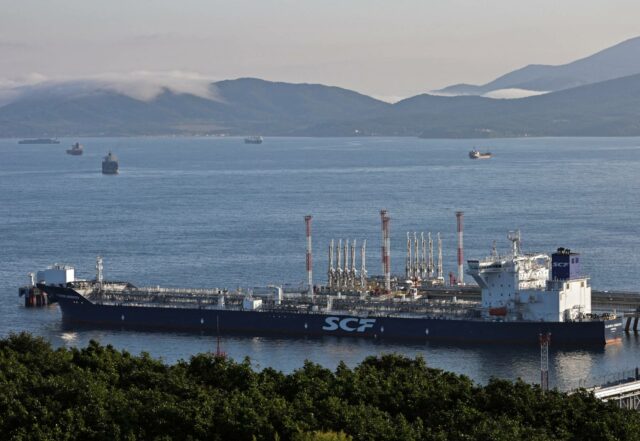 On April 10, during her first official visit to India after Russia launched its all-out war against Ukraine in February 2022, Ukrainian Deputy Foreign Minister Emine Dzhaparova urged the Indian government to diversify its energy and military resources. "We think that it is crucial to diversify resources, not only energy but military resources, too, because what we see in my country is that when you are dependent on Russia, they will blackmail you," said Dzaparova. Regarding the war, the Ukrainian official added, "I briefed India about the military situation, which is quite difficulty. … [Therefore], we are not in a position to instruct India" (Tribune India, April 11).
Although India is a member of the Quadrilateral Security Dialogue—or Quad, along with the United States, Japan and Australia—it has yet to openly condemn Russia's invasion of Ukraine. Barring India, the other Quad countries have vehemently condemned the Russian aggression. New Delhi even abstained from voting on the United Nations resolution condemning Moscow for its actions and demanding immediate and unconditional withdrawal of Russian troops from Ukrainian territory (Hindustan Times, March 2, 2022).
In 2022, even after the war started, New Delhi continued to buy Russian oil at discounted rates. As a result, India has come out as one of the biggest beneficiaries of the war in Ukraine, as it has enabled New Delhi to make a backdoor entry into the European market and resell the Russian oil it has purchased at a discounted rate. As a result, India is buying more and more cheap Russian oil and exporting it to Europe after refining it into fuel. India's high volume of crude oil imports from Russia in 2022 and 2023 have helped New Delhi boost its exports of diesel and jet fuel to Europe (India Today, April 6). In fiscal year 2023, India has exported between 70,000 and 75,000 barrels per day (bpd) of jet fuel to Europe (Livemint.com, April 6). And in January 2023, India shipped 172,000 bpd of low-sulfur diesel to Europe and about 89,000 bpd of gasoline and diesel to the United States (Japan Times, February 5; Mind.ua, February 6). Moreover, Europe's imports of diesel and jet fuel from India have increased to 200,000 bpd, with France, Belgium and the Netherlands as major European buyers of Indian diesel (India Today, April 6).
Before the war in Ukraine, Russian oil contributed to only about 0.2 percent of all Indian oil imports. That share, however, rose to 10 percent of India's total seaborne imports for the first time in April 2022 (Business Standard, June 23, 2022). That same month, India's crude oil imports from Russia increased to 1 million bpd (Hindustan Times, January 15). In February 2023, that figure rose to 1.9 million bpd (South China Morning Post, February 19).
In this, India has continued to capitalize on cheap Russian oil. Just two months after its re-invasion of Ukraine in February 2022, Russia became India's fourth-largest oil provider, and New Delhi's state-run refiners came forward to negotiate six-month contracts with Moscow to buy more cheap oil (Livemint.com, April 6). In December 2022, India began buying crude oil from Russia well below the $60 price cap imposed by the West on Russian oil imports (India Today, December 15, 2022). According to one estimate, India imported between 970,000 and 981,000 bpd of Russian oil in 2022–2023, which accounts for more than a fifth of India's overall imports totaling 4.5 to 4.6 million bpd (India Today, April 6). By April 2023, India accounted for more than 70 percent of the seaborne exports of Russia's Urals-grade oil, buying supplies at an average discount of $13 per barrel (Al Jazeera, April 18).
India has also taken advantage of trade and financial sanctions imposed by the US and Europe on Russia. In May 2022, India exported some 50 Indian food products—including rice, tea and coffee—as well as ceramics and chemicals to Russia. Regarding this increased trade, Vivek Agarwal of the Trade Promotion Council of India stipulated, "Trade and financial sanctions imposed on Russia … have opened up numerous avenues for Indian businesses across various sectors. … Indian companies, too, are excited to tap the huge potential available for Indian products in Russia" (Dawn, May 2, 2022). Moreover, a Russian business delegation on a "multi-sectoral business mission" visited India from April 3 to 7 and discussed a ruble-rupee trade mechanism with the Indian authorities in an effort to circumvent Western sanctions and boost bilateral trade. Addressing the India-Russia Business Forum in New Delhi on April 5, the Russian ambassador to India, Denis Alipov, relayed Moscow's appreciation to New Delhi for having "deeper understanding" of the Ukraine crisis (The Hindu, April 5).
In this, India is protecting its interests at the expense of its relationship with the West. Due to the ongoing currency war between the US dollar against the Chinese yuan and Russian ruble, India has discussed measures that would strengthen both rival currencies of the dollar. New Delhi is paying in Chinese yuan in its trade with Russia at a time when Beijing is challenging US global dominance. Additionally, Indian companies have been found paying in Chinese yuan for other international trade as well. For example, India's top cement producer, UltraTech Cement, has paid for cargoes of Russian coal using yuan (Business Standard, June 29, 2022)
India has faced criticism from its Western allies in the Quad but has continued to play both sides of the fence over Ukraine, vociferously touching on the mantra of "strategic neutrality." Washington has flayed New Delhi over its shaky response to Russia's aggression in Ukraine, even threatening New Delhi with sanctions for buying oil and weapons from Russia (Dawn, March 22, 2022). Criticizing India's position on war in Ukraine, US Senator Bob Menendez, who chairs the Senate Committee on Foreign Relations, declared, "They go buy oil from Russia. They buy the S-400 [anti-missile system]. They abstain at the United Nations [on votes criticising Russia]. … But they are a member of the Quad. So, at some point, messages that we send globally here are inconsistent. When we say we are 'troubled' and 'disappointed,' that does not cut it" (Dawn, May1, 2022).
While the West is rather perturbed by India playing both sides, this approach is paying rich dividends for the Indian economy; and the Kremlin knows this. In February 2022, Putin smartly played the "Pakistan card" to put pressure on India when he invited then–Pakistani Prime Minister Imran Khan to Moscow. During the visit, the Russian president upset New Delhi by deepening Russia's romance with India's regional arch rival. However, his strategy seems to have worked, as India has not only abstained from condemning Russia's invasion of Ukraine but also preferred to capitalize on emerging opportunities from the conflict and become a significant beneficiary of the war in Ukraine (see EDM, March 14, 2022).