Political Games Abound Over Ukraine's Coming Offensive
Publication: Eurasia Daily Monitor Volume: 20 Issue: 70
By: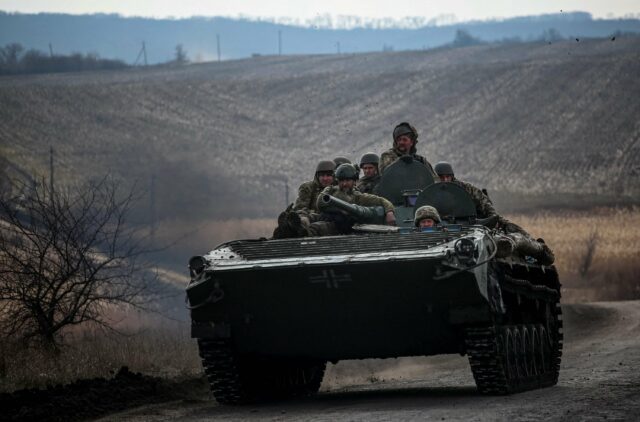 The sea of mud in southern Ukraine is hardening into solid, tank-accessible ground, and political battles in and between all stake-holders in Russia's war against Ukraine are escalating to a culminating point, the result of which will be determined by the course of forthcoming battles. Policymakers, planners and salesmen from Brussels to Beijing—particularly in Moscow—are anxious about the timing, the strength and the outcome of the long-promised Ukrainian offensive. All parties are looking to try to keep their options open and risks manageable. President Volodymyr Zelenskyy and his team of young but already seasoned warriors are playing the game of suspense very cleverly, seeking to maximize support from the West and angst in Moscow—but the moment of truth is just about to arrive (Kommersant, April 28). Time has been on Ukraine's side, as the Russian winter offensive faltered and degenerated into a senseless assault on the ruins of Bakhmut, which the mainstream media in Moscow still tries to portray as a strategic success (Izvestiya, April 27). Presently, however, it is the Ukrainian army that is beginning to feel the pressure of time.
War plans typically never survive first contact with the enemy, but what makes the coming battles doubly unpredictable is that both armies are strikingly different from what they used to be a year ago. The Russian ground forces, once comprised of armor-heavy battalion tactical groups, now field poorly-trained regiments of mobilized pseudo-soldiers and gangs of mercenaries, who fight for their own agenda (The Insider, April 19; Novayagazeta.eu, April 28). Russian experts have noted the point made by General Christopher Cavoli, Commander of the US European Command and Supreme Allied Commander Europe, regarding the strength of Russia's economically employed air force (TopWar.ru, April 27): while they enjoy a quantitative advantage, the recent drop of two bombs (one of which exploded) on Belgorod by a Su-34 fighter signaled serious issues with training and maintenance (Fontanka.ru, April 22). The crash of a MiG-31 fighter in the Murmansk region also adds to existing doubts regarding the Russian air force's capabilities (Current Time, April 26).
On the Ukrainian side, the newly-formed armored brigades are also of unknown quality, as their training has followed standards very different from old Soviet field manuals (Izvestiya, April 27). Their main battle tanks, including the US-supplied M1 Abrams, are superior to those of the Russian armored forces, which never received the much-advertised T-14 Armata. Conversely, Ukrainian armor will have to attack without any air support and defend against Russian air strikes while in battle, flying in the face of NATO doctrine (Republic.ru, April 29; Meduza.io, April 24). Recent Russian long-range missile strikes were supposed to hit the staging areas of these brigades rather than energy infrastructure, but the attack's accuracy was dismal. Instead, the destruction of an apartment block in Uman will be added to the long list of Russian war crimes (TopWar.ru, April 28; Svoboda.org, April 28).
Speculating about the looming battles, most Russian experts apparently draw their experience from playing the computer game World of Tanks, which for the last decade has been hugely popular in Russia (Rossiiskaya Gazeta, July 29, 2021). One person blissfully unaware of these simulated hostilities and informed very optimistically about the strength of Russian army is Commander-in-Chief Vladimir Putin (Moscow Times, April 26). His recent surprise visit to the army headquarters in Southern Ukraine left an odd impression, with Putin coming off as a disoriented leader attempting to escape from his information bubble and finding only clumsily staged performances (Novayagazeta.eu, April 23). Problems with supplies on the front were apparently too massive to hide, as upon his return to Moscow, Putin sternly demanded that his ministers repair roads in the newly-annexed regions; likewise, Putin fired Deputy Defense Minister General Mikhail Mizintsev, appointed to supervise Russian logistics in September 2022, just eight months ago (Gazeta.ru, April 27; Kommersant, April 19). Putin dares not execute a total reshuffle of the top brass, but his selective punishment is hardly sufficient for purposes of instilling fear among the elites, who loath the prospect of a long war and panic about the possibility of a Ukrainian breakthrough (Republic.ru, April 26).
Putin's trepidations are no secret for China's President Xi Jinping, who last week made his long-promised phone call to Zelenskyy, perhaps wary that any further delay could mean that his call and vague "peace plan" would be framed by the Ukrainian counteroffensive (Kommersant, April 27). The Chinese autocrat doesn't want to see Russia defeated and his "dear friend" in the Kremlin de-throned, but he perceives the need to keep a safe distance from the mess of Putin's making, and with every Ukrainian military victory, such as the drone strike on a fuel depot in Sevastopol, the "safe distance" grows further away from Moscow (Nezavisimaya gazeta, April 27; Moskovsky komsomolets, April 29).
Another major move in the global political game is Joe Biden's announcement of his intention to run for a second term as US president, which resonates very differently in Moscow and Kyiv (Forbes.ru, April 28). For Putin and his courtiers, a change in the US leadership driven by domestic discontent—in which generous aid to Ukraine is a factor— would mean a surge in hopes for prevailing in the long war (Russian International Affairs Council, April 27). For the Ukrainians, the prospect of a continued Biden administration means more than just a confirmation of the President's commitment to support their cause "as long as it takes." This is certain to be the tone taken to reassure Zelenskyy of Western support at the NATO summit in Vilnius in mid-July (RIA-Novosti, April 21). Kyiv may expect that Biden's campaign requires a boost, which could be delivered by Zelenskyy if he can successfully build and lead a coalition in support of Ukraine, so the formula of victory can be changed to "whatever it takes."
Biden's move shows that politicians need to be able to move on with their agendas and to address multiple concerns. In fact, one answer to many of their concerns—from China's ambitions in the East and South China Seas to Russia's intrigues in Africa—is Ukraine's success in executing a difficult and risky offensive operation. Military experts know better than to try predicting the probability of a breakthrough, particularly since Ukrainian forces have repeatedly outperformed Western assessments, while the Russian army has failed to live up to its reputation. Unnerving as this uncertainty is for politicians, they need to ask themselves whether enough was done to give Ukraine a fighting chance of regaining its territory—and what needs to be done to capitalize on initial successes.