What Can be Learned From the Xi-Zelenskyy Call?
Publication: Eurasia Daily Monitor Volume: 20 Issue: 70
By: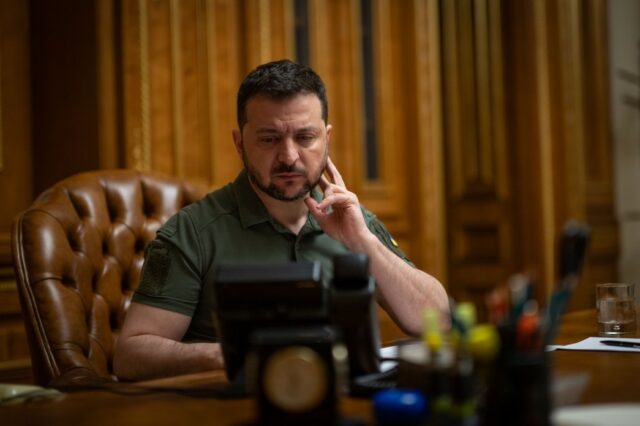 The phone conversation between Chinese President Xi Jinping and Ukrainian President Volodymyr Zelenskyy provides a good reason to reflect on China's approach to Russia's war on Ukraine. On a positive note, Zelenskyy wrote that he and Xi had a meaningful conversation, the first time since the beginning of the war (Twitter, April 26).
The world media present the very fact of the call in different ways. Western media uses the phrase "Xi called Zelenskyy" (Politico, April 27). Russian media quotes a tweet by a Chinese Foreign Ministry spokesperson (in Russian) that emphasized that the call was initiated by the Ukrainian side (Twitter, April 26), suggesting that Zelenskyy called Xi.
These details, however, are not as important as the conversation itself. It is highly probable that the two leaders exchanged their views on the situation without making any harsh statements. It would be reckless to expect that any meaningful agreement could be reached during such a conversation. Therefore, the very fact that the talk occurred is more important than its content.
From the very beginning of Putin's invasion of Ukraine in 2022, China's position was officially neutral and balanced, but was in fact purely pro-Russian. Beijing neither condemned Russia's aggression nor voted for the relevant UN General Assembly resolutions (UN, March 2, 2022). The war in Ukraine was a gift of sorts to Xi Jinping, because for the second year, Putin has successfully diverted the attention, forces and resources of the United States and the collective West to himself—resources which could have been deployed to bolster the West's position vis-à-vis its strategic rivalry with China. This gives Beijing more time to prepare for a very likely confrontation with the West down the line, as Xi himself recently stated, calling for war preparations (Foreign Affairs, March 29). It is therefore clearly in China's interest that the war in Ukraine continues for as long as possible and remains intense enough that the West is forced to deal with it at the expense of their other priorities. This is the reason for China's support for Putin, both politically and economically. It cannot be ruled out that during Xi's visit to Moscow, he may have been holding secret talks with Putin about military assistance. The recent visit to Russia by China's defense minister may indirectly testify to this (RIA Novosti, April 18).
At the same time, China continues to position itself as a peace-loving state that does not accept the resolution of political issues by military means (with the exception, perhaps, of the Taiwan question) (Gov.Cn, September 6, 2011). Therefore, the war in Ukraine puts Chinese diplomacy in a difficult position: on the one hand, it is necessary to proclaim China's goal of bringing peace and desire to comply with the UN Charter; on the other hand, China seeks to cover for the actions of Russia. China's "famous" peace plan is in fact only a set of well-wishes that can be interpreted in any direction (MFA of China, February 24). Such a plan, devoid of any specifics, can hardly provide a solid foundation for peace negotiations. Apparently, Beijing has taken this step to demonstrate China's peacemaking efforts, realizing that this plan will not bring any real progress.
This policy is also reflected in China's diplomatic corps. As in Russia, the growing autocratic tendencies in China's state apparatus have created the best conditions for the rise of careerists, whose main goal is to please their leadership, rather than for competent and strategically thinking people. It is well known that Russian diplomats compete with each other in order to earn praise in Moscow by the "toughness" of their statements, which border on banal rudeness. Not surprisingly, Chinese diplomats suffer from the same disease. The recent scandal with the Chinese Ambassador Lu Shaye to France, who denied the sovereignty and legitimacy of the former Soviet states, is a clear example of that (Youtube, April 24).
The Chinese diplomat in question was clearly ahead of the game, trying to guess the wishes of the leadership in Beijing. It would hardly be too much of an assumption that he was rather clumsily expressing an opinion that is, if not generally accepted, at least widely held in the Chinese Foreign Ministry—and, perhaps, in Party circles as well. Such a "leak" naturally damages China's "peace-loving" image. Therefore, Chinese officials tried to distance themselves from these statements, and Xi Jinping presumably had to agree to talk to President Zelenskyy to smooth over the impression left by his diplomat's reckless words. One can find similarities in the way President Putin was periodically forced to express regret for the behavior of his own diplomats, whether they were MFA Spokeswoman Maria Zakharova, or Foreign Minister Sergey Lavrov himself, apologizing to the President of Serbia and the Prime Minister of Israel, respectively (RBC.Ru, September 10,2020; Lenta.Ru, May 5, 2022).
Another point in this story is how this conversation was perceived in Moscow. Certainly, the Chinese promptly informed Russia and probably spoke more or less openly about what issues had been raised by the two leaders. However, it is safe to assume that the very fact of such a direct conversation between Xi and Zelensky should alert and alarm Putin and his entourage for at least two reasons. Firstly, the Russian leader cannot be completely confident that the Chinese are being straightforward with him; Putin might suspect Beijing of going behind his back to agree on something with Zelenskyy and/or the West. Secondly, the conversation shows that China sees Ukraine as an independent state, contradicting everything Putin has repeatedly stated (and what he sincerely believes on the subject). No matter how many strategic partnerships are announced, Russia's leadership does not trust China. Now they will be even more suspicious of everything that occurs. If the Ukrainians manage to build on this success and achieve new contacts with China at various levels, it may help drive a wedge between the two autocrats.