Indian Counter-Insurgency Operations and COVID-19 Limit Maoist Insurgency
Publication: Terrorism Monitor Volume: 19 Issue: 14
By: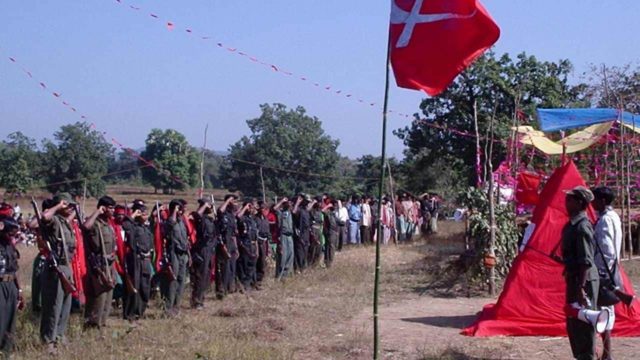 Introduction
Once considered the biggest internal security challenge for the Indian state, Maoist militants, also known as Naxalites, have witnessed a steady decline over the last decade. The insurgency covered almost all central and eastern Indian states and is often referred to as the "Red Corridor," but it is now restricted to nearly 90 districts in 11 states, with Chhattisgarh, Jharkhand, and Odisha as major epicenters for the Maoists' activities. According to an official assessment, incidents of Maoist violence have declined by 70 percent, from 2,258 in 2009 to 665 in 2020. The fatality figures of civilians and security forces have been reduced by an even greater 80 percent from 1,005 in 2010 to 183 in 2020 (Ministry of Home Affairs, March 17).
History of Protracted Conflict
Their steady decline notwithstanding, Maoist militants in India have managed to regularly stage violent attacks against security forces. In early April, Maoists armed with light-weight machine guns and rocket launchers ambushed paramilitary forces along the Sukma-Bijapur border in Chhattisgarh, killing 22 soldiers and injuring 30 others (India Today, April 4). Similarly, on March 23, five District Reserve Guard (DRG) personnel were killed, and 13 others sustained injuries after their vehicle was hit by a Maoist-planted landmine in Chhattisgarh's Narayanpur district (Indian Express, March 24). One year before the Narayanpur incident, on March 21, 2020, 17 security personnel and 23 Maoists were killed in a major encounter in the Sukma district of Chhattisgarh (Hindustan Times, September 12, 2020). This sporadic violence suggests that the Maoists are seeking to maintain their dominance in the Bastar region of Chhattisgarh, which is one of the group's few remaining strongholds.
What started in 1967 as a small peasant and tribal rebellion from the remote Naxalbari village of Darjeeling district, West Bengal, the Maoist insurgency has mutated into a violent anti-India movement over the years. Initially, the activity centered around impoverished parts of central and eastern India, including West Bengal, Bihar, and Andhra Pradesh states. Soon this movement organized as the Communist Party of India–Marxist-Leninist (CPI-ML) and adopted various violent tactics, including guerrilla war and fueling peasant unrest against landlords and ultimately the government. The whole movement was inspired by the revolutionary ideals and agenda of Mao Zedong, the Chinese communist revolutionary and founding father of the People's Republic of China (Hindustan Times, May 28, 2017). Other Communist and Marxist ideologues, of course, also inspired the movement in India, such as Vladimir Lenin, Joseph Stalin, Lin Biao and CPI-ML founding father Charu Majumdar, a sculpture of whom can be still found in Naxalbari.
Maoists in India have adopted the 'protracted People's War' strategy to achieve a political objective in three strategic phases: occupy the land, step up the guerilla struggle, and bring power to the people. A significant shift occurred, however, among Indian Maoists in September 2004 with the merger of two powerful Maoist formations—the Peoples War Group (PWG) and the Maoist Communist Centre of India (MCCI), which unified the CPI-ML (Times of India, October 14, 2004). This strategic merger and apparent fusion of ideology, personnel, and firepower added strength to the insurgent movement and has challenged the Indian government ever since.
Leadership Losses Amid the Pandemic
The central government and affected states have undertaken sustained counter-insurgency operations in the Maoist-dominated Red Corridor, including Operation Green Hunt and Operation Prahar since November 2009. In May 2017, a newly formulated Samadhan strategy effectively addressed the lacuna in the existing anti-Maoist measures (Economic Times, May 8, 2017). Due to these sustained efforts, the geographical spread of Maoist influence has been dramatically contained over the years. At present, 53 districts reported Maoist-related violence in 2020 as compared to 76 districts in 2013 (Ministry of Home Affairs, March 17). The Maoists' diminishing territorial presence can be seen as an accomplishment primarily resulting from the government's multi-pronged strategy involving counter-insurgency measures and development interventions under the National Policy and Action Plan of 2015.
The security restrictions and lockdowns across India during the coronavirus pandemic have also impacted the Maoist movement adversely in two ways: restricting vital supplies, including rations and medicines, to the interior of Maoist-dominated zones; and infections and deaths of Maoist leaders and soldiers due to COVID-19 complications. In May, Chhattisgarh police received information about the spread of COVID-19 in Maoist camps. A seized Maoist letter further revealed that at least 7-8 members had died of COVID-19 and around 15-20 others were seriously ill. The police also indicated that fear of COVID-19 triggered desertion within the ranks of the Maoists (ANI News, May 12).
In June, four senior Maoist leaders reportedly died of COVID-19 complications, including Yapa Narayana (a.k.a. Haribhushan), who was the head of CPI-ML's Telangana unit, and Siddaboina Sarakka, who was a female leader of the Indravati Area Committee (Telangana Today, June 21). Two senior Maoist commanders of the People's Liberation Guerrilla Army (PLGA), who were identified as Sobrai and Nandu, also died of COVID-19 in Telangana (India Today, June 23).
In a major setback for the Maoists, COVID-19 was also contracted by the most infamous Maoist commander, Madvi Hidma, who is the alleged mastermind of the April ambush in Chhattisgarh, which claimed the lives of 22 paramilitary personnel. According to police sources, several other top Maoist militants active in Chhattisgarh's Bastar region were infected with Covid-19, including Katta Ramchandra Reddy and Mula Devender Reddy of the Dandakaranya Special Zonal Committee (DKSZC) and Kunkati Venkataiah of  the South Bastar Darbha Division Committee (DVC) (Times of India, June 26;  The Hindu, June 2). On July 11, another senior Maoist leader Vinod Hemla, who is accused of being involved in the 2013 Darbha valley massacre of the Congress party leaders, also died of COVID-19 in the Bastar region of Chhattisgarh (The Week, July 13).
Conclusion 
The combination of security measures and COVID-19 have stifled the Maoist militants in recent months. The erosion of Maoist dominance over vast swathes of territory may be irreversible under the present circumstances. However, despite the recent setbacks in terms of leadership deaths and receding territory, several districts in Chhattisgarh, Telangana and Odisha remain largely under Maoist control.