India Bans Ghaznavi Force, the Jammu and Kashmir-based Terrorist Group
Publication: Terrorism Monitor Volume: 21 Issue: 7
By: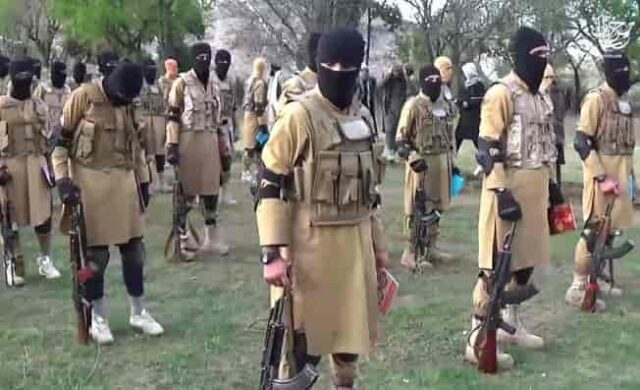 On February 17, the Indian government banned the Kashmir-centric Islamic militant group called the Jammu and Kashmir Ghaznavi Force (JKGF) (egazette.nic.in, February 17). A relatively new entrant in the Kashmir landscape, JKGF emerged as a hybrid strike unit comprised of highly trained cadres of Pakistan-based Tehreek-ul-Mujahideen (TuM), Lashkar-e-Taiba (LeT), and Jaish-e-Muhammed (JeM).
JKGF is also believed to have cooperated with various militant groups, such as al-Badr, Hizbul Mujahideen (HM) and al-Qaeda-linked Ansar Ghazwatul Hind (AGH) (Zee News, February 13, 2020). The group is assumed to be named after senior Hizbul commander Yasin Itoo, whose nom de guerre was Ghaznavi and who was killed in August 2017 during an encounter in Shopian. It is also possible that the group is named after Muslim ruler Mahmud of Ghazni (Afghanistan), who was notorious for invading India several times in the 11th century and is often eulogized by the Taliban and other Islamic militant groups in the Indian subcontinent.
Emergence and Initial Operations
The emergence of JKGF in February 2020 coincided with the first anniversary of the deadly Pulwama terror attacks in February 2019. These attacks claimed the lives of 40 paramilitary force personnel and were carried out by Pakistan-based JeM (India Today, Februrary14). Intelligence agencies report that the newly created JKGF might conduct Pulwama-style suicide attacks in Kashmir again. Expected targets include security convoys, government establishments, and security installations. Besides reinvigorating militancy in Kashmir, JKGF has trafficked arms and drugs, as well as facilitated the infiltration of militants from Pakistan. It has also executed a series of grenade attacks against security forces in Kashmir in the past few years, and has utilized social media platforms such as Twitter, Telegram, and Facebook for propaganda and recruitment. These generally exhort young Muslims to fight against India (Kashmir vision, February 17).
The JKGF grenade attacks were mainly in Ramban, Jammu, and Poonch districts, and targeted police and paramilitary forces—the standard targets for this type of attack for JKGF. Between August and December 2022, a series of grenade attacks were claimed by JKGF. In September, however, four JKGF operatives, including the mastermind in grenade attack cases, Shoket Ali Laiwal, were arrested with live grenades (Greater Kashmir, September 3, 2022). On December 6, 2022, JKGF took credit for another grenade attack that occurred near a police station in the Sidhra area of the Jammu district (Twitter/@TracTerrorism, December 7, 2022). However, since the arrest of Laiwal, the frequency of grenade attacks targeting security posts has decreased in Jammu and Kashmir.
Nearly one year prior to Shoket Ali Laiwal's arrest, JKGF achieved a major operational success in mid-October 2021, when it carried out massive ambush attacks against the security forces in Mendhar and Surankote areas of Poonch district. At least seven armed forces personnel and police were killed (UNI News, October 12, 2021; The Quint, October 15, 2021). JKGF suffered heavy casualties during the gun battle, however. The group also attempted to target Hindu religious places in Poonch district with improvised explosive devices (IEDs) and grenades to instill fear among the Hindu minority there (Indian Express, January 12, 2021; Tribune, December 28, 2020).
In addition, following JKGF's ban on February 17, the Special Investigation Unit (SIU) of Jammu and Kashmir initiated crackdowns on JKGF's network and sympathizers to curtail its ability to generate revenue and conduct underground activities. The territorial administrations of Jammu and Kashmir attacked the property of JKGF operative Abdul Majid Lone, who was arrested earlier for targeting a police post in the Ind area of the Gool subdivision in August 2022. His house, it was discovered, had been a haven for JKGF terrorists (Kashmir Reader, February 25). These setbacks cut off one of JKGF's lifelines in Kashmir, limiting its operational capabilities.
Key Figures, Expanding Networks, and Propaganda
India's anti-terror organization, the National Investigation Agency (NIA), established that JKGF spread from Pakistan to the Gulf Nations in 2021 after the arrests of Sher Ali and Shaheed Naveed at Jammu airport. Both were deported from the UAE and arrested in February and April 2021, respectively. According to the NIA, Sher Ali and Shaheed Naveed worked in Kuwait and remained in touch with a Pakistan-based terror handler named Rafiq Nai (alias Sultan), who facilitated arms, ammunition, explosives, and narcotics trafficking from the Line of Control—that is, the interior areas of Poonch in Kashmir (Daily Excelsior, April 09, 2021; NIA, March 16, 2021). Rafiq Nai, a founding commander of JKGF, and Zafar Iqbal (alias Shamsheer) were also operating from Pakistan and facilitating infiltration of highly trained militants into Indian territory; they were designated terrorists by India in October 2022 (Business Standard, October 5, 2022).
The group's propaganda posters in Urdu, which included messages threatening security forces, first appeared in Kashmir in February 2020, and were shared through social media. The spokesman of JKGF, Aurangzeb Ghaznavi, then issued an audio message in April 2020 to declare the group's presence in Kashmir. The motive behind the group's formation and future violent campaign was explained by Ghaznavi himself, who vowed to fight against Indian occupation and the Indian government's strategy to change the demography of Jammu and Kashmir. He further berated organizations such as Hindu nationalist paramilitary volunteer organization, Rashtriya Swayamsevak Sangh (RSS), Bajrang Dal, and Viswa Hindu Parishad, for conspiring to make Kashmir a Muslim-minority state (Twitter/NatSecJeff, May 1, 2020).
Later, on May 25, 2020, JKGF regional commander Umar Wani released another audio message about jihad and criticized the the Bharatiya Janata Party (BJP), which currently leads India's government. Wani urged local Kashmir youths to join the jihad and paid tribute to slain militant leaders affiliated with Hizbul Mujahedeen, AGH, and JKGF, such as Riyaz Naiko, Junaid Sehri, and Burhan Majid Koka (Twitter/@Metal_falconn, May 25, 2020). Again in July 2020, JKGF issued a statement eulogizing slain Hizbul Mujahedeen militant Burhan Wani on the anniversary of his death and called for Kashmiri youths to fight against Indian government forces. The group also carried out a poster campaign in Kashmir on the observance of "Black Day" on October 26, 2022, which marks the accession of Kashmir to India in 1947 (Times of India, October 28, 2022).
Conclusion
JKGF has become the 43rd terrorist entity to be outlawed by the Indian government. Despite this, India has been struggling to curtail the growth of hybrid and proxy militant groups in Kashmir over the years, such as JKGF, People's Anti-Fascist Front (PAFF), The Resistance Front (TRF) and the Kashmir Tigers (KT). The latest proscription and designation is intended to disrupt JKGF's operations and restrict its ability to stage attacks or further recruit in Kashmir. However, the banning could contribute to the emergence of yet another group through rebranding, splintering, or co-option of other militant groups, which will make the situation more complex and challenging for Indian authorities.