India's Responses to Rising Drone Attacks on its Territory
Publication: Terrorism Monitor Volume: 21 Issue: 13
By: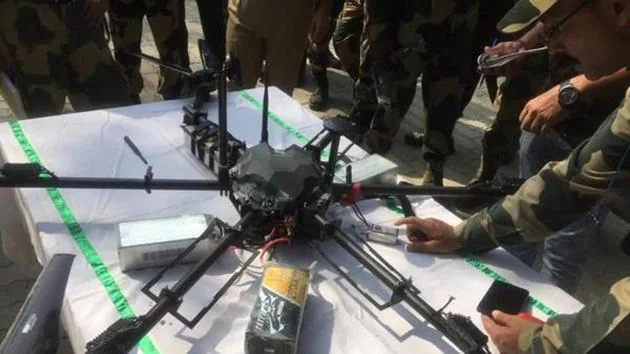 The use of unmanned aerial vehicles (UAVs) for carrying out attacks has become a growing concern for India in recent years, especially in the region of Jammu and Kashmir. UAVs are being used by terrorist organizations to launch attacks on military and civilian targets (ORF, June 30, 2021). These attacks have highlighted the need for better detection and countermeasures against unmanned threats (UNOCT, October 6, 2021).
Several regions along the India-Pakistan border have become conduits for the illicit transportation of contraband, such as narcotics, forged currency, and firearms. These smuggling corridors have persisted for 30 years. Criminal syndicates utilize diverse strategies and tools (to include UAVs) to facilitate the transportation of illicit goods first into Jammu and Kashmir, and then elsewhere in India (ORF, May 8).
The use of UAVs—especially in Jammu and Kashmir—is not new, but the scale and frequency of their use in recent years has increased (ToI, November 22, 2022). In 2021, two UAVs dropped improvised explosive devices (IEDs) on an Indian Air Force base in Jammu, which caused damage to a building. There were several more incidents of UAVs being used to carry out attacks in that region, including dropping IEDs, grenades, and other munitions on military and civilian targets (Rising Kashmir, December 30, 2022). The increased use of UAVs in terrorist attacks highlights the growing accessibility of drone technology, which presents new challenges for security forces aiming to counter such threats effectively.
New UAV Attack Trends
Given the sensitivity of the situation, the Indian government has entrusted the National Investigation Agency (NIA) to record UAV attacks and incidents in the country (Daily Excelsior, July 3, 2021). The numbers provided by the government indicate that there were a total of 167 sightings of UAVs along the border with Pakistan in 2019, but that number dropped to 77 by 2020 (Drishtiias, June 28, 2021). The impact of UAV attacks has been significant, killing several people and causing extensive property damage; moreover, the potential drones offer for future attacks is a cause for ongoing concern.
India's security establishment, meanwhile, has been procuring platforms to combat UAVs. The Indian military ordered almost $19 million of anti-UAV equipment after the 2021 Jammu UAV attack (India Today, September 3, 2021). The anti-UAV technology was first deployed for the 2021 Republic Day Parade and the Prime Minister's address from the Red Fort on India's Independence Day (ORF, July 29, 2022).
UAVs can be jammed with the help of radar, electro-optical and infrared sensors, and radio-frequency detectors. India's Defence Research and Development Organisation's (DRDO) anti-UAV technology provides the Indian Armed Forces "soft kill" and "hard kill" options to combat fast-emerging aerial threats. The Indian Air Force has sought to augment its air defense capabilities by purchasing ten anti-UAV systems with directed-energy weapons (ORF, July 29, 2022). The private sector has also chipped in; for instance, Hyderabad-based Grene Robotics has built India's first native UAV, "Indrajaal," which is capable of autonomously protecting an area of 1000-2000 square kilometers against aerial threats (Raksha Anirveda, September 18, 2022).
India's first anti-UAV product, "Defender," is manufactured by Rattan India Enterprises. The new system is equipped with artificial intelligence, which assists in remote control and targeting rogue UAVs with quick recognition of their movements. Under "Project Cheetah," the Indian Air Force is planning to integrate its existing Israel-manufactured Heron UAVs with indigenous equipment for better striking, communication, and target abilities. These UAVs will be equipped with missiles and laser-guided bombs (YouTube, July 4, 2021).
The Border Security Force
In response to the potential danger posed by UAVs, the Indian Border Security Force (BSF) has implemented a range of strategies. Detection systems, such as radar, cameras, and other sensors, have been employed to identify UAVs in flight. Furthermore, jamming mechanisms are now employed to impede the transmission of signals between UAVs and their controllers, thereby rendering the UAV inoperable. Although the identification of a UAV's audio signature poses a significant challenge, anecdotal evidence suggests that security personnel can utilize this data to aid in detecting drones (The Tribune, May 18).
The BSF further engages in continuous surveillance activities over a region which extends roughly five kilometers beyond India's border. The practice of conducting "depth area patrolling" is further designed to ensure efficient surveillance of the border region. The primary objective of this measure is to impede the unauthorized access of UAVs and safeguard the integrity of India's borderlands (ToI, December 1, 2022).
Additionally, the BSF engages in cooperation with regional law enforcement agencies. In the region of Punjab, an estimated 300 state police personnel have been assigned to conduct patrols. The region is being monitored for any suspicious movements through the establishment of both permanent and temporary checkpoints. Law enforcement officials proactively interact with nearby communities to increase their knowledge regarding the possible risks associated with UAVs. The reporting of any UAV activity that is deemed suspicious or threatening is encouraged, with the aim of fostering security collaboration between communities and the BSF (The Tribune, January 3).
Conclusion
The rise of UAV attacks in Jammu and Kashmir—and the potentiality for strikes elsewhere—is a cause for concern in India. The use of UAVs by militants for attacks on military installations and civilian areas has only added a new dimension to the security challenges faced by Indian forces; likewise, the threat has highlighted the need for investment in counter-UAV technology and improved training for security personnel in order to deal with the emerging threat (Deccan Herald, February 16). This will also necessitate greater cooperation between the Indian government and the broader international community.