Iran and Tajikistan Announce Formation of Joint Military Committee
Publication: Eurasia Daily Monitor Volume: 18 Issue: 61
By: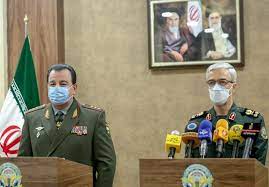 Major General Mohammad Baqeri, the chief of staff of the Iranian Armed Forces, and Colonel General Sherali Mirzo, the defense minister of Tajikistan, met last week (April 6 and 8) in Tehran, where they inter alia signed an agreement on creating a joint military defense committee (IRNA, April 8; Regnum, April 9). The two sides said that the new body will promote security cooperation and help them counter terrorism; but exactly how it will work remains unclear. Nonetheless, because this accord is with the only non-Turkic country in Central Asia and because it involves Iran more deeply in an area Russia considers its own backyard, its existence obviously represents a challenge to Ankara as well as Moscow. At the same time, it may lead to expanded contacts between Iran and China, while also providing Tajikistan, increasingly caught within a Chinese net, greater freedom of action.
Both Iran and Tajikistan have compelling reasons to cooperate more closely in the security sphere. Since the Moscow declaration on the Karabakh war last November, Tehran has sought to take steps to counter growing Turkish influence both in the Caucasus and in Central Asia. The Russian-brokered accord (signed by the leaders of Russia, Azerbaijan and Armenia, on November 9, 2020) already gives Iran a seat at the table for future discussions in the South Caucasus by specifying that among the transportation routes to be reopened will be those between Armenia and Iran (see EDM, April 13). But in Central Asia, Turkey has been moving quickly to mobilize the four Turkic-majority countries there. Ankara has promoted cooperation among them and even ended some long-standing conflicts (Stan Radar, January 22, 2021), and it has expanded its influence across the region (Nezavisimaya Gazeta, November 29, 2020). Not surprisingly, the Islamic Republic is trying to come up with ways to respond. Linking itself with non-Turkic Tajikistan is an obvious place for it to start.
Iran also has an interest in promoting ties with China, and expanding its own footprint in Tajikistan is one of the ways to do that. Last month, Tehran and Beijing signed a 25-year cooperation agreement that will allow Iran to escape some Western sanctions and China to promote another trade route west as part of its Belt and Road Initiative (BRI; originally "One Belt, One Road") (Kaspiyskiy Vestnik, April 1). And Iran also wants to play an expanded role in Afghanistan. Thus, enhancing cooperation with Tajikistan, which abuts that war-torn country from the north, is a potentially useful step—and something explicitly mentioned in the joint Iranian-Tajikistani announcement of the joint military committee.
At the same time, Tajikistan has perhaps even more compelling reasons for welcoming expanded ties with Iran. Its relations with Central Asia's Turkic republics are deteriorating. Dushanbe has just shot down any border agreement with Kyrgyzstan because it is not prepared to meet Bishkek's demands that it compromise on the Tajik-populated Vorukh exclave (ASIA-Plus, Sputnik.kg, April 9); and Tajikistani officials have even begun pushing ethnic Kyrgyz out of the republic in order to give more land to members of the titular nationality (Barometr, April 2). As a result, Tajikistan is now more at odds with its neighboring Turkic republics than at any point in recent decades and, thus, is more willing to explore ties with Iran, a country which speaks a mutually intelligible Persian language (see EDM, April 14).
Moreover, Tajikistan seeks to counterbalance the expansion of Chinese influence on its territory and to gain more support to oppose any influx of Islamist groups from Afghanistan. Dushanbe has welcomed Chinese investment but not its heavy-handed security presence, its claims of Tajikistani land, or Beijing's penetration of the Central Asian nation's local elite via corrupt means. And at the same time, Tajikistan is looking for more help in countering any Islamist incursions from the south than the Russians have been willing or able to provide—except at a price of loyalty Dushanbe is increasingly unwilling to pay (see EDM, July 30, 2020 and February 11, 2021; Central Asian Analytical Network, May 7, 2020; Ia-centr.ru, February 21, 2021; Carnegie.ru, January 22, 2021).
So while Iran and Tajikistan have motivations to cooperate, these three other countries—Russia, China and Turkey—have their own reasons for being concerned about this development. Russia opposes any outside involvement in the former Soviet space, especially in the security area. And while it may welcome Iran's countering Turkish influence in Central Asia, it is likely to be concerned that Iran's cooperation with Tajikistan could actually exacerbate pro-Turkic feelings elsewhere. Furthermore, Russia may worry about the way in which Iranian cooperation with Tajikistan will make it easier for China to promote transportation routes to Europe that bypass Russia—a perennial fear in Moscow (see EDM, July 11, 2019, February 25, 2020, April 8, 2021). In turn, China may welcome that possibility; but at the same time, it is likely to be nervous about the appearance of a joint Iranian-Tajikistani military body in Dushanbe, which could allow Tajikistan's authorities to act more independently and block policies or initiatives Beijing wants. And finally, Turkey, not surprisingly, will almost certainly view this latest Iranian move as directed in the first instance against itself and Ankara's plans for the formation of a broader Turkic World.
The announcement last week is, therefore, likely less the end of the story than the beginning of a heightened conflict over Iran and Tajikistan, with all these countries and perhaps others playing a part. These nearby powers are certainly going to exploit the fact that Iran and Tajikistan remain divided in religious terms, with Iran being the world's leading Shiite state and Persian-speaking Tajikistan being overwhelmingly Sunni. And they are also going to be able to remind the Tajiks that their relations with Iran have historically been anything but smooth. Dushanbe, for example, was outraged when Tehran officially received Mukhiddin Kabiri, the head of the opposition Islamic Renaissance Party of Tajikistan in December 2015 (Fergana, June 14, 2019), an action that, alone, kept relations frosty until 2019 and has not been forgotten to this day (see EDM, July 10, 2019; Fergana, April 9, 2021).
Tehran and Dushanbe have been edging closer together over the last several months, with high-level visits setting the stage for the latest announcement. But it is unclear just what role they intend their new joint military committee to play. And it remains to be seen whether outside powers, playing on Tajik sensitivities, will be able to torpedo it.