Iran to Clear $1.8 Billion Gas Debt to Turkmenistan, Reopen Korpeje–Kurtkui Pipeline
Publication: Eurasia Daily Monitor Volume: 19 Issue: 106
By: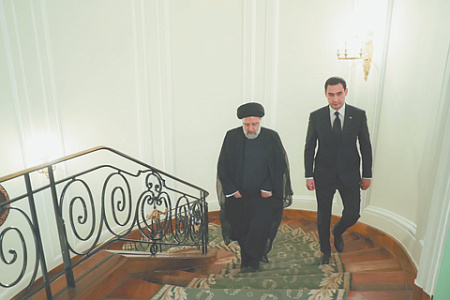 Iranian President Ebrahim Raisi met with the new leader of neighboring Turkmenistan, President Serdar Berdymukhammedov, for the first time on June 15, at the 6th summit of the Caspian Sea littoral states, in Ashgabat. As a consequence of their talks, the pair agreed to sign a cooperation agreement for the next 20 years. Even more significant, Iran stated its willingness to resume importing Turkmenistani natural gas via the long-dormant Korpeje–Kurtkui pipeline after paying off its outstanding $1.8 billion debt for previous deliveries dating back to 2016 (Nezavisimaya gazeta, June 15).
The agreement marks a victory for both parties. Iran further weakens international sanctions against its regime over its nuclear policy. And Turkmenistan, by reviving the contract with Iran, broadens its possible export options beyond China's de-facto monopsony of low-priced Turkmenistani natural gas exports.
The USSR began developing Turkmenistan's gas deposits in the 1960s, for which it subsequently built the Central Asia–Center Pipeline System (Truboprovodnaiia Sistema Srednaia Aziia-Tsentr; SATS). This transit network was originally intended solely to serve domestic needs rather than exports, piping gas northwest to eastern Soviet territory in Europe. In the wake of the 1991 collapse of the USSR, Turkmenistan's first president, Saparmurat Niyazov, sought to break Moscow's monopsony position inherited by Gazprom over Turkmenistani volumes. Gazprom, in true post-Soviet capitalist free-market style, paid minimal prices, as Turkmenistan had no other export options. The energy company diverted its purchased Turkmenistani gas to the Russian domestic market, which freed up the Russian energy giant's Western Siberian reserves for export to Europe. Niyazov was infuriated by Gazprom's "buy cheap, sell dear" policy but initially could do little, inhibited as he was by the Soviet-era pipeline network and his country's geographic isolation.
Niyazov's rising irritation at Gazprom's predatory pricing policies led him to commission the 120-mile, $190 million Korpeje–Kurtkui gas pipeline to Iran. The pipeline was opened in December 1997 by Niyazov and then–Iranian President Mohammad Khatami (Mfa.gov.tm, accessed July 8). With an annual capacity of 8 billion cubic meters (bcm), the Korpeje–Kurtkui pipeline, the first in the post-Soviet space not under Russia's direct control, was owned and operated by state monopoly Turkmengaz and the National Iranian Gas Company (NIGC). This, in conjunction with later pipelines subsequently built to China, would effectively end Gazprom's previous monopsony over Turkmenistani gas.
Turkmenistan's exports to Iran eventually developed their own stresses, however—again primarily over pricing. Ashgabat ultimately cut off all gas supplies to Iran in the winter of 2016, saying Tehran should clear its outstanding debts, which dated back nearly a decade (Tasnim News Agency, October, 17, 2018).
The NIGC responded to the Turkmengaz cutoff by accusing Turkmenistan of acting arbitrarily during the cold winter of 2007–2008, when the gas company took advantage of Iranian shortages by hiking its gas prices nine-fold, reportedly to $360 per 1,000 cubic meters, up from $40. According to Turkmenistani officials, Iran accumulated the bulk of its outstanding debt during this period (EADaily, May 29, 2017).
Tehran's efforts to improve relations with Turkmenistan are part of Raisi's initiative to boost his administration's policy of deepening relations with Iran's neighbors as part of the country's new foreign policy agenda (see EDM, February 2, 2022). At the 6th summit of the Caspian Sea littoral states in Ashgabat, Raisi stated, "The interaction of the Islamic Republic of Iran with its friends and neighbors is unique, and this interaction and cooperation not only will lead to economic prosperity and increase the welfare of our nations but also strengthen regional peace and stability and solve the problems of the Caspian Sea zone merely through its coastal countries. This major strategy of the Islamic Republic of Iran will continue, regardless of international developments" (Mehr News Agency, July 2).
For Turkmenistan, resolving pricing disputes with Iran broadens its export options, as China has now replaced Gazprom as the major purchaser of Turkmenistani gas—virtually the sole source of revenue for the government. While neither Ashgabat nor Beijing have officially commented on the price China pays for its gas imports, multiple media reports indicate that China locked the Turkmenistani government into long-term, low-price contracts.
Turkmenistan's government consequently hopes that the long-stalled Turkmenistan–Afghanistan–Pakistan–India (TAPI) pipeline will allow it to reach the lucrative and energy-starved Pakistani and Indian markets. This coincides with Afghan interests; since seizing power, the Taliban has continued the former Ashraf Ghani government's interest in reviving the TAPI pipeline (see EDM, December 6, 2021). Turkmenistan would provide 33 bcm annually from its Dauletabad gas fields to Pakistan and India, via Afghanistan. Transporting these Turkmenistani gas volumes could earn the Taliban government transit revenues estimated at up to $500 million annually (Oilcapital.ru, June 1, 2022).
Yet, Ashgabat will need to be wary of the Afghan Taliban's avaricious business practices. Given the Taliban government's severe economic incompetence, Kabul is interested in maximizing immediate profit from any and all resources it can put under its control—from transit to energy. On June 27, Pakistani Prime Minister Shahbaz Sharif, in a bid to lessen electricity costs, jump-started coal imports from Afghanistan to lessen Pakistan's dependence on costly South African imports. These coal purchases were to be paid for in rupees to preserve Pakistan's dwindling foreign currency reserves (Dawn, June 28). Within hours, the Taliban more than doubled its fees unexpectedly from $90 to $200 per ton and set customs duties at 30 percent (Theprint.in, July 1). Such unexpected and abrupt rapaciousness on the Taliban's part will undoubtedly cast a pall on its efforts to locate billions of dollars in foreign direct investment to complete the TAPI pipeline.
Another wild card for Turkmenistan is the reemergence of Russia. In 2019, Gazprom resumed purchases of Turkmenistani natural gas after having suspended imports in 2015 (Finam.ru, March 29, 2019). For Turkmenistan, while export options now include Afghanistan, Iran, Russia and China, these countries' regimes all remain committed to the free market's eternal first premise: "buy cheap, sell dear."