Is Georgia's New Government Shifting the Country's Geopolitical Course Toward Russia?
Publication: Eurasia Daily Monitor Volume: 9 Issue: 208
By: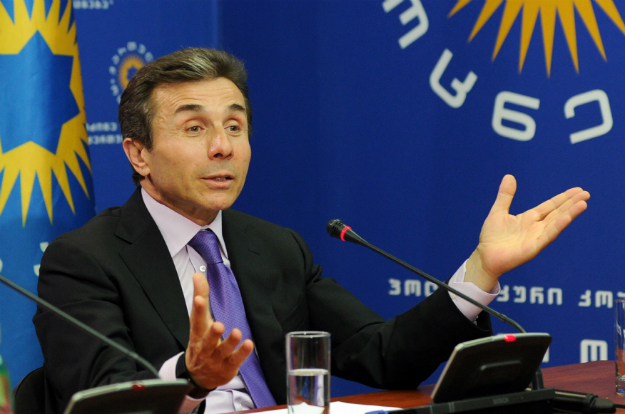 On November 1, Georgia's new prime minister, the leader of the "Georgian Dream" coalition, Bidzina Ivanishvili, announced the creation of the position of the Prime Minister's Special Representative for Relations with Russia. He appointed Zurab Abashidze, Georgia's ambassador to Russia in 2000–2004, to the post (www.interpressnews.ge, November 1). This step, preceded by a number of other actions on behalf of the new government, may signal a possible shift of Georgia's geopolitical course toward Russia.
The introduction of the new post and specifically the appointment of Abashidze to it have political as well as symbolic significance. A Special Representative will, in fact, fulfill the functions of an ambassador, thus directly and indirectly paving the way for the potential restoration of Russian-Georgian diplomatic relations. Yet, the continuous and still unresolved Russian military occupation and recognition of the breakaway Georgian regions of Abkhazia and South Ossetia have been the very cause of the halt of diplomatic relations by Georgia in the aftermath of August 2008 Russian-Georgia war (www.regnum.ru, August 29, 2008). The specific appointment of Abashidze, a former ambassador to Russia, indirectly indicates to Russian policymakers that he in fact returned to the position of an ambassador to Moscow in all but name.
Against this background, Georgian Foreign Minister Maia Panjikidze's statement that Georgia would not restore diplomatic relations with Russia until Moscow withdrew its embassies and troops from Abkhazia and South Ossetia (www.interfax.com, November 1) is not convincing.
While on the campaign trail, Ivanishvili vowed to mend Georgia's troubled ties with Russia. After his victory in the October 1 parliamentary elections, he quickly signaled that Georgia's relations with Russia might be changing. Shortly before assuming office, Ivanishvili stated that Georgia should participate in the 2014 Sochi Winter Olympics, hosted by Russia (www.georgiaonline.ge, October 16), that Tbilisi planned to boycott because of Russia's ongoing occupation of Georgian territory.
On October 20, under the pretext of financial difficulties, the Georgian Public Broadcaster (and in fact the Georgian government) canceled its contract and closed down the publicly funded PIK TV, the Russian-language Georgian television channel. PIK TV targeted audiences in the North Caucasus and Russia proper (www.civil.ge, October 21), and had been a source of great irritation for Moscow because of its anti-Kremlin editorial content.
On November 7, the Georgian government arrested high-ranking officials serving under President Mikhail Saakashvili: the former chief of the prison system, former Minister of Defense and Internal Affairs Bacho Akhalaia; the acting Chief of Joint Staff of the Armed Forces General Giorgi Kalandadze; and the former commander of the 4th Infantry Brigade of the Army Zurab Shamatava on the charges of abuse of soldiers during their term in office (www.pirweli.com.ge, November 7). Kalandadze and Shamatava later were released on bail; however, Akhalaia is facing additional charges, including torture (www.interpressnews.ge, November 12). In relation to this case NATO postponed its Military Committee's planned visit to Tbilisi. As Georgia's State Minister for Euro-Atlantic Integration Alexi Petriashvili stated, the Joint Staff of the Armed Forces should have been the main host for the delegation. (www.civil.ge, November 9). Later, NATO Secretary General Anders Fogh Rasmussen expressed his concern over the arrests (www.radiotavisupleba.ge, November 12). So far, it is not entirely clear how much this incident will affect long-term Georgian-NATO relations. However, while trying to accelerate integration, Georgia's government has yet to find ways to move beyond this incident without allowing it to hurt Georgian-NATO ties.
The normalization of its relations with Russia is a necessity for the Georgian state. Yet, larger questions remain unanswered. Is this policy realistic at this point? And if so, at what cost for Georgia? Another problem is that the new Georgian government does not seem to have a clear plan about precisely what should be done to improve Georgian-Russian ties without actually damaging Georgia's vital interests.
Abashidze's comments in this regard are self-revealing. As he stated, Russia would not retract its recognition of the breakaway regions, while Georgia had its own red lines. In such circumstances, he suggested initiating the restoration of trade and cultural ties with Russia and waiting to see what opportunities would arise in the future with regard to resolving the issue of Abkhazia and South Ossetia (www.civil.ge, November 1). He added that since Georgia established a post of a Special Representative, it was now Russia's turn to take similar concrete steps (www.pirweli.com.ge, November 1).
The lack of a specific plan to re-launch bilateral diplomatic relations increases the risk that Georgia's national interests may suffer, and in the process Russia may be able to succeed in derailing Georgian-Western ties and imposing heavy concessions on Georgia with regard to its breakaway regions and other matters. First signs of this happening are already visible. Moscow quickly responded to Tbilisi's overtures, stating that it was actually Russia that was waiting for concrete steps from Georgia (www.radiotavisupleba.ge, November 4). A couple days after Moscow's statement, it became clear that the concrete steps Russia expected could mean further compromises from Georgia, such as for instance, reentering the Russian-dominated Commonwealth of Independent States (CIS), which Georgia left after the August 2008 war (Ria Novosti, August 18, 2009). On November 9, Moscow declared that the CIS is open to readmitting Georgia (www.pravda.ru, November 9). Such an offer may in fact mean a demand for compromise from Tbilisi in light of Georgia's efforts of rapprochement with Russia.
Prime Minister Ivanishvili adamantly repeated that the normalization of Georgian-Russian relations would not mean Georgia would abandon its Euro-Atlantic aspirations. He even picked Brussels for his first foreign visit to underline his government's loyalty to Georgia's Western orientation (www.adjaratv.ge, November 9). It is unclear, however, how the Georgian government will achieve both, taking into consideration Russia's vociferous opposition to Georgia's NATO membership.
The Russian occupation of Abkhazia and South Ossetia has been and remains the single largest spoiler of Georgian-Russian relations. Subsequently, any political move by Tbilisi regarding the Russian-occupied breakaway regions cannot be separated from Georgia's relations with Russia and vice versa. The Georgian government announced new policies toward the breakaway regions via the newly appointed Minister of Integration Paata Zakareisvhili, widely seen in Georgia as holding a pro-Russian and often pro-separatist stance. Such policies include: engaging the Abkhaz and Ossetians, opening a Georgia-Russia railway link via Abkhazia (see EDM, November 12), and recognizing documents issued by the breakaway regions' separatist regimes (Maestro, November 2). All of these proposals please Russia and contain risks for Georgia, without receiving any gains and concessions in return.
Moscow, however, was quick to pour cold water on the Georgian government's aspirations. On October 9, Russia's Foreign Minister Sergei Lavrov stated that Russia would not hold any negotiations with Georgia on the status of Abkhazia and South Ossetia (www.newgeorgia.ru, October 9). On October 24, Russian President Vladimir Putin emphasized that Moscow would continue its support for strengthening the statehood of South Ossetia (ITAR-TASS, October 24). Moreover, in October–November, the Abkhazian separatist regime ruled out any direct negotiations with Georgia unless it was about the subject of Georgia's recognition of Abkhazia's "independence" (www.pirweli.com.ge, October 23; November 4). By these statements, Russia made it plainly clear that negotiations and compromise over the Russian-occupied separatist regions was off the table. The question, thus, remains: is there anything else that Georgia can gain from Russia? The answer is not very much.
Even the much-talked-about probable restoration of trade relations between Georgia and Russia may not be entirely good news for Georgia. Russia did not prove to be a stable trading partner for Georgia. Moscow banned the imports of Georgian wine, mineral water and agricultural products in 2006, amid a spy row between the two countries (www.civil.ge, March 28; April 5; May 5, 2006). By reopening its market to Georgian products, Moscow may benefit by reestablishing a Georgian export dependency on its northern neighbor, thus leaving Georgia's economy vulnerable to Russia's manipulations once again.
Within a little over one month after its electoral victory, the new "Georgian Dream" coalition–led government has taken several steps that may signal a possible shift of Georgia's geopolitical course toward Russia. This shift, however, is not yet absolutely certain. The declared goal of mending ties with Russia, without hurting Georgia's Euro-Atlantic prospects, seems very difficult, if not impossible to achieve. In one possible case scenario, rapprochement with Russia may take Georgia back into Russia's orbit, at the same time incurring irreparable damage to Georgia's prospects for the restoration of its territorial integrity. In another scenario, Georgia's vacillation between its Western allies and Russia may further damage Tbilisi's credibility in the eyes of the West and complicate even more its prospects for Euro-Atlantic integration. The next few months will be critical in establishing what direction Georgia will, in fact, take.