Central Asia's Stability Increasingly Compromised by Ongoing Grain Crisis
Publication: Eurasia Daily Monitor Volume: 9 Issue: 208
By: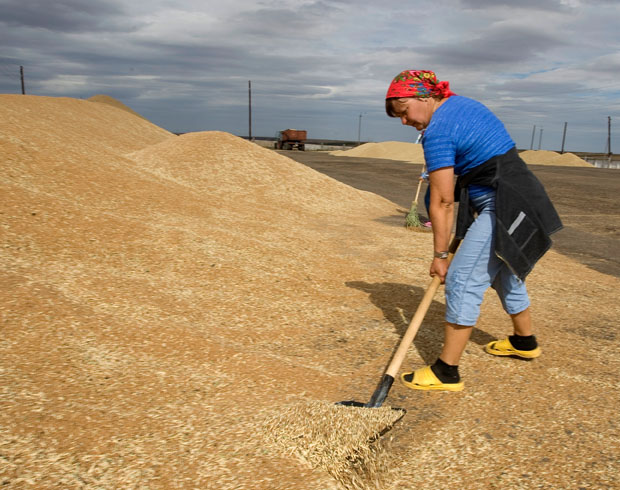 In early September, the United Nations once again warned of the growing risks of another global food crisis, following particularly bad harvests in the United States, Russia, Ukraine and other grain-producing countries. These negative developments have already led to a rapid erosion of grain reserves to their lowest level since 1974. While the average volume of such reserves was sufficient to ensure continued consumption within 107 days back in 2002, today's stocks would not last beyond 74 days, with consumption rates steadily hovering above currently observed production levels. In October 2012, the Rome-based UN agency the Food and Agriculture Organization (FAO) released the results of its worldwide survey assessing the number of people suffering from chronic malnutrition at more than 870 million, whereas the most vulnerable populations continue to be those of the Middle East and sub-Saharan Africa (https://www.fao.org/news/story/en/item/155472/icode/; https://www.fao.org/news/story/en/item/161819/icode/).
In this context, the food situation in Russia and Central Asia also remains difficult. In early November, the Union of Russian Millers made public its assessment of the general state of grain stocks in a country that is constantly ranked as one of the top five grain exporters in the world. In the spring of 2013, Russia may be facing a shortage of grain reserves, with available monthly stocks of about 3.5 million tons—barely adequate for the projected demand of up to 4.8 million tons. According to Arkady Gurevich, the Union's president, Russia will most probably have to increase its wheat imports from Kazakhstan and rye imports from Germany (Novaya Gazeta, November 7).
Although Russia's Agriculture Minister Nikolai Fedorov has already dismissed the possibility of introducing an export ban on grain products, reminding that Russia still has 20 million tons of reserves carried over from past years, such a scenario should not be totally excluded. In August 2010, when Russia's agricultural sector was taken unawares by an exceptionally long and severe drought, the government decided to enact an export ban, which lasted until July 1, 2011 (Rossiyskaya Gazeta, October 20). Albeit made necessary by domestic circumstances, this move harshly impacted overall expectations on the world grain markets and drove prices even higher, thus compromising the food security of several import-dependent countries.
As for Kazakhstan, which is considered to be another major player in the global agribusiness, its 2012 grain production has been relatively bleak, mostly due to the summer heat, which presumably destroyed 1.1 billion hectares of crops (Zakon.kz, October 15). Kazakhstan's Ministry of Agriculture recently divulged definitive figures concerning this year's performance of the country's agricultural sector: In 2012, Kazakhstani farmers have harvested 14.7 million tons of grain, compared to a record 26 million tons last year (Kazakhstan Today, November 6). Therefore, as Nurlan Tleubayev, the current chairman of Kazakhstan's Grain Union, told the government in mid-October, Kazakhstan will be able to export only seven million tons of crops in 2012/2013, while it supplied over 12 million tons to the external markets one year before (Rosbalt.ru, July 11; Kazakhstan Today, October 16).
Although Kazakhstan has once again succeeded in ensuring adequate amounts of grain and its byproducts in order to satisfy this year's domestic demand, it is nevertheless being gravely impacted by price volatility and pessimistic market expectations. Between July and October 2012, the local price of grain increased from $155 to $280 per ton. In this context, the government instructed Kazakhstan's major grain producer, the Food Corporation, to organize large-scale grain supplies to provincial markets at reduced price levels until September 2013 (Newskaz.ru, October 16).
In response to the ever-shrinking surface of agricultural lands, Kazakhstan's Land Resource Agency even suggested increasing taxes for those landowners who had preferred to abstain from any activity on their plots, therefore keeping them away from both industrial and agricultural projects (Newskaz.ru, November 5). If such tax increases ever were to be approved by Parliament, legal entities owning land in Kazakhstan would have to pay ten times more for their unused hectares and five times more for improper use (such as construction instead of agriculture or vice versa).
Unlike Kazakhstan, its southern neighbors, Kyrgyzstan and Tajikistan, find themselves in far worse circumstances. While its GDP per capita shrank by 6.1 percent as compared to last year (Kabar.kg, October 30), Kyrgyzstan's economic health and its ability to find enough budgetary funds to implement costly social programs are currently a subject of deep concern. Between July and October 2012, the price of flour in Kyrgyzstan, which has to import about a quarter of its total wheat consumption from Kazakhstan, rose by 47 percent in rural areas and 36 percent in cities. In 2011, the government of the Kyrgyz Republic could still buy wheat from Kazakhstan at $150 per ton, but now has to pay almost $340 for the same quantity.
According to representatives of the UN World Food Program in Kyrgyzstan, about 18 percent of its population should be considered particularly vulnerable to the growing food security risks (Fergananews, October 13). On October 18, Kyrgyzstan's authorities decided to unblock the country's grain reserves in order to limit price tensions (Knews.kg, October 19), but the efficacy of such measures still has to be verified in the medium term.
While neighboring Tajikistan imports half of its flour consumption from Kazakhstan, the price of Kazakhstani flour on Tajikistan's markets has increased by 55 percent in 2012 alone, and local flour has risen in price by 44 percent (Pressa.tj, November 5). Despite the increase of grain production in Central Asia's poorest republic in comparison with last year's data, Tajikistan is far from immune to the deterioration of its food security.
In its turn, Uzbekistan has taken steps toward diminishing its grain imports from Kazakhstan, expecting to account for only 40 percent of Kazakhstan's total exports by 2014 instead of 67 percent today (Vesti.uz, November 7). In April 2011, Uzbekistan's authorities already imposed a 15-percent duty on all imported flour, thus trying to boost local production (Uznews.net, March 31, 2011). However, according to grain experts, Uzbekistan's actions may further weaken Central Asia's grain security by destabilizing Kazakhstan's exports without making Uzbekistan's agriculture sufficiently competitive.
While the ongoing grain crisis is equally daunting for such regions as Africa, Latin America or Southeast Asia, Central Asia's growing food insecurity remains a particular challenge. As social tensions become increasingly acute and the limits of resource-driven economic prosperity are acknowledged even in the relatively stable Kazakhstan and Uzbekistan, the political stability of Central Asian regimes is more than ever at risk. The inability of local leaders to ensure social peace and basic living conditions in the context of expanding food commodity deficits could become a more serious threat to their political survival than the activities of organized opposition forces.