ISKP Attacks Pakistan's Religious Political Parties for Participating in Elections
Publication: Terrorism Monitor Volume: 21 Issue: 19
By: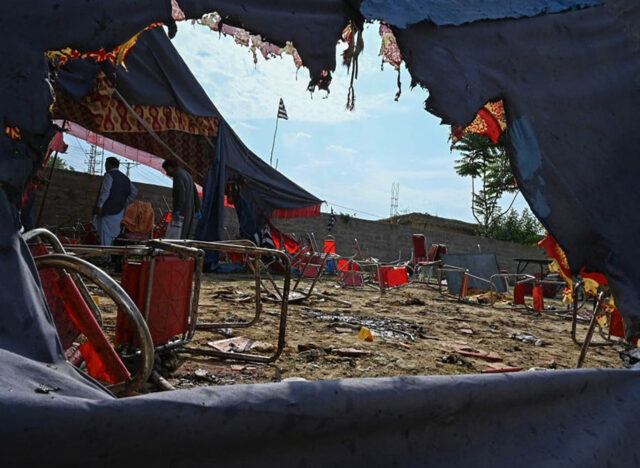 On July 31, a suicide bomber blew himself up at the convention of Islamic political party Jamiat Uema-e-Islam Fazl (JUI-F) in Khar, Bajaur District. The suicide bombing was later claimed by Islamic State's (IS) Amaq News Agency on behalf of Islamic State in Khorasan Province (ISKP) (Dawn, August 2). The bombing killed 63 people, including 23 children, and injured more than 100 others (Dawn, August 3; August 1). Although this was not the first attack carried out by ISKP against JUI-F or other religious parties in Pakistan, it was by far the deadliest.
ISKP Propaganda
After the brutal bombing, ISKP published a 92-page propaganda booklet about JUI-F, explaining why ISKP will continue to attack religious political parties in Pakistan (Dawn, August 2). It was published in Pashto by ISKP's Al-Azaim Foundation for Media Production, and was titled "Jamiat Ulema-e-Islam—The Pro-Republic Apostates" (Twitter/@AfghanAnalyst2, August 1). In the booklet, ISKP explicitly stated that the attack was meant to target anyone willing to participate in elections (Arab News Pakistan, August 2). Moreover, ISKP accused JUI-F of supporting democracy, the republican system of government, and the establishment of nation states over the caliphate (The Khorasan Diary, August 2).
ISKP has a history of enmity towards JUI-F in Bajaur District. This dates back to 2019, when the group began systematically assassinating JUI-F activists in Khar, the main town in Bajaur District (Dawn, August 2). ISKP has since stepped up not only its attacks against JUI-F, but also its propaganda. In issues 314 and 334 of IS's al-Naba newsletter, IS argued that JUI-F is a polytheist organization that serves the interests of the Pakistani establishment, condemning its participation in elections. Several books and statements from ISKP and its supporters have likewise declared that members of JUI-F and other movements, such as Tablighi Jamaat, Jamaat-ud-Dawa, and Jamaat-e-Islami, are apostates that should be killed (SpecialEurasia, April 19, 2022).
ISKP's Fatwa
On April 17, 2022, the ISKP Sharia Council released a 7-page fatwa on the subject of killing scholars affiliated with JUI-F. This occurred three days after the group claimed responsibility for the targeted assassination of JUI-F scholar and teacher, Mufti Shafiullah. Mufti Shafiullah's car was hit by an improvised explosive device (IED) in Badano village, in the Momand area of Bajaur District. ISKP claimed that it is obligatory to kill JUI-F scholars because they are allied to the Taliban and are trying to implement the group's policies in Pakistan; this includes trying to aid the Taliban in their efforts to gain international recognition (SpecialEurasia, April 19, 2022). Besides Mufti Shafiullah, ISKP has conducted attacks on numerous other individuals in and around Khar and Bajaur, including:
Nazir Khan, a police officer who was shot by ISKP in Khar, Bajaur on August 16, 2022—his son was allegedly part of JUI-F (SpecialEurasia, April 19, 2022).
Maulana Fazal Dayan, a JUI-F Islamic scholar who was wounded by an ISKP shooter in Bara, Khyber District on April 15, 2022.
Qari Muhammad Ilyas, who was assassinated by ISKP in Khar in November 2021. In its fatwa, ISKP argued that the scholar was affiliated with JUI-F (SpecialEurasia, April 19, 2022).
Mufti Sultan Muhammad, who was assassinated by ISKP in Khar in October 2019.
Mullah Habibullah, a JUI-F leader who ISKP assassinated in Quetta in May 2018.
Maulana Abdul Ghafoor Haider, a JUI-F senator who survived an attack in Quetta, Balochistan in May 2017—this attack was later claimed by ISKP.
In addition, various tribal elders and JUI Islamic scholars in Wana, South Waziristan were killed in November 2021; ISKP claimed the attack. Two other prominent leaders of JUI-F to have been targeted by ISKP include Maulana Abdul Salam and Mufti Bashir. Even Maulana Fazlur Rehman, the head of JUI-F, has himself survived several suicide attacks (Dawn, August 2). These attacks and killings show that ISKP is bent on decimating the JUI-F.
Beyond JUI-F, ISKP has continued to attack other religious parties and prominent religious personalities in Pakistan. On May 19, for instance, a suicide bomber bombed a political rally of Jamaat-e-Islami in Zhob, Balochistan. The attack was aimed at the party's head, Siraj-ul-Haq. The leader, however, survived the attack, while one person was killed and four others were wounded (The Express Tribune, May 19). The attacker, Muhammad Nadeem, belonged to Lashkar-e-Jhangvi al-Alami (LeJ-A), which is a faction of Lashkar-e-Jhangvi (LeJ), itself an affiliate of ISKP (Twitter/@khorasandiary, May 31).
Conclusion
As ISKP's attacks against religious parties in Pakistan mount, it aims to deter right-wing Islamic parties in Pakistan from becoming part of the republican system. Rather, ISKP seeks the establishment of a caliphate, which is antithetical to the current regime. Ultimately, if ISKP's plan succeeds, the radical elements in Pakistani Islamic parties will be won over to ISKP's cause—and the less radical, pro-establishment elements may stop participating in elections out of fear of the jihadists.