Islamic State Propaganda Renews Focus on Africa, but a "Jihadist Monopoly" Remains Elusive
Publication: Terrorism Monitor Volume: 20 Issue: 14
By: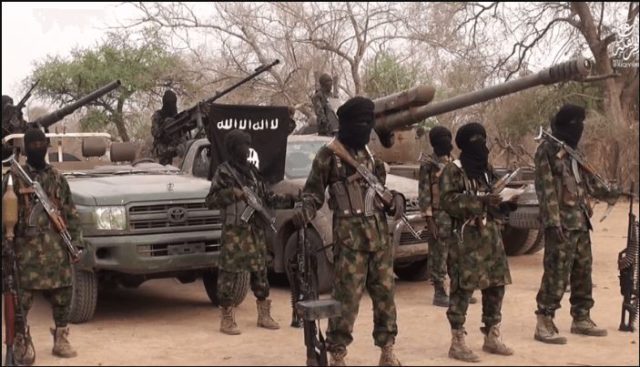 Islamic State (IS) propaganda in videos, photos, and editorials since June has increasingly focused on Africa, particularly Nigeria and Islamic State in West Africa (ISWAP). However, its publications have also regularly referred to Mozambique, Congo, and the Sahel. Although it appears that through propaganda and militarily conquests, IS is conquering Africa, which is certainly the organization's focus at present, in reality, both in Nigeria and elsewhere on the African continent, IS does not have a monopoly. In fact, al-Qaeda's affiliates remain strong and credible rivals to IS's expansion.
The Case of ISWAP
One of the most important IS media productions was the ISWAP video released by IS official media on June 14, which lasted approximately 39 minutes (al-Furqan, June 15). The video, which was titled "A Book that Guides and a Sword that Gives Victory," was narrated in Hausa with Arabic subtitles, and thus targeted a local audience. The production was of the highest graphic quality and began with a tribute to 23 "martyred" ISWAP fighters.
IS flaunted ISWAP's governance activities, with scenes of religious outreach by hisbah (Islamic accountability) teams, distribution of zakat (charity), preaching to civilians, interviews of commanders, and entertainment for children. The key message IS conveyed is that of full implementation of sharia law and land management and control. The video further demonstrated how ISWAP has become the leading IS province in Africa and likely among all IS global provinces.
A unique moment also occured when one of the ISWAP speakers, Abu Thabet al-Barnawi, acknowledged IS's plight in Iraq and Syria and mentioned the need to continue the fight despite multiple setbacks. In particular, he cited the importance of freeing imprisoned IS members, as occurred with ISWAP on July 5 at Kuje Prison in following IS's "Breaking the Walls" campaign (DailyTrust, July 6). Within the video, there were also several minutes in which ISWAP fiercely criticized the Taliban and its allies (a reference to al-Qaeda) and called them apostates. The video ended with ISWAP calling on Muslims around the world, "especially those in Africa," to move to territories under IS provinces' control, particularly Nigeria. This was a direct call for hijrah (migration) to the African continent.
In issue 343 of the official IS media outlet al-Naba, IS returned again to Africa and ISWAP (al-Naba, June 16). The issue's editorial praised the success of ISWAP in establishing aspects of Islamic governance and returned to urging Muslims to perform "hijrah" in Africa, particularly in Nigeria. IS supporters are expected to assist the caliphate's project on the African continent, which IS called "a key front."
Continuing with its focus on Nigeria and Africa, on June 23, IS official media released a new Syria Province propaganda video, which was around five minutes long (Amaq News Agency, June 23). Titled "From the Land of Sham [Syria] to the Lions of Africa," it showed IS's Syria-based jihadists praising their African "colleagues," particularly those in ISWAP, for their recent "victories" on the continent. It was part of a new video series, as a few days later, IS official media released a new short video from Wilayah Iraq entitled "From the Lands of Iraq to the Lions of Africa" (Amaq News Agency, June 27). The video showed tributes from Iraqi fighters to African jihadists and urged Muslims in general and those in Africa specifically to travel to IS provinces in Africa, particularly in Nigeria with ISWAP.
IS has stepped up its operations and plans to expand into Africa after the loss of territory and difficulties in other theaters of operation. The organization currently sees Africa as fertile ground to achieve its goal of state control because rampant corruption, religious and ethnic conflicts, high levels of poverty, poor state governance, and the minimal presence of foreign military forces allow it to recruit, expand territorially, and control territory. ISWAP is currently the only province with the military and "political" strength to do so.
Ansaru Remains Active
While IS has focused on highlighting ISWAP, the al-Qaeda affiliate in Nigeria, Ansaru continues to make its presence known. Its latest video, released on June 12 by al-Yaqout Media through Global Islamic Media Front (GIMF), was over 16 minutes long (Al-Yaqout Media, June 12). In both Arabic and Hausa languages and titled "Declaration of Innocence," Ansaru reiterated its ideology, denied rumors of its responsibility in the Kaduna-Abuja train attack, and advocated an anti-Christian message by blaming Independent People's of Biafra (IPOB) for the excessive killing of Muslims (DailyPostNG, March 28). Further, Ansaru urged all Muslims to support its cause because Ansaru claimed the organization defended them. The video was also notable because it was the first time Ansaru used the Hausa language in one of its videos. Until now, Ansaru had released videos only in Arabic, English, and French.
On June 30, al-Yaqout Media published the second issue of its periodical bulletin "Voice of the Black Continent" (Twitter/G88Daniele, June 30). Titled "The Danger of a Media, Educational and Health War in Nigeria", it was 26 pages in Arabic and divided into several editorials, the first being on the danger of a media and health war in Nigeria. Then a long editorial compared al-Qaeda and IS and another touched on the importance of leading Muslims on the path of jihad. Finally, the most interesting part was a five-page editorial on the relationship between al-Qaeda and Iran in which Ansaru tried to defend al-Qaeda and refute the accusations from al-Qaeda's detractors about al-Qaeda and Saif al-Adl's cooperation with Iran (Akhbaral-Aan, June 9).
The topics covered in the bulletin, particularly this last one, are very notable when considering that Ansaru operates exclusively in Nigeria at present. Nevertheless, Ansaru has loudly and repeatedly enunciated its connection to al-Qaeda over the past seven months. The choice to defend Saif al-Adl may be related to a desire to have him be accepted by al-Qaeda affiliates in Africa as an al-Qaeda leader one day.
Ansaru remains particularly active in the northwestern and north-central areas of Nigeria, with a presence in Kaduna, Ondo, Katsina, Zamfara and footholds in Kogi and Niger. The group is also trying to build trust, provide assistance and essential services, and preach to communities (DailyTrust, May 6). However, it also clashes with Fulani bandits (TribuneNG, May 14). Ansaru is on the rise, and if it can integrate the thousands of bandits in the areas where it operates into disciplined fighters for its operations, strengthen its relationship and trust with the local population, and create strong supportive ties with other African al-Qaeda affiliates, it could position itself as a more relevant competitor to ISWAP.
IS's Other African Provinces
More than half of the attacks claimed by IS from January to June 2022 were carried out in Africa. In addition to ISWAP, Islamic State in Central Africa Province (ISCAP), which is based in Congo, had 93 attacks; Sinai Province had 60 attacks; Mozambique Province had 58 attacks; Somalia Province had 21 attacks; Sahel Province, which is based in Mali and Niger, had 15 attacks; and Libya Province had two attacks (Jihad Analytics, July 1).
Propaganda about other African provinces is not as consistent as for ISWAP, but there have still been respective publications and videos in al-Naba and the IS-affiliated Amaq media agency in recent weeks. In particular, detailed infographics for Sahel Province and Mozambique Province were included in al-Naba issues 343 and 344 (al-Naba, June 16; al-Naba, June 23). Mozambique Province attacks and related propaganda on Amaq and in al-Naba have also increased significantly, especially against Christians. Sahel Province, meanwhile, after a several week-long propaganda vacuum, has also seen increased attention with several photo sets being released by Amaq after major attacks in the regions of Menaka in Mali and Tillaberi in Niger (Twitter/@minaallami, June 22; Twitter/SimNasr, June 18).
ISCAP also saw a sharp increase in propaganda in both video production and photo sets, which confirmed its areas of operation in Congo and Uganda. Sinai Province was also featured several times in al-Naba and in Amaq in June. As Somalia Province conducted only attacks, IS propaganda only detailed the claims and mentioned the attacks in al-Naba.
Regarding al Qaeda's presence in Africa, there is no daily propaganda, but Sahel-based Jamāʿat Nusrat al-Islām wal-Muslimīn (JNIM) and al-Shabaab use unofficial and local media channels. JNIM, through az-Zallaqa Media, released a video on June 24 in which its deputy leader Hamadou Kouffa accuses Malian Armed Forces (FAMa) and Russia's Wagner Group of killing hundreds of "unarmed and oppressed" civilians in Mali (JeuneAfrique, April 4). The most wide-reaching propaganda and operations of all al-Qaeda's African affiliates are, however, those of al-Shabaab. On June 23, its official al-Kataib media agency released a 40-minute video titled "From the Frontiers of Glory #8" (al-Kataib, June 23). It showed multiple groups of fighters marching in different areas of Somalia and engaging in training and large and complex military operations.
Conclusion
It is clear that IS does not have a monopoly in Africa, as evidenced by the propaganda and operations of Ansaru, as well as of JNIM and al-Shabaab. IS's tributes to its African militants, however, underscore the weight and attention the organization gives to its operations in Africa. In addition, even though ISWAP and Nigeria are the main subject of IS's attention, one must also recall that besides ISWAP and Ansaru, there is also the faction of the late Abubakar Shekau, which has regained strength through the Bakura faction led by Abu Umaymah near Bama, Gwoza, and the Mandara Mountains alongside the borders of Nigeria and Cameroon (Telegram, May 2). This faction remains a major threat and further undermines any IS monopoly in Nigeria and the Lake Chad region, let alone Africa more broadly.