Pakistani Counter-Insurgency Measures Risk Fueling Further Unrest in Baluchistan Province
Publication: Terrorism Monitor Volume: 20 Issue: 14
By: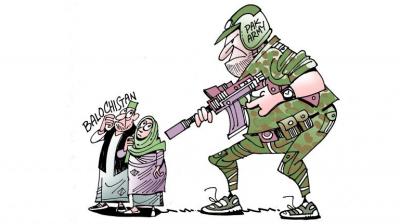 When the ethnic Baluch separatist insurgent group, Baluch Liberation Army (BLA), claimed responsibility for a female suicide attack by Shari Baloch in the southern port city of Karachi on April 26, it asserted that the attack was against projects launched by Beijing and Islamabad in the restive Baluchistan province under the China-Pakistan Economic Corridor (CPEC) (Terrorism Monitor, May 20). The CPEC is an estimated $62 billion collection of energy and infrastructure projects, which Baluch separatists consider to be exploitative. The BLA further claimed that hundreds of its "highly-trained male and female members" were ready to carry out "harsher" attacks in the future.
The rising number of local Baluch men and women joining the armed struggle in Baluchistan province has become a matter of severe concern to the local authorities. In response, the Pakistani government has empowered and loosened restrictions on the counter-terrorism department (CTD) and paramilitary Frontier Corps (FC), allowing them to detain or forcefully apprehend anyone suspected of having links with the separatists. The nationalist group, Baluch National Movement (BNM), for example, claimed on June 6 that Pakistani security forces had abducted 61 people inside and outside Baluchistan since the April 26 suicide attack (Twitter/@BNMovement, June 6).
Since early 2000 when the latest iteration of armed uprisings broke out in Baluchistan, law enforcement agencies have widely used these tactics as a means to wipe out rebels from the province. However, this has now backfired. For example, as a result of this strategy, highly educated females like Shari Baloch continue to join rebel ranks and leave behind a luxurious life, children, and even government jobs (Dawn, May 6). Shari, a mother of two children and the first BLA female suicide bomber, in her final video message mainly spoke about economic injustice and the humiliation of Baluch youth at the hands of security forces. She also mentioned enforced disappearances, torture, and brutalities against the Baluch in general (Hakkal Media, April 26).
Women's Involvement in Baluch Separatism
Despite the increase in counter-insurgency operations, enforced disappearances, and surveillance, the violence has drastically increased in Baluchistan, which has remained Pakistan's second most volatile province after northwestern Khyber Pakhtunkhwa province. According to data compiled by the South Asia Terrorism Portal, overall fatalities in Baluchistan increased from 215 in 2020 to 311 in 2021 (Eurasiareview.com, March 8). Between 2018 and 2021, more than 500 fatalities in terror-related incidents were also reported in the province, and overall, a 30% increase in terrorism was recorded between 2018 and 2021 (The News, November 6, 2021). A number of counter-terrorism incidents have prompted militant groups in Baluchistan to change their tactics, including recruiting "women" and more youth to join them as a response to these incidents, which include:
A Baloch woman shot dead by members of a state-backed private militia in June 2020;
The killing of a young student by paramilitary frontier corps in Turbat in August 2020;
The sexual assault of a young boy by a soldier in 2021;
The mysterious death of Karima Baloch, a female activist for "Free Baluchistan" in Canada in December 2020; and
The killing of a Baluch driver carrying smuggled Iranian diesel in Chagai district in April 2022 (The Diplomat, June 4, 2020; Dawn, August 16, 2021; Dawn, April 23, 2021)
The incidents involving women and Shari Baloch's subsequent suicide attack highlight a departure from women's traditional involvement in the Baluch separatist movement as social and political actors. Karima Baloch, for example, was a former chairperson of the pro-separatist Baluch Students Organization (BSO) Azad faction and was named in the BBC's annual list of 100 inspirational and influential women in 2016; this was due to her relentless campaigning on behalf of the Baluchistan separatist movement (BBC, October 7, 2016). Likewise, hundreds of women who sympathized with the separatists snatched the body of veteran politician and tribal chief, Nawab Khair Bakhsh Marri, from Pakistani officials in June 2014 in the Baluchistan provincial capital of Quetta. Afterward, they performed his last rites (Twitter/@RaisaniSadiq, June 10, 2021).
Marri, a Marxist in his political leanings, led a separatist insurgency in the 1970s and was considered an icon of the current Baluch armed rebellion until he died of a brain hemorrhage. Although the Pakistani authorities wanted him to be buried in quiet and a heavy number of police and paramilitary forces were deployed at his residence in Quetta, Baluch women draped his body in the "Free Baluchistan" flag and laid him to rest while chanting separatist slogans (Dawn, June 12, 2014). The women did not, however, commit any lethal attack at that time.
Conclusion
The widespread crackdown on Baluch separatists, their supporters, and the targeting of women by Pakistani intelligence agencies has further strengthened the separatist narrative that armed struggle is the only option for achieving respect and freedom. With a surge in enforced disappearances and counter-insurgency operations, violence may wane for a short time. However, the Baluchistan conflict will not end any time soon, even if the military launches a full-fledged operation in Baluchistan much like it has waged against the Pakistani Taliban elsewhere in the country. Women's increasing involvement in Baluch militancy is but one example of the long-term ramifications of Pakistan's counter-insurgency measures.