Islamic State's Iraq 'Caliphate' on the Brink of Defeat
Publication: Terrorism Monitor Volume: 14 Issue: 15
By: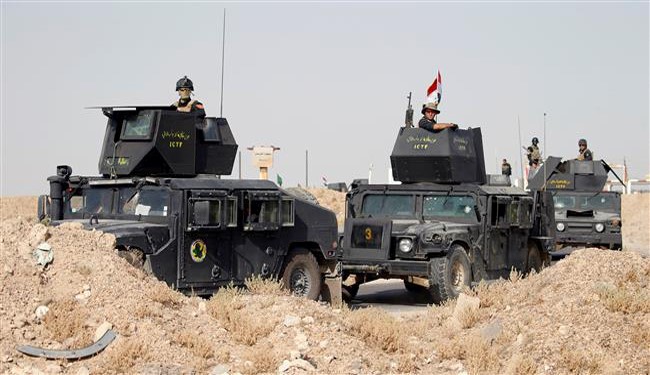 Islamic State's self-styled caliphate in Iraq has been standing on its last legs since June 26 when the Iraqi Security Forces (ISF) and Shia Popular Mobilization Units (PMU) secured Fallujah. Even more significantly, the ISF forces seized the Qayyarah Airfield West base on July 9, linking up with ISF forces coming from Tikrit. Qayyarah will be the launch pad for Iraqi forces to seize Mosul – the de-facto capital for IS in Iraq.
Abu Muhammad al-Adnani, the chief spokesman for IS, appeared to concede the group's future territorial defeat in Iraq in a statement in May, when he confirmed Mosul, Sirte in Lbya, and even Raqqah in Syria could fall and force IS forces to go underground. [1] That, however, will take time.
Fall of Mosul
IS seized the city of Mosul in June 2014, after the Iraqi army disintegrated and fled, and quickly took over most of the provinces Sunni Arab cities under the slogan "remaining and expanding." However, the major losses faced by IS in both Syria and Iraq over the last six months show the group is now neither expanding nor remaining. Instead, IS is trying to divert attention away from its losses by carrying out large-scale attacks both in the region and in the West (Niqash, July 12).
The first operations to liberate parts of the Nineveh Governorate and its capital started on March 24 (NRT, March 2015). The goal was to capture Qayyarah airfield, but the unwillingness of local Iraqis to join the fight meant it took at least four months to finish the first phase of the Nineveh operation.
Morale has since improved. The coalition-trained 15th and 16th brigades in Qayyarah have been joined by the 9th armored division and Counter Terrorists Units (CT), which succeeded in taking Shirqat from IS on July 12 (Twitter, June 18). IS also suffered a major setback with the loss of its most famous military commander, Shaykh Umar as-Shishani, who was killed in the Mosul campaign in the town of Shirqat (Amaq, July 13). An additional 560 US troops, due to be based in the airbase of Qayyarah, will also be welcomed, but it's possible more will be needed.
These recent battlefield successes, however, do not mean the Mosul operation will be over soon. The city needs to be surrounded from all sides, and the IS supply lines between Iraq and Syria need to be cut. A great deal of manpower will be needed – it will be necessary for more than just US-trained Iraqi troops to play a role. Kurdish forces, fighters from Sunni Arab Tribes, the Iraqi Army, and Iranian-backed Shia paramilitary groups will all need to be included.
Retaking the City
It is possible, then, that Kurdish forces will launch an operation in southern Shingal, while the Iraqi security units push into western Anbar to control the Syrian border gate of al-Qaim and then move towards al-Ba'aj (Rudaw, July 13). [2]
Shia-led PMU forces will most likely clear out the rest of Kirkuk province, possibly in coordination with the Kurds. Although, such an operation could come after Mosul city is secure. They will also play a role recapturing the mixed Shia-Sunni Turkmen town of Tal Afar, where many joined IS after the group took Mosul. That could be a joint ISF-Peshmerga operation, or it could be a PMU operation joined by ISF forces. Either way, taking Tal Afar is important since the town is thought to be home to a number of IS leaders and their families (Defense.gov, March 16).
According to the coalition commander Lieutenant General Sean MacFarland, the idea is to envelop Mosul from the north and the south, and then collapse IS control over the area, as has been done in cities such as Hit, Rutbah, Fallujah, and Ramadi (Defense.gov, July 11). Clearing Mosul is expected to be a major headache. As Major General Gary J. Volesky commented, it took about six months to clear Ramadi, while IS have occupied Mosul, which is three times larger, for two years, giving them time to prepare (ARAnews, May 18). Kurdish Colonel Masoud Salih, an instructor at Zakho Military Academy, suggests the Mosul operation could be one of the toughest battles in Iraq since 2003 (Rudaw, February 17). He suggests a three-stage approach: a pre-planning stage involving the training of Sunni Arabs and ISF forces, the cutting of supply lines, and an operation to take Mosul from three directions – east, south, and west of the city. Each front in the attack on Mosul would require 10,000 soldiers, and the battle could take up to ten months. Sunni Arabs are already fleeing towards Syria in anticipation of the Mosul operation.
Unless large groups of IS fighters desert and give up the fight, it is unlikely that any operation will be complete this year. The battle in the Syrian town of Manbij and the slow progress in fighting near Makhmour show that most likely IS will try to fight back. The advantage for IS is that fewer fighters are needed to defend a town than are needed to attack. This was evident when IS failed to take the town of Kobani in September 2014 with what they assumed was overwhelming force, a strategic error that cost the group over 4,000 fighters (Daily Beast, November 15, 2015).
Possible Tensions in the Aftermath
Due to the different groups that will contribute to the Mosul operation, once the city has been re-captured there could be more tensions between the various groups. As a consequence, top Kurdish officials, such as security chief Masrour Barzani, have called for an agreement to be in place before the liberation of Mosul (Twitter, November 28).
The Peshmerga forces will play an assisting role and clear out large parts of the Nineveh plains in the east and north of Mosul. They will be backed by Arabic tribes, Christian militias and with support from the Turkish army based in Bashiq camp from Telskuf and Bashiqa.
The Kurdistan Workers Party (PKK) and the Peshmerga forces will also play a role in clearing out the south of Sinjar, and they may even play a role in the capture of Tal Afar. Then the Iraqi army, federal police, and Sunni Arab tribal forces – possibly supported by Kurdish units as part of the ISF or Peshmerga forces trained for urban warfare – will take the city.
Mosul's Sunnis oppose the use of Shia paramilitary forces in operations to take Tal Afar and areas surrounding Mosul, but the PMU will doubtless play a role. Sajad Jiyad, a Baghdad-based Iraqi analyst, told Jamestown: "I'm sure they [the PMU] will be involved in the clear and hold operations required before the battle of Mosul begins. I cannot see a role for the PMU inside the city itself [but] there will likely be some terrain to retake elsewhere in northern Iraq after the city is secured and that will mean PMU involvement as well." [2]
Political Settlement Essential
The battle for Mosul will most likely take another seven to ten months and will not end this year. Once the IS 'caliphate' has been defeated on the ground, however, serious difficulties will likely remain. IS is unlikely to fully disappear, and the group, which has greatly expanded its recruitment base, will go underground and continue to carry out attacks.
Furthermore, once IS is defeated, Iraq will need to handle the return of displaced civilians, as well as competition between the Kurdish, Iranian-backed PMU forces, Iraqi forces, and Turkish-backed Arab tribes. Sectarian tensions evident in the past are still prevalent, and indeed have strengthened with the empowerment of Iranian-backed PMU forces.
It's likely that PMU forces will even play a security role in Sunni areas in the future, and this will be a source of tension. Thus, a need exists for a more robust Sunni force to hold Mosul and a need for a political agreement on the future of the Sunni territories, which will most likely want greater decentralization from Baghdad.
A pre-Mosul liberation settlement appears essential if Mosul is to be effectively liberated, but political tensions in Baghdad will make this a difficult agreement to achieve.
NOTES
[1] Abu Muhammad al-Adnani as-Shami, "And Those Who Lived [In Faith] Would Live Upon Evidence," audio statement published on May 21, 2016, URL
https://pietervanostaeyen.com/2016/05/22/abu-muhammad-al-adnani-as-shami-and-those-who-lived-in-faith-would-live-upon-evidence/
[2] Author interview with Sajad Jiyad, an analyst at the al-Bayan Centre for Planning and Studies in Baghdad (July 14, 2016).