Islamic State's Threat to Foreign Commercial Activity in Afghanistan
Publication: Terrorism Monitor Volume: 20 Issue: 12
By: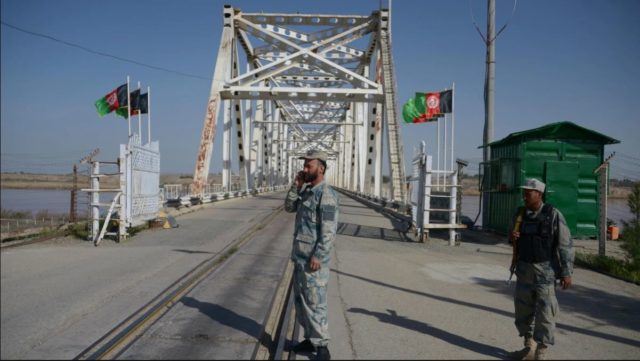 Since the Taliban took power in Afghanistan in August 2021, it has made the transition from a guerrilla force to a governing body, while being faced with an array of severe economic challenges that threaten to undermine its rule (TOLOnews, May 4). In attempt to ameliorate these problems and stimulate the economy, the Taliban is aggressively lobbying for foreign investment (Khaama Press, January 19). The Taliban, meanwhile, is the Islamic State in Khorasan Province (ISKP)'s primary foe, and thus ISKP seeks to disrupt and derail anything that would strengthen the Taliban's position (Terrorism Monitor, May 6). By issuing threats, attacking infrastructure, and striking neighboring countries, ISKP seeks to create a chill effect for already-hesitant foreign states and companies considering investment in Afghanistan. If successful, ISKP could then undermine the Taliban's hold on power in the country.
ISKP's Threats and Criticism of Foreign Economic Interests in Afghanistan
In the wake of ISKP's April 18 Katyusha rocket attack targeting the Uzbekistani city of Termez, Tawhid News released a 24-minute-long Uzbek-language audio statement under the banner of ISKP's official propaganda organ, al-Azaim Foundation for Media Production, in which the speaker celebrated the operation and declared it the beginning of the "great jihad to Central Asia." [1] However, this "great jihad" would also include attacks on Uzbek interests in Afghanistan because ISKP proclaimed that "the Termez-Mazar-e-Sharif-Kabul-Peshawar railway is the road by which the apostates plan to bring their democracy to Khorasan" and that "the Caliphate's mujahideen will never, under any circumstances, allow the enemies of Islam to realize this insidious plan." In a subsequent statement, Tawhid News added that Tashkent's provision of humanitarian aid was likewise part of Uzbekistan's strategy to spread democracy in Afghanistan and it alleged Tashkent was supporting and protecting the Taliban to use it as a proxy against ISKP. [2] Given these hostile statements of intent and the recent attack aimed at Uzbekistan, the railway project could be targeted in the future.
Similarly, pro-Islamic State (IS) propaganda outlet Anfaal Media published a document criticizing the Taliban for "protecting the interests of the enemies of Allah in Afghanistan". [3] It identified the Turkmenistan-Afghanistan-Pakistan-India (TAPI) natural gas pipeline and China's control over the copper mine at Mes Aynak as nefarious.
ISKP's Focus on China
As the politico-economic behemoth in the region, China has been a major focus of Taliban diplomatic efforts. It seeks to bolster relations with Beijing as a trade partner and source of foreign investment. Just days after taking power, Taliban spokesperson Zabihullah Mujahid stated that "China will be our main partner and represents a great opportunity for us because it is ready to invest in our country and support reconstruction efforts (The Express Tribune, September 2, 2021)." Keeping its own position vague, Chinese foreign ministry spokesman Wang Wenbin described how the "Afghan Taliban believes that China's [Belt and Road Initiative] is good for development and prosperity in Afghanistan and the broader region" (Times of India, September 3, 2021).
China's talk about investing in Afghanistan has not been matched by action, however, as Beijing is very wary of militant threats and operational risks in the country based on IS and ISKP's open hostility towards China. In an al-Naba newsletter editorial, IS, for example, accused China of using "the method of investment" to "strengthen its ties with tyrannical governments" and urged Muslims "to wage war against the idolators of China everywhere" by killing and abducting Chinese nationals and workers as well as attacking Beijing's economic interests and investments (Jihadology, February 28, 2019). Likewise, the pro-IS al-Battar Media asked "can China complete the silk road project which because of it they killed Muslims?" [4] The statement added that IS "declared war on China in direct backing and support for Uighur Muslims," and specified that the "war includes all the interests of the Communist state."
The Islamic State's "Economic Warfare" and the ISKP Campaign in Afghanistan
There are transnational infrastructure projects in the works or under consideration that involve Afghanistan and would be at risk of attack by ISKP. In issue 294 of al-Naba, IS published a full-page article promoting an "economic war" campaign to target infrastructure, oil and gas assets, crops, and commercial assets around the world (Jihadology, July 8, 2021). In Afghanistan, since at least 2017, ISKP has followed through by hitting targets, such as electricity towers and fuel tankers (The Hindu, October 23, 2021 ; Militant Wire, December 8, 2021). The group has also used threats for political leverage, and, in May 2021, ISKP propagandist Sultan Aziz Azzam warned in a statement that infrastructure would be destroyed if the Afghan government extradited ISKP prisoners to Pakistan (Twitter/@JournalistAnees, May 4, 2021). Likewise, in a book published by ISKP, Azzam called for attacks on workers involved with the construction and maintenance of Afghanistan's energy infrastructure (Twitter/@Valle_Riccardo_, July 28, 2021). Between May 24 and 25, pro-ISKP group al-Mursalat also posted four graphics bragging about attacks on Afghanistan's power grid. [5]
Conclusion
ISKP's threats and attacks are undermining the Taliban's pursuit of foreign investment to strengthen Afghanistan's economy (The Print, April 5). Most nations mulling investment or directly involved with ongoing projects in the country are explicitly declared foes of IS. Attacks on foreign business interests on Afghan soil will serve multiple strategic aims for IS in striking the citizens of an enemy nation, undermining confidence in the Taliban's ability to provide security conducive for foreign investment, and stoking tensions between the Taliban and the foreign countries that see their nationals and interests targeted.
Notes:
[1] Tawhid News/Al-Azaim Foundation for Media Production, April 20, 2022.
[2] Tawhid News, April 30, 2022.
[3] The Anfaal Media, accessed on November 7, 2021.
[4] Al-Battar Media Foundation.
[5] Al-Mursalat, May 24 and 25.