Ivanishvili and Coalition Partners Threaten to Incriminate Georgia Over 2008 Russian Invasion (Part One)
Publication: Eurasia Daily Monitor Volume: 10 Issue: 71
By: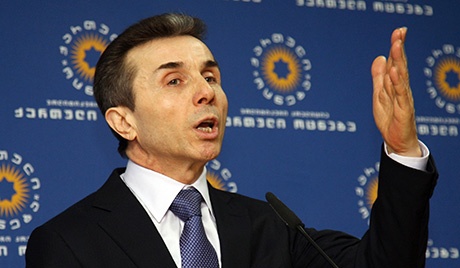 On April 10 and 12, Prime Minister Bidzina Ivanishvili amplified the prosecutor-general's, justice minister's, and other officials' recent threats (see EDM, April 1) to investigate President Mikheil Saakashvili and his team on a variety of charges, including their alleged responsibility for Russia's 2008 invasion of Georgia, loss of territories, mismanagement of military operations, and rumored accusations of Georgian involvement in criminal acts during that war.
While Ivanishvili and his former private lawyer, now Prosecutor-General Archil Kbilashvili, are spearheading this action, the Our Georgia–Free Democrats party led by Irakli Alasania—a junior partner in Ivanishvili's Georgian Dream Coalition—is also pushing for these investigations to be launched, six months before the expiry of Saakashvili's presidential term.
In a marathon press conference on April 10 at his glass palace, Ivanishvili charged that it had been "absolutely unjustified for [Georgian] troops to be alerted and to start combat actions before the Russians had crossed our border" in August 2008. According to him, Saakashvili's government could have handled the situation easily by inviting international observers and evacuating residents of villages under attack. "I absolutely cannot understand why such steps were not taken; it would all have been very simple." In that case, there would have been no war and "no occupation of territories."
With no factual basis, Ivanishvili claimed that investigating the former government is "a demand of the international community." Behind this fig leaf, however, he directly linked investigating the former government with the hopes of his own government to improve relations with Russia: "We have a great desire to develop relations with Russia, we will manage to do so […] and will surely recover the territories step by step" (Civil Georgia, Rustavi-2 TV, April 10, 11; Nezavisimaya Gazeta, April 11).
Ivanishvili modified his April 10 position to some degree in a written explanatory statement on April 12, conceding: "Our army did not cross the border and territory of another country. It was Russia who violated the territorial borders of a sovereign country and carried out aggression against our country, which led to the occupation of our territories… No matter what our country's government could have done, Russian aggression cannot be justified." Nevertheless, he insisted, launching an investigation "is a must. Why was Saakashvili unable to avoid the evident provocation? […] Why did so many casualties occur? Why could the government not evacuate civilians?" (https://www.government.gov.ge/index.php?lang_id=ENG&sec_id=270&info_id=36587).
In Ivanishvili's view, Saakashvili and the entire former government are obligated by law "to turn up for questions as many times as necessary." The prime minister again implied that the proposed investigations would help persuade Russia to return the territories eventually: "Russia did not benefit from that provocation either, and hopefully they understand this very well in Russia too. I believe that, if we take correct and well-thought-out diplomatic steps, our country will manage to regain the occupied territories" (Civil Georgia, Rustavi-2 TV, April 12).
Since entering politics, first as opposition leader in 2011 and now as prime minister with no policy experience and unfamiliar with basic issues, Ivanishvili's public statements add up to a continuing series of missteps followed by explanations, qualifications, and sometimes retractions, from him and his advisers.
In this case, some of the questions that seem to puzzle Ivanishvili have long been answered conclusively. In August 2008, the government did not evacuate residents of the threatened villages because it was loath to accept yet another round of ethnic cleansing; and it knew also that the radical opposition in Tbilisi would spearhead an anti-government backlash in that case. The casualties occurred mainly due to Russia's overwhelming superiority and as part of the ethnic cleansing of Georgians, which Ivanishvili's two statements failed to mention. Inviting international observers, with or even without an international organization's mandate, on a few days' notice, would not have been "all very simple," but impossible. The Georgian government's multiple appeals were largely ignored by Western governments amid the summer holidays and the Olympic Games, until Russia's August 8 invasion finally concentrated the West's attention. Russia's top leaders, Dmitry Medvedev and Vladimir Putin, have both claimed credit for making advance preparations to invade (see EDM, August 9, 2012).
Taken together, Ivanishvili's two statements indicate a tactical shift: from accusing Saakashvili's former government of aggression to incriminating it for defeat and loss of territories. The investigation threats apparently belong to Ivanishvili's conception of "normalizing" relations with Russia. But these threats also form an integral part of his government's effort to monopolize political power and the control over state institutions, removing the opposition United National Movement (UNM) from any meaningful role in the country's politics. If the UNM responds with street demonstrations, it would do so at its own peril.
Meanwhile, in parallel with the prime minister, his own teammates and some of his coalition partners are threatening to investigate President Saahashvili and his former government under additional sets of charges (see Part Two).
* * *
Note of clarification:
Since my stay in Washington a decade ago, I have been a regular follower of the Jamestown Foundation's publications. I have always appreciated the high quality of Jamestown's analysis and research on the South Caucasus and beyond; while I have not always agreed with Mr. Vladimir Socor's writings, I have always found them interesting and worth reading. Of course, I know Mr. Socor for many years, and respect his expertise and experience. It is therefore with some unease that I find myself writing you today.
In two articles for the Eurasia Daily Monitor, I find that Mr. Socor is mischaracterizing my position on very important issues. In an April 16 article, Mr. Socor states that my party—the Our Georgia-Free Democrats—is "pushing for investigations to be launched" against President Saakashvili regarding the Russian-Georgian war in 2008. The following day, Mr. Socor more specifically refers to the ongoing efforts I have initiated at the Ministry of Defense on lessons learned from that war, stating that "some of these lines of inquiry could be useful if conducted professionally, not politically and not with the intent to criminalize." Mr. Socor's first statement is factually wrong: neither I nor my party has pushed for, nor do we support, investigations against the President concerning the war in 2008. As for the inquiries I have initiated at the Ministry of Defense, they are exactly what Mr. Socor claims to support: they are being conducted professionally, are entirely non-political in character, and have no intent to criminalize anyone.
To military analysts anywhere, the practice of reviews of past performance for the purpose of learning lessons for the future is well-known and intrinsic to the professional development of the armed forces. They are conducted regularly by the US and other NATO militaries, and I see this exercise as an important part of Georgia's efforts to join NATO. The reason I have ordered this inquiry now, five years after the war, is simply that it had not been done under the previous administration.
In speaking publicly about this inquiry, I have been careful to underline that Russia started an aggressive war campaign against Georgia, a sovereign country, and occupied its territories; and that no-one questions this and no-one will question it in the future.
I would also like to stress that under my command, the Ministry of Defense has worked successfully with the National Security Council, under President Saakashvili's command, on the Strategic Defense Review that my Ministry is currently completing. For the purposes of the current inquiry, I have reached out to National Security Council Secretary and especially his Deputy Mr. Kutelia, as his experience serving as Deputy Minister of Defense during the war will be very valuable for this inquiry.
I would be grateful if the Jamestown Foundation would make public a correction to these published articles.
–Irakli Alasani
Minister of Defense of Georgia