Ivanishvili's Resignation Intent: A Tacit Admission of Failure
Publication: Eurasia Daily Monitor Volume: 10 Issue: 169
By: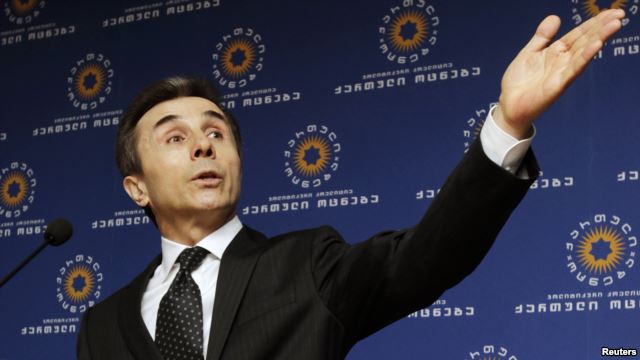 Georgian Dream leader and Prime Minister Bidzina Ivanishvili stipulated three principal goals in his quest for power (October 2011–October 2012) and as head of government (since November 2012). First, he vowed to remove President Mikheil Saakashvili and the United National Movement (UNM) from government and from Georgia's political system. Second, to bring prosperity to the Georgian people, implying handouts and investments from Ivanishvili's multi-billion-dollar private wealth. And third, to improve Georgia's relations with Russia, presumably without sacrificing Georgia's Western orientation inherited from the UNM government.
Ivanishvili's serially declared intention to resign from government before the end of this year reflects in part an admission of failure across the board of that agenda. Moreover, it implies a loss of confidence in the feasibility of his core policy objectives after only one year in power.
From Ivanishvili's and his team's perspective, the goal of marginalizing the UNM is half-way accomplished, but its completion looks increasingly unlikely by now. To persist would require more drastic repressive measures than those already exerted; and taking that course would risk international opprobrium. Arresting or prosecuting Saakashvili and his top aides after the expiry of his presidential term by November would be the worst-case scenario in that regard. Summoning the outgoing president and his aides for "questioning," as a televised political spectacle, would be a close second to that worst-case scenario in terms of destabilizing politics and diverting attention from the government's domestic policy failures. Political misuse of justice cannot be a substitute for institution-building; rather, it reflects a reversal of the previous government's advances in terms of institution building (see EDM, September 23).
During the recent Riga Conference, several European statesmen staunchly supportive of Georgia's European orientation cautioned Ivanishvili against taking that route. They also warned Ivanishvili against turning the case of the jailed former Prime Minister Vano Merabishvili into Georgia's equivalent of the Ukrainian Yulia Tymoshenko case, thus poisoning relations with the European Union. The threat to bring former UNM government officials to "justice" was a key element in Ivanishvili's political message as candidate and then as prime minister. He now claims that he cannot easily climb down from that political position. Meanwhile, the Moscow-friendly presidential candidate Nino Burjanadze (whom Ivanishvili envisages as runner-up to Georgian Dream's candidate in the upcoming presidential election) has become the champion of bringing former UNM officials to "justice." According to pro-Georgian Dream commentators, appearing on an almost daily basis in the newspaper Rezonansi and its supplements, Burjanadze's insistence on "restoration of justice" is siphoning votes away from Georgian Dream. This argument seems designed to incite Ivanishvili to at least match Burjanadze's zeal, particularly since the government has failed to improve the economic situation.
Ivanishvili's promise of economic growth and social spending remains unfulfilled. Instead, the promise is rapidly receding amid low and diminishing rates of growth and investment (see EDM, August 5). The trend toward stagnation is largely attributable to political risk perceptions and Ivanishvili's dysfunctional leadership of this government (see EDM, September 23). Foreign investment has plummeted since mid-2012—initially due to the uncertainty surrounding the elections, and afterward due to the new government's uncertain prospects. Ivanishvili's frequent resignation announcements exacerbate political uncertainty and perceptions of risk, discouraging foreign and domestic investments.
Domestic business, now freed from the former government's intimidation (as Georgian Dream sees it), remains in a wait-and-see mode, pending clarifications of the current government's policies and prospects. Ivanishvili will personally designate his successor as prime minister of Georgian Dream's six-party coalition government (after having personally designated the coalition's presidential candidate, Giorgi Margvelashvili). Although he is supposed to resign before the end of the year, or (as he put it) "even sooner, if Margvelashvili does not win" the October 27 presidential election (Rezonansi, September 5), Ivanishvili has apparently not groomed a successor as prime minister and certainly not informed the public about his possible choices. Responding to journalists on September 9, he stated as an afterthought ("it is good that you reminded me") that Georgian Railway CEO, Mamuka Bakhtadze, "is a good guy" and "an interesting person… I did not consider him [for prime minister], but he may be one of the options" (Civil Georgia, September 9).
The goal of improving relations with Moscow looks attainable at the margins (Russian tourism in Georgia; Borjomi mineral water returning to Russia after being sold to a Russian oligarch; Georgian wine trickling back to Russia; discussion about facilitating Russian visa procedures and air travel for Georgians, though far from reciprocating the existing visa-free travel for Russians in Georgia). Apart from those issues, no significant "normalization" has come out of the bilateral Georgia-Russia channel, operated by Ivanishvili's special envoy Zurab Abashidze and Russian Deputy Foreign Affairs Minister Grigory Karasin. This does not necessarily mean that its potential has been exhausted. The Georgian government is determined to continue exploring that channel. But the latest Karasin-Abashidze meeting (the fourth since December 2012), just held in Prague on September 19, confirmed Tbilisi's position of ruling out the restoration of diplomatic relations as long as Russia unilaterally "recognizes" Abkhazia and South Ossetia. Meanwhile, Moscow seeks to corner Georgia into de facto acceptance of the occupation of its territories by small steps—or at least to discuss matters related with those territories in the bilateral Karasin-Abashidze bilateral format, rather than the Geneva multilateral format. Russia installs new barbed-wire fences along the occupation line ("border," in Moscow's view) just ahead of the Karasin-Abashidze meetings, including the latest one, so as to force discussion of this issue into the bilateral format (Civil Georgia, September 19). On September 21, Georgia's Foreign Affairs Minister Maia Panjikidze issued a public protest against Russia's official accreditation of Abkhazia and South Ossetia as state entities for the upcoming Sochi Winter Olympics (Georgian Public TV Channel One, September 21).
Ivanishvili has hinted at certain concessions from time to time (re-opening the Georgian railroad section in Russian-controlled Abkhazia, weighing the possibility of joining Russia's Customs Union project, importing Russian gas again). Such issues are potentially more significant politically than economically for Georgia and the wider region. The relevant ministers in Tbilisi rule out such concessions. They find themselves time and again in the uncomfortable position of clarifying, explaining, or retracting the prime minister's statements. Occasionally, Ivanishvili himself candidly admits to error. He seems unfamiliar with the dossiers of such issues and is prone to improvisation.
By Ivanishvili's own criteria, the Georgian Dream government is not delivering the promised results in the three core policy areas: domestic stability and institution-building, economic prosperity, and a limited "normalization" of relations with Russia. Resigning from the government after only one year as prime minister, however, seems premature, and certainly poses risks of destabilizing the political system. But Ivanishvili is known to change his mind from time to time, and he may yet decide to stay on the job at least for the sake of stability, if not performance.