Joint Baltic Rail Venture Attracts Wider Regional Interest
Publication: Eurasia Daily Monitor Volume: 14 Issue: 87
By: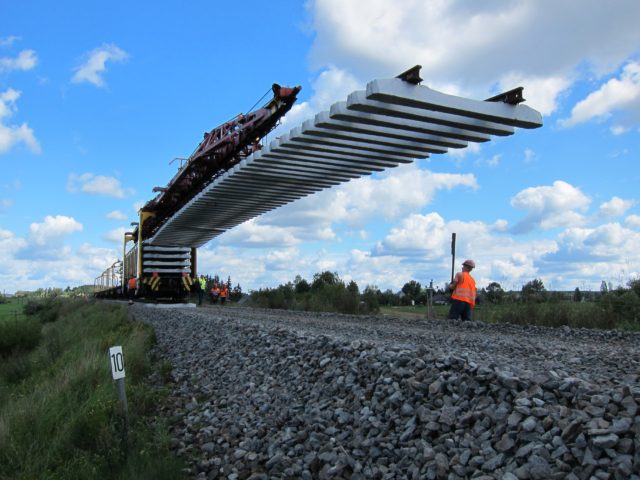 Rail Baltica, the European-standard-gauge railway project for the Baltic States, which also has important security implications (see EDM, October 19, 2016), is becoming a more important component of the future regional economy and security architecture. And now, Ukraine has expressed interest in joining this project in its later stages.
With the projected ability to transport 16 million tons of cargo and 5 million passengers a year, Rail Baltica is becoming the largest infrastructure project ever undertaken in the Baltic countries. The Rail Baltica project aims to create a European-standard-gauge (1,435 millimeters) railway line from Tallinn (connected to Helsinki via ferry and eventually perhaps an undersea tunnel—see EDM, June 21, 2016) to the Lithuanian-Polish border in order to physically link the Baltic States with other European Union countries (Railway-technology.com, accessed June 27). During peace time, the speed of passenger trains along the new railway line will reach 240 kilometers per hour, while freight trains will travel at up to 120 km/h. In a crisis situation, such as during a military intervention, this railroad will allow the North Atlantic Treaty Organization (NATO) to quickly move larger volumes of military equipment from Poland and Germany to the Baltic States.
Within its longer-term goal of fully integrating into the European economic and security spheres, Ukraine also plans to develop passenger train links from Kyiv to the capitals of the Baltic States. The minister of infrastructure of Ukraine, Volodymyr Amelian, announced earlier this month (June 16), during his visit to Vilnius, that Ukraine is considering the possibility of joining the European-standard-gauge Rail Baltica in the future (Delfi.lv, June 16). Like other former Soviet republics, including Russia, Belarus and the three Baltic States, Ukraine's domestic rail network predominantly uses the wider Russian gauge—1,520 mm.
"We talked about the possibility of connecting this ambitious Rail Baltica project to Ukraine," Amelian told journalists, after meeting with Lithuanian Economics Minister Mindaugas Sinkevičius. Amelyan said that tests planned for later this year will seek to analyze the usefulness of direct railway links from Ukraine to the Baltic States through Belarus. Sinkevičius expressed support for this more distant Ukrainian idea, but underlined that the most important thing for the Baltic States is now to complete the planned railway line as it was originally envisioned (Delfi.lv, June 16).
The first section of the project, from the Polish border up to the Lithuanian city of Kaunas, was completed at the end of 2015. The remaining segment, known as Rail Baltica II, refers to the 728 km double-track electrified line connecting Kaunas, Riga and Tallinn—which is a much more challenging undertaking. Construction of the new line is planned to start in 2018 and be finalized by 2025. By 2030, project organizers hope the railroad will already be transporting two million passengers and nine million tons of cargo a year (International Railway Journal, accessed June 27).
In Latvia, a new connection will be established between Riga International Airport and the capital's main railway station as part of the project. By 2022, the rail station will also be converted into a multimodal passenger terminal that will serve the country's 15 regions. To the south, Lithuania expects the project will generate new container train routes and increased freight volumes. Various parts of the transport infrastructure along the route will be reconstructed, installed or built from scratch, including 18 bridges, 125 passages, 6 railway stations and 20 platforms, among others (Railway-technology.com, accessed June 27).
The first section of the completed 1,435 mm gauge line from the Polish border to Kaunas, which has been built alongside the existing 1,520 mm gauge line from the former break of gauge at Šeštokai, has also been upgraded. The 26 km single-track 1,435 mm gauge line from the Polish border to Mockai and Šeštokai has been modernized, with a 7 km section of interlaced four-rail mixed-gauge track installed between Mockai and Šeštokai. The 93 km 1,520 mm gauge line from Šeštokai to Kaunas has been completely renewed, and a parallel 1,435 mm gauge track was constructed with adjacent platforms at Marijampolė, Kazlų Rūda and Kaunas stations. The approach to Kaunas is on a bridge, where the double-track 1520 mm gauge line has been converted to parallel broad (Russian)– and standard (European)–gauge single-track routes. The new and modernized lines are suitable for passenger trains running at 120 km/h and freight trains at up to 80 km/h. The overall cost of Rail Baltica I was €380 million ($432 million), and included building 8 bridges and 32 culverts, which will ease not only commercial, but also military logistics in the future (Railway-technology.com, accessed June 27).
Subsequent stages of the project will depend on the allocation of funds from the European Union and local Baltic governments. The European Commission (EC) recently pledged to allocate €110.71 million ($125.75 million) for the Rail Baltica project from the Connecting Europe Facility (CEF), which is just over one third of the requested amount of €313.3 million ($355.9 million) for the second stage of the project. Specifically, the EC proposal will pay out €98.37 million to Lithuania, €6.961 million ($7.91 million) to Latvia, and €5.15 million ($5.85 million) to Estonia (Delfi.lv, June 24).
Last May, Estonian Prime Minister Jiri Ratass said that the current scope and implementation of the Rail Baltica project is dependent on the ultimate scale of EU funding. "If proportions [of EU versus local Baltic government funding] change at the expense of Estonian taxpayers, the project will be re-evaluated and a mandate [to do so] will be requested for all three [Baltic] parliaments," Ratass said. Recent data shows that total costs of Rail Baltica will reach €5.8 billion ($6.6 billion) (Delfi.lv, May 2).
Latvian Prime Minister Māris Kučinskis, during a May meeting in Helsinki with his Finnish counterpart, Juha Sipilä, invited Finland to become a shareholder of the railways coordinating company for the Rail Baltica project (Delfi.lv, May 12). Such continual interest in the railway's expansion attests to its successes in implementation to date. Arguably, Rail Baltica is currently the most important transport infrastructure project for Central Eastern Europe. It is not only of joint strategic interest for all three Baltic States, but also for the wider region.