Jubilant Medvedev Praises Yanukovych and Threatens Lukashenka
Publication: Eurasia Daily Monitor Volume: 7 Issue: 78
By: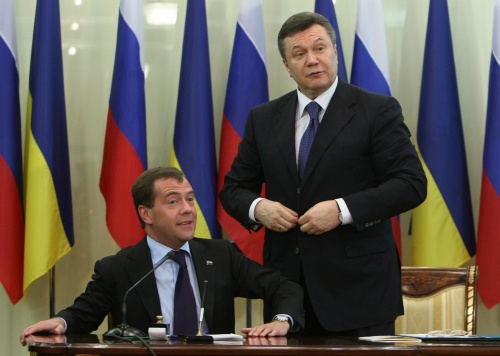 Yesterday, Moscow achieved one of its most important long-term strategic goals –to secure a continued military presence in Ukraine by keeping its base in Sevastopol, Crimea. During a summit in Kharkov in Eastern Ukraine, Presidents Viktor Yanukovych and Dmitry Medvedev signed a barter agreement that will reduce by 30 percent the price of natural gas for Ukraine and extend the lease of Sevastopol as the main base of the Russian Black Sea Fleet for 25 years plus an automatic prolongation of 5 years. At present, the Ukrainian constitution forbids foreign military bases, while Russia, in 1997, was allowed to preserve its base in Crimea until May 2017. It is not yet clear, whether the 30 year extension will commence on the day of ratification of the new agreement, or in 2017. During their press conference in Kharkov, both presidents insisted that the Black Sea Fleet problem has been permanently resolved. Ukrainian sources say the Black Sea Fleet may stay in Sevastopol until 2042 (www.unian.net, April 21). According to Yanukovych, the new agreement will come into force in April 2010: "We hastened the decision about the stationing of the Black Sea Fleet on Ukrainian territory since our Russian friends needed clarity in this question," Yanukovych told journalists, adding: "The continued presence of the Black Sea Fleet in Sevastopol will increase regional security" (RIA Novosti, Interfax, April 21).
Medvedev announced that the agreements to keep the Russian base in Sevastopol and cheaper natural gas for Ukraine are closely interconnected: "The announced discount on gas will be considered as part of the drastically increased lease payment for our base in Sevastopol." Technically, the Russian gas monopoly Gazprom will be allowed to export gas to Ukraine without paying export duties to the Russian budget –at present 30 percent. According to Yanukovych, the gas discount will "amount to Ukraine receiving $40 billion in investment aid in ten years." Gazprom will not lose profit, but the Russian federal budget will apparently lose $3 billion to $4 billion annually under the new agreement. Under the 1997 lease agreement that seems to have been terminated in Kharkov, $97 million was written off annually in Ukrainian debt to Russia for gas shipments (RIA Novosti, Interfax, April 21).
According to Prime Minister, Vladimir Putin, Russia had a federal budget deficit in 2009 of 5.9 percent GDP and the government estimates are for a 6.8 percent GDP deficit in 2010 and 4 percent in 2011 (Interfax, April 20). Still, the strategic importance of keeping a military foothold in the Crimea is important enough for Russian leaders to effectively increase payment for Sevastopol manifold. At the press conference in Kharkov, Medvedev told journalists that not only Ukraine, but other former Soviet republics may receive generous preferences if they tow Moscow's line. At the same time, Medvedev announced his displeasure with the Belarusian President, Alyaksandr Lukashenka, for supporting and giving refuge to former the Kyrgyz President, Kurmanbek Bakiyev, who was overthrown earlier this month. According to Medvedev, Lukashenka (unlike Yanukovych) "is not a real partner" and may not secure bonuses while he harbors Moscow's enemy (RIA Novosti, April 21). Putin and Medvedev have publicly accused Bakiyev of treachery, since he took financial aid from Moscow to close the US airbase in Manas, but failed to do as promised, taking in turn more money from Washington (EDM, April 15).
Apparently, Putin and Medvedev believe the international situation is suitable to openly use incentive and punishment to impose discipline in the post-Soviet space, which Moscow considers as its rightful sphere of privileged interests. Under the 1997 agreement, Kyiv did not allow Moscow to replace aging ships and weapons in the Crimea. Moscow had only one submarine left in the Black Sea Fleet and that was almost permanently out of order. Now the Russian navy staff has stated that the new deal will allow the posting of at least two new corvettes and three new LADA-class submarines in Sevastopol in the next five years. The Russian navy plans to have eight to ten new submarines overall in Sevastopol (Interfax, April 21).
Reports from Kyiv quoted the former President, Viktor Yushchenko, and former Prime Minister Yulia Timoshenko as well as other pro-Western opposition figures as declaring the Black Sea Fleet agreement unpatriotic, legally void and unconstitutional. The opposition has demanded a national referendum to change the Ukrainian constitution to allow the Russian fleet a permanent base in Sevastopol (www.unian.net, www.news.liga.net, April 21). However, since Yanukovych currently lacks the majority needed to change the constitution, he and Medvedev have decided the Black Sea Fleet agreement may simply be ratified by the Supreme Rada, where Yanukovych has a fragile majority. The Speaker of the Duma, Boris Gryzlov, announced that he agreed with his pro-Yanukovych counterpart in the Supreme Rada, Vladimir Litvin, "because of the importance of the question" to press through a "synchronized ratification" in Kyiv and Moscow of the Black Sea Fleet agreement on April 27 (Interfax, April 21).
The disturbing haste with which the legally questionable Black Sea Fleet agreement is imposed may force the unruly Ukrainian opposition to close ranks and successfully challenge Yanukovych, who was elected this year with a slim majority and accused of vote rigging. The legitimacy of the Yanukovych government is being challenged in the constitutional court and snap parliamentary elections are possible that could turn the political tables in Kyiv and bring the opposition back into government. The 1997 agreement that gave Russia a 20 year lease of Sevastopol was recognized as legitimate by all Ukrainian political forces. Now it has been replaced with a controversial document that may polarize the nation, facilitate civil strife, and eventually disrupt Russian-Ukrainian relations. Yet, Putin and Medvedev are pressing ahead. Maybe a split Ukraine could be seen from Moscow as not a bad solution –like Georgia, that was dismembered in August 2008. If Ukraine is unmanageable from Moscow, maybe the Crimea and other Russian-speaking parts could split off to form a dependency that may sign agreements to keep Russian bases 50 or 100 years like Abkhazia and South Ossetia.