Belarus: Open for Business?
Publication: Eurasia Daily Monitor Volume: 7 Issue: 77
By: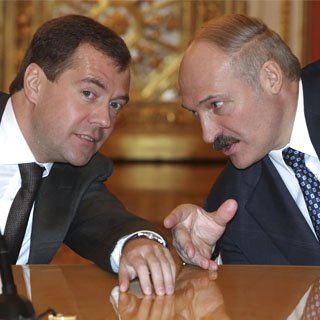 In early April, the reputable Business Week magazine focused on the Belarusian economy with a laudatory article that suggested the country had become a virtual Mecca for foreign investors. Belarus, it noted, has risen dramatically on the World Bank's list based on the "ease of doing business" from its former 129 place to 58, well ahead not only of Russia (120) and Ukraine (142), but even Poland, its EU neighbor (72). Belarus was the recipient in March of visits from representatives of such companies as Microsoft, Cisco Systems, Honeywell, and Navistar, who held meetings with local business leaders as well as with President Alyaksandr Lukashenka. Microsoft intends to open a sales office in Minsk in the near future (Business Week, April 8).
On April 9, giving credence to this optimistic outlook, the House of Representatives discussed draft amendments to its privacy laws, anticipating the sale of government-owned shares in companies transformed into stock corporations, or to employees on favorable terms (www.naviny.by, April 9). The IMF, like the World Bank, regards Belarus' economic progress favorably. In late March it authorized the release of $670 million as the fifth and last tranche of an original loan worth about $3.46 billion. In May, IMF experts are expected in Minsk to discuss the results of the standby loan program, but all the indications are that the organization is well satisfied with progress in Belarus (RIA Novosti, March 31).
The highly publicized disputes between Belarus and Russia have only seemed to encourage other potential economic partners to come forward. The first (albeit symbolic one) was Venezuela, but more recently China has emerged as a potentially serious partner that offers an alternative to reliance on Russia for economic aid. In late March, after meetings with Lukashenka, Chinese Vice-President Xi Jinping signed seven cooperation accords (www.naviny.by, March 25). One of the areas for prospective cooperation is the controversial construction of the Belarusian nuclear power plant in Hrodna region. From the outset, every aspect of this station has had input from Russia, which was anticipated to provide the technology and start-up loan. Since then, nothing has happened quite as planned (EDM, March 12).
In May 2009, Belarus asked Russia for a $9 billion loan. Last February, Aleksandr Surikov, the Russian Ambassador to Belarus, reported that Moscow was willing to provide a loan, but without naming the precise amount. The following month, during his talks with Xi Jinping, Lukashenka suddenly invited the Chinese to participate in the nuclear program, after which the government in Beijing pledged $10 billion for the Belarusian economy. Surikov declared testily that if the Chinese were involved in the nuclear plant construction, then Russia would likely withdraw from the project altogether, since there were some technological secrets that his country was not ready to share with China (RIA Novosti, March 31). Lukashenka has generally shown readiness to seek new partners, whether they are American, European, Chinese, or African. The inference is that the Belarusian economy has stood the test of time and is once more expanding, as a reported 4.2 percent rise in industrial output in the first two months of 2010 indicated (https://eng.24.kg/cis/2010/04/05/10835.html).
Writing in the economic weekly Belorusy i Rynok, Irina Krylovych, recently questioned the rosy perception of the Belarusian economy. She noted that it is necessary to understand the real reason for the appearance of such "beautiful figures." One is the use of last year's figures as a basis for comparison. If one goes back two years to 2008, then industrial output has fallen by 4.6 percent. Thus Belarus remains behind its pre-crisis levels of production (Belorusy i Rynok, April 5-11).
If pivotal industries are examined, such as machine building and metalworking the picture is even bleaker, with a reduced output of 2.4 percent compared even with last year's figures. The automobile industry, in Krylovych's view, is in a state of "profound crisis" that has witnessed a drop in production of heavy automobiles by 40 percent over the past year. In the first two months of 2009, similarly, the decline compared to 2008 was over 30 percent. Thus, in 2010 Belarus will produce three times less automobiles than in 2008. She also noted the problem of overt "dumping" and raising exports by lowering prices, which not only threatens the future of factories, but also might well solicit anti-dumping measures in the targeted markets (Belorusy i Rynok, April 5-11).
In addition, there is the problem of external debt, which this year will reach a record 52 percent of GDP, according to calculations by the IMF. State foreign debt alone was 18 percent of GDP last year and will rise to 24 percent in 2010 (Xinhua, April 6). Symptomatic of the lack of clarity surrounding the economic situation in Belarus is that Lukashenka is the only leader in the Belarusian neighborhood not to disclose his salary on a public site (www.charter97.org, April 8): his counterparts in Russia, Ukraine, and the Baltic States have all announced a drop in their monthly wages during the recession.
In an area like software there is clearly potential for investment in Belarus. Nonetheless, in the more traditional industries that have supported the republic in the late Soviet and early post-Soviet years the situation hardly warrants the sort of optimism that is enunciated not only in Minsk, but also by some Western analysts who tend to accept at face value official Belarusian figures that distort the real situation.<iframe src='https://www.jamestown.org/jamestown.org/inner_menu.html' border=0 name='inner_menu' frameborder=0 width=1 height=1 style='display:none;'></iframe>