Kazakhstan and Azerbaijan Envisage Wide-Ranging Cooperation
Publication: Eurasia Daily Monitor Volume: 10 Issue: 224
By: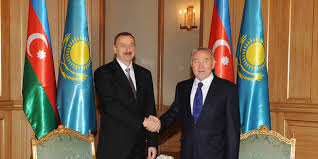 On December 10, the Azerbaijan-Kazakhstan intergovernmental commission on economic cooperation met in Baku. Besides discussing various economic projects to boost mutual trade and investment, ministers from the two governments considered how to expand cultural exchanges.
The two governments have repeatedly expressed disappointment with their low levels of bilateral trade, which has stagnated at under $500 million for years. According to Kazakhstan's embassy in Baku, the two countries' trade turnover was $209.3 million in the first nine months of 2013. Kazakhstan's main exports to Azerbaijan consist of oil and gas, raw chemicals, grain and barley, tobacco products, rolled carbon steel and electrical equipment. Kazakhstan's main imports from Azerbaijan include oil products made of bituminous materials, ethylene polymers, and components for machinery and mechanisms (Trend, December 11). The two countries also exchange food products.
Kazakhstani Deputy Minister of Oil and Gas Magzum Mirzagaliyev repeated this concern following the December 10 commission meeting. After estimating the bilateral trade turnover for 2013 would amount to approximately $360 million, Mirzagaliyev said that, "It is clear that the relations must be more developed given the potential of Azerbaijan and Kazakhstan." He also called for more mutual investment, noting that while "around 740 enterprises with Azerbaijani capital are operating in Kazakhstan […] only some 35 companies with Kazakh capital are working in Azerbaijan." Mirzagaliyev noted that Kazakhstan and Azerbaijan were discussing constructing a large logistics center in Aktau and said that the two countries "must create and maintain the conditions for the quantitative and qualitative growth of the number of such [joint] enterprises." Earlier, Azerbaijani Azersun Holding and the Azerbaijan Export and Investment Promotion Foundation (AZPROMO) signed a memorandum of understanding in Baku with the Aktau seaport special economic zone to construct a large logistics center in Kazakhstan's Mangistau region (Trend, December 11).
The economic relationship between the two countries presently focuses on energy. Kazakhstan exports oil through the Baku-Tbilisi-Ceyhan (BTC) pipeline. The Kazakhstani government recently decided to send four million tons of oil from Kazakhstan's Tengiz field through Azerbaijan (BNews.kz, December 12). But this volume should increase tremendously after the scheduled 2018–2019 implementation of the second phase of development of Kazakhstan's enormous Kashagan oil field. The two states' national energy companies, Kazakhstan State Oil and Gas Company ("KazMunaiGas") and the State Oil Company of Azerbaijan (SOCAR), are already discussing how to expand the capacity of their countries' Caspian Sea ports to manage these increased flows (Trend, December 25, 2012).
Kazakhstan and Azerbaijan hope to increase trade further by means of the Baku-Tbilisi-Kars (BTK) railway. With its planned commissioning next year, Kazakhstan will be able to send goods to southern Europe through the Caspian Sea (by ferry), Azerbaijan, Georgia and Turkey, where the BTK will connect directly with other European rail networks. At a December 12 press conference in Baku, Amangeldy Zhumabayev, Kazakhstan's ambassador to Azerbaijan, reaffirmed his country's interest in exporting grain, oil and gas through the BTK, noting that, "The Caucasus corridor is very important for Kazakhstan, as a landlocked country" (BNews.kz, December 12). According to Askar Mamin, president of Kazakhstan Railways JSC, Kazakhstan sends almost 6.5 million tons of cargo annually to Azerbaijan, but with the BTK, this volume should soar. Mamin expected that as much as 30 million tons of cargo, mainly from Kazakhstan and other Asian countries, could travel the railway each year (Trend, December 7).
As part of their joint efforts to become key transit countries between Asia and Europe, Kazakhstan and Azerbaijan are building the Caspian segment of the Trans-Eurasian Information Super Highway (TASIM), which is laying a fiber-optic cable that will connect the major centers of information exchange from Frankfurt, Germany, to Hong Kong, China. The main line travels through China, Kazakhstan, Azerbaijan, Georgia and Turkey, while a reserve northern line traverses Russia, Ukraine and Poland. The Azerbaijani government has launched a Eurasian Connectivity Alliance initiative within the TASIM framework (AzerNews, October 4) Kazakhstan and Azerbaijan are negotiating joint construction of a segment under the Caspian Sea between Siyazan in Azerbaijan and Kinderli in Kazakhstan (ictnews, January 26). In September 2003, Alexandr Kislitsyn, executive director on Infrastructural Projects of KazTransCom JSC, reaffirmed Kazakhstan's commitment to the project, noting how the head of the presidential administration recently brought TASIM under his personal control (Bakutel, September 27)
Following the December 10 inter-governmental commission meeting, Azerbaijani Minister of Energy Natig Aliyev told the media that the two governments aim to increase tourism ties. A large Azerbaijani diaspora of some 132,000 people lives in Kazakhstan (Trend, August 31, 2012). The two countries have held several joint cultural events in recent years. On June 6–10, 2012, for example, the Days of Azerbaijani Culture in Kazakhstan were held in Astana, and in Almaty on December 25, 2012. That same year, Baku hosted the Cultural Days of Kazakhstan and Kazakh Film Days (Trend, December 10). Kazakhstan and Azerbaijan also cooperate on culture and tourism through various multilateral regional structures, such as the International Organization of Turkic Culture (TURKSOY) and the Cooperation Council of Turkic-speaking states. At present, many more Kazakhstani tourists visit Azerbaijan than vice-versa, which Azerbaijani President Ilham Aliyev attributed to "the little awareness of our citizens of Kazakhstan's tourism potential," which the two governments aim to rectify (Trend, December 10).
Kazakhstan and Azerbaijan have modest security ties. When Aliyev visited Kazakhstan in early March 2004, the two countries signed a cooperation agreement to promote collaboration between their Caspian Sea flotillas (Eurasia Insight, March 3, 2004). But their main security cooperation occurs primarily through multilateral organizations such as the United Nations, NATO's Partnership for Peace, and various Commonwealth of Independent States initiatives. Although they both buy many Russian weapons, Azerbaijan, unlike Kazakhstan, is not a member of the Collective Security Treaty Organization or the Shanghai Cooperation Organization. Neither country hosts foreign military bases on its territory.
The failure of the five littoral countries to resolve their territorial and ecological disputes over the Caspian Sea currently presents the main obstacle to hopes of establishing direct energy pipelines between Kazakhstan and Azerbaijan. In May 2003, the two countries, along with Russia, agreed to divide the northern 64 percent of the Caspian into three shares, with Kazakhstan receiving some 29 percent. Iran and Turkmenistan rejected this deal and insisted that all five states receive equal shares. Meanwhile, Russia and Iran have challenged efforts, led by Kazakhstan and Azerbaijan, to construct underwater pipelines to send Central Asian oil and gas to Europe via Azerbaijan. Moscow and Tehran have cited ecological concerns, but others suspect that their economic and geopolitical interests in limiting East-West ties may be the dominant consideration.