Kazakhstan Embarks on Constitutional Reform Amid Uncertain Times
Publication: Eurasia Daily Monitor Volume: 14 Issue: 23
By: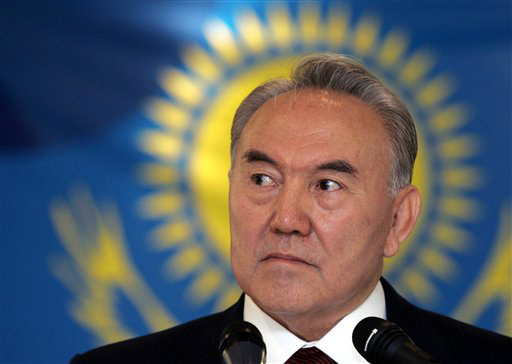 Kazakhstani President Nursultan Nazarbayev surprised his fellow citizens and international observers alike when he announced, on January 11, the establishment of a special commission to elaborate wide-ranging constitutional reform. It had been less than two months since Nazarbayev spoke to a group of Western journalists in Astana about his potential succession. At the time, the president joked that he would stay in power as long as his health permitted and for as long as he enjoyed the trust of the population, before inviting his foreign guests to come back for his next inauguration. Nazarbayev, 76, was last re-elected in April 2015 with 97.75 percent of the ballots cast. He can technically run again for an unlimited number of terms, owing to his 2010 status as the Leader of the Nation. The next presidential election is scheduled for spring 2020, but in keeping with a long-standing tradition (the 1999, 2011 and 2015 elections were all held ahead of schedule), the next vote may also be an early one (Inform.kz, January 12, 2017; Tengrinews.kz, December 16, 2016; Kapital.kz, November 24, 2016).
The 12-strong constitutional reform commission is headed by Nazarbayev's chief of staff, former mayor of Astana and Defense Minister Adilbek Dzhaksybekov. The other prominent members are Prosecutor General Zhakip Assanov, Justice Minister Marat Beketayev, Senate (upper chamber of parliament) vice-chairman Sergey Gromov, deputy head of the presidential administration Talgat Donakov, Mazhilis (lower chamber of parliament) vice-chairperson Gulmira Issimbayeva, Supreme Court chair Kairat Mami and Igor Rogov, the president of the Constitutional Council. The remaining members are drawn from academia and civil society. The commission held its first meeting on January 24. During this session, it told Nazarbayev that it had reviewed 11 constitutional laws, 20 codes and 298 ordinary laws and identified 11 codes and 80 laws that would need to be amended. The media reported that constitutional reform experts had formulated as many as 32 detailed proposals. Despite such extensive diligence, it increasingly seems that Nazarbayev will opt for a nationwide referendum on changes to the constitution rather than a speedy passage through parliament (Akorda.kz, January 24; Lsm.kz, Ktk.kz, January 11).
The likeliest architect of the constitutional package, as it will be presented to the wider public, will be Marat Tazhin. Holding a PhD in social science, he has been a deputy head of the presidential administration since January 12, after having represented Kazakhstan as its ambassador to Moscow since February 2014. To many Kazakhstan-watchers, Tazhin is Nazarbayev's "gray cardinal," who has been instrumental in the formation and refining of the regime's ideology for more than two decades. Nursultan Nazarbayev is widely known as the founding father of Eurasian integration, about which he first spoke at Moscow State University in 1995—that is, well before Vladimir Putin ascended to the presidency of Russia. As for Tazhin, he is the one who had formulated the theoretical underpinnings of what subsequently became the 2010 Customs Union of Russia, Kazakhstan and Belarus as well as, eventually, the 2014 Eurasian Economic Union. Throughout the years, Tazhin has worked in the most sensitive jobs: as head of the National Security Committee (2001–2002), secretary of the Security Council (1999–2001, 2002, 2006–2007, 2009–2013) and foreign affairs minister (2007–2009) (Matrica.kz, Time.kz, January 12).
Although the exact content and timing of the ongoing reform are yet to be known, Nazarbayev previously spoke repeatedly about the need to rebalance the distribution of power among the presidency, the government, the legislature and the judiciary. "We needed a strong presidency when we were facing the biggest challenge of building an independent state, and it has fully proved its effectiveness. We have built a new country, a new economy, a new society," the head of state mused last month. Under the new reforms, the parliament should obtain the right to censure the government, which would, in turn, assume increased responsibilities for the general state of the economy, socioeconomic stability and public finance. The judiciary is slated to see its importance grow in parallel with a reduction of public prosecutors' involvement in civil and administrative affairs, with a view to further liberalization and democratization (Nomad.su, January 27; Khabar.kz, January 24).
Preparing Kazakhstan for a post-Nazarbayev era, in which the incumbent will first retreat into the background and then relinquish all powers in favor of a successor, is a tall order. Central Asia's biggest economy has little practical experience with real, functional democracy. Overall, the positive experiences of successful Western democracies are hard to imitate in such a short time span. The example of neighboring Kyrgyzstan, the most democratic country in Central Asia, yet the least stable, is a reflection of this truth. Furthermore, Kazakhstan has been confronted with an unprecedented economic crisis caused by the drastic fall in oil prices since mid-2014. Kazakhstan's GDP grew last year by only 1 percent, after 1.2 and 4.3 percent in 2015 and 2014, respectively. Given that the national currency, the tenge, has lost more than 40 percent of its value since early 2014, the modest growth is actually nothing more than an optical illusion concealing the harsh reality. The economy of Kazakhstan, which is dependent on oil for a quarter of its GDP, has been contracting (Economy.gov.kz, January 18, 2017; Vlast.kz, January 21, 2016; Forbes.kz, January 19, 2015). These weaknesses will need to be overcome to ensure long-term domestic stability conducive to maintaining truly democratic institutions.