Russia Sells S-400 Complexes to China: Smart Move or a Mixed Blessing?
Publication: Eurasia Daily Monitor Volume: 14 Issue: 24
By: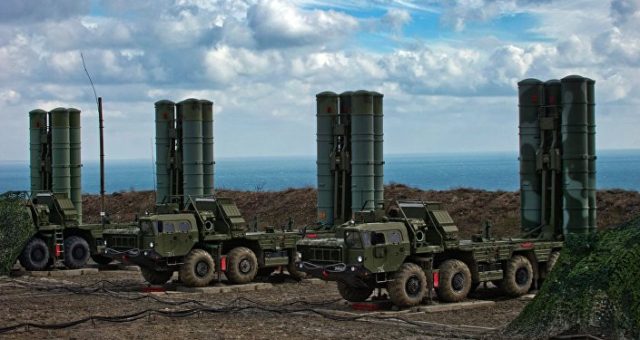 Russia's S-400 Triumf (NATO classification: SA-21 Growler) air-defense weapons system appears to be generating ever greater interest among a number of potential customers around the world, including China, India, Turkey and Vietnam. For the time being, this fact is widely acclaimed in Russia. But how long will the positive excitement last?
On February 14, media reports revealed that Russia has begun producing S-400 complexes for China. The announcement came from Victor Kladov, a representative of Rostec, a Russian state holding company charged with promoting the development, production and export of domestic high-technology goods in the civil and defense sectors. Speaking at the 11th International "Aero India" air show, Kladov declared that China will acquire three units (six divisions) of S-400 complexes, in accordance with the contract concluded between Beijing and Moscow in April 2015. The value of the deal is said to be close to $3 billion, and deliveries are to start in 2017 (Lenta.ru, February 14).
Selling S-400s to China might provide the struggling Russian economy with a much-needed injection of funds and the Kremlin with illusory hopes for political support from Beijing. But the excited rhetoric regarding these arms sales obscures important negative trends that Moscow has been ignoring.
First, the Russian army itself suffers from a shortage of S-400 complexes. Thus, the decision to export this weaponry suggests that the Russian Ministry of Defense is having a hard time finding the money to buy them for its own military. Furthermore, Moscow's closest allies have also requested S-400s, but have yet to receive them: Belarus announced its interest in 2011, and Kazakhstan followed suit in 2015. Probably more important, however, is the fact that the Kremlin's decision to supply S-400 complexes to China could complicate Russia's relationship with another strategic partner—India.
On October 15, 2016, Russia and India concluded an agreement on the delivery of S-400 Triumf complexes. This deal (which, aside from the aforementioned missile system, included various types of other advanced weaponry) was the result of lengthy negotiations between Russian President Vladimir Putin and Indian Prime Minister Narendra Modi (Riafan.ru, October 15, 2016). Moreover, this agreement was notably part of the "road map" commemorating the 70th anniversary of diplomatic relations between Moscow and Delhi, which has sought to once again reiterate the "strategic" nature of relations between the two countries. However, as of February 16, there is reportedly still a lack of agreement on many key aspects of the bilateral arms sale contract. As one representative from the Russian side noted, "it is impossible to speak about concrete dates—a lot will depend on the [production] capabilities of the Almaz-Antey company, since the deliveries of this weaponry to the Russian Ministry of Defense are a clear priority. However, judging by the experience of previous contracts, the deliveries [of the S-400s to India] could be initiated in the course of two or three years" (RIA Novosti, February 16). This statement seems to be nothing else but an excuse, especially considering the pace of cooperation with China in this domain. Rather, the Kremlin looks to be prioritizing its political ties with Beijing over Delhi.
Signs of resentment have already been audible among Indian intellectuals. For instance, in an interview in November of last year, the director of Carnegie India, Raja Mohan—while reflecting on the state of Russo-Indian relations—indicated several key aspects that puzzle Delhi. First, he emphasized the inconsistencies in Russian policies toward other countries. Second, Mohan highlighted that India has long been one of the main and most lucrative venues for Russia's military-industrial complex, even while Russia was "starting to forget its old friendship" with this South Asian country. Third, he unambiguously stated that his country will not be a "younger brother" or a "pawn" in Russian political games. Fourth, according to the Carnegie India director, serious repercussions might ensue if Moscow continues to build closer ties with Pakistan. Finally, and most importantly, he suggested that it appears the Indian ruling elites are unsure about Russian priorities between Delhi and Beijing. As an example, Mohan pointed to the bitter experience of the Indian-Chinese war of 1962 as well as Soviet leader Nikita Khrushchev once calling India a "friend" and China a "brother" (Lenta.ru, November 11, 2016). Clearly, the decision to provide Beijing with advanced weaponry ahead of Delhi once again serves as a reminder to Indian politicians and intellectuals of their country's status in the Kremlin's eyes.
Indeed, this is not the first time Russia was keen to trade the friendship and support of its key partners in exchange for lucrative contracts with other states. For instance, Armenia—a member of both the Russia-led Collective Security Treaty Organization (CSTO) and the Eurasian Economic Union—has on many occasions expressed its deep disappointment with the fact that Moscow provides its regional rival Azerbaijan with advanced weapons (Oxu.az, March 18, 2015).
In the meantime, Russia tries to give the impression that regional political entanglements are of minor concern to it. Moscow is doing its best to convince itself that the rapid accretion of Chinese military might does not pose any threat whatsoever. The deployment by China of intercontinental ballistic missiles (ICBM) in Heilongjiang province, which borders Russia, was met with similar nonchalance. President Putin's press secretary, Dmitry Peskov, stated, "There is no threat to Russian national security interests" (Vlasti.net, January 24). At the same time, the Russian establishment rejoiced at the notion that the ICBM deployments were leveled against the United States.
The reality of the Chinese missile placements appears to be much more complicated, however. Despite Peskov's optimistic remarks, at least a part of the Russian elite is clearly alarmed by China's activities. Franz Klintsevych, a member of the Russian Federation Council (upper chamber of parliament), firmly stated that "Russia will not tolerate the deployment of advanced missiles on its national borders" (Polit.info, January 24). Moreover, on February 13, on the territory of the Jewish Autonomous Oblast (situated on the border with China), Russia's Armed Forces launched military exercises employing Iskander-M tactical (short-range) ballistic missile complexes (Deita.ru, February 13).
It seems that its economic hardship and international isolation is increasingly inducing Moscow to take ill-calculated steps without giving much consideration of their possible repercussions in a more distant prospective.