Kazakhstan Enters into Strategic Partnership with Britain
Publication: Eurasia Daily Monitor Volume: 10 Issue: 125
By: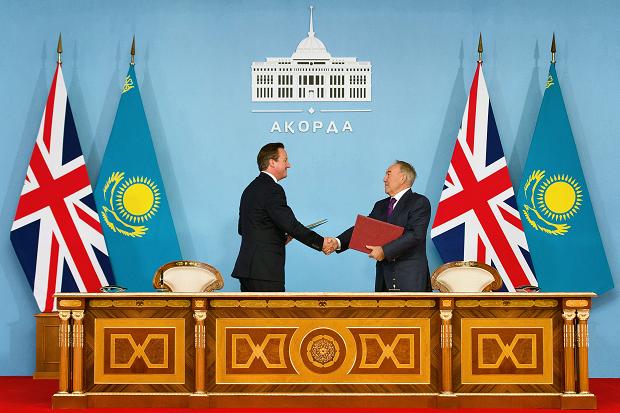 On July 1, in Astana, President Nursultan Nazarbayev and the visiting British Prime Minister David Cameron signed a joint declaration on strategic partnership between Britain and Kazakhstan. A large business delegation accompanied Cameron. He became the first serving British prime minister to visit Kazakhstan, although Nazarbayev had paid several visits to the United Kingdom, most recently in 2012 (www.gov.uk/government, www.ortcom.kz, July 1).
The joint declaration focuses on strategic cooperation between the UK and Kazakhstan in the energy sector, trade and investments, and regional security. The document institutes a regular British-Kazakhstani dialogue on security issues. It also envisages creating joint working groups to promote bilateral economic relations (Kazinform, July 1, 3). These arrangements may in time approach the institutionalization level of the US-Kazakhstan Strategic Partnership. Declared by the presidents of the United States and Kazakhstan in 2006, that partnership features annual political consultations since 2010, and a US-Kazakhstan Strategic Partnership Commission in the format of parallel working groups since 2012.
Kazakhstan recently ratified a bilateral agreement, signed with the UK in 2012, regarding the transit of British troops and materiel that are scheduled to be withdrawn from Afghanistan by air. Negotiations continue regarding overland transit of British forces that will be heading home from Afghanistan, using Kazakhstan's railroads.
UK-Kazakhstan trade turnover rose to $2.3 billion in 2012, compared with $1.5 billion in 2011. It almost equaled the US-Kazakhstan trade turnover, which registered $2.5 billion in 2012. This strong upward trend is driven by Kazakhstan's overall economic growth as well as the requirements of its energy sector. Kazakhstan's GDP grew by 5 percent year-on-year in 2011 and by 6 percent year-on-year in 2012. British and Kazakhstani companies signed contracts and agreements of intent worth a total of $1.1 billion during Cameron's visit (Bloomberg, July 2).
Thus, the Aberdeen-based Wood Group has contracted to launch a new joint venture in Kazakhstan for delivering and servicing compressors and turbines in oil and gas projects (www.woodgroup.com, accessed July 8). Surrey Satellite Technology has signed a contract to design and develop Kazakhstan's Science and Technology satellite system (www.sstl.co.uk, accessed July 8). Petrofac of London has signed a memorandum of understanding on assisting KazMunaiGaz Exploration & Production to improve oil recovery and identify additional reserves at the depleted Emba oil fields, onshore to the northeast of the Caspian Sea (www.petrofac.com, accessed July 8).
The United Kingdom is the second largest investor (slightly behind the United States) in Kazakhstan, with $21 billion of cumulative direct investments in the country from 1993 through 2012. Meanwhile, European Union countries with the UK in the lead account for almost 50 percent of Kazakhstan's external trade, and more than 50 percent of total foreign direct investment in the Central Asian republic. Shell (British-Dutch only nominally by now) and British Gas are key shareholders and joint operators of the supergiant Kashagan and Karachaganak projects, respectively. Kazakhstan's Air Astana national airline is a joint venture of the Samruk-Kazyna sovereign welfare fund and Britain's BAE Systems, holding 51 percent and 49 percent stakes, respectively (www.airastana.com).
More than 3,000 Kazakhstanis have studied in in the UK as part of Kazakhstan's state scholarship program from the 1990s to date (www.gov.uk/government, July 1). In Astana, the Kazakh-British Technical University operates since 2010. It teaches engineering specialties (petroleum, chemical, electrical and electronics) as well as information technology, management, and economics to Kazakhstani students. This activity is consistent with the Kazakhstani government's emphasis on technical education and promotion of the English language as key elements of Kazakhstan's modernization effort.
Nazarbayev and Cameron jointly attended the start of operations at the Bolashak oil-treatment plant, in the vicinity of Atyrau. This onshore location is close to the Kashagan offshore oilfield. The Bolashak plant, which cost $4 billion to build from 2006 to date, is designed to separate sulfur and gas from Kashagan oil, prior to its delivery into pipelines for export. The Bolashak plant's processing capacity at full throttle will be 8.8 million cubic meters of gas per day and 450,000 barrels of crude oil per day, or 22 million tons of oil per year (Oil and Gas Journal, July 8).
Kazakhstan expects to see the start of commercial production at Kashagan by autumn 2013, but consortium representatives cautiously refrain from committing to that deadline. With 1.6 billion tons of oil (some 11 billion barrels) in recoverable reserves, confirmed by the operating consortium (Kazinform, July 1, 2), the Kashagan project will cement Kazakhstan's position as a global oil supplier and accelerate the modernization of the country's non-oil economic sectors.