China Enters Kashagan Oil Project, Will Boost Kazakhstan-China Pipeline Capacity
Publication: Eurasia Daily Monitor Volume: 10 Issue: 125
By: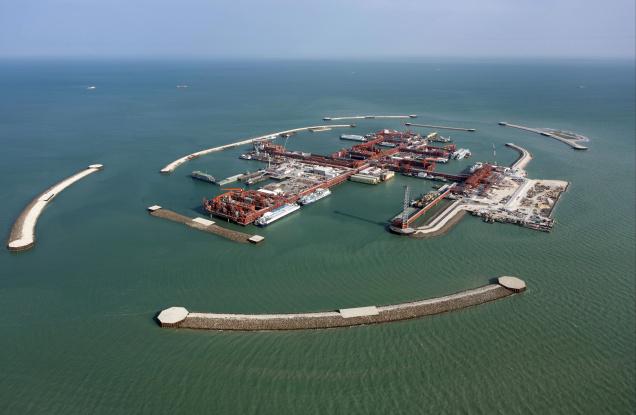 On July 2, Kazakhstan's government announced that it has decided to sell an 8.4-percent stake in Kashagan, the supergiant oilfield development project, to China's National Petroleum Corporation (CNPC). The CNPC has prevailed against India's Videsh, external operations branch of Indian state-controlled Oil & Natural Gas Corporation, in the contest over this stake in Kashagan. The stake's owner, Texas-based ConocoPhillips, is selling it as part of Conoco's three-year, worldwide asset divestment program (by which Conoco has already sold its 20-percent stake in Russian Lukoil).
The North Caspian Operating Company (NCOC), which is developing the Kashagan field, includes Kazakhstan's KazMunaiGaz, ExxonMobil, Royal Dutch Shell, Total of France, and Italian Agip (ENI's subsidiary), each with 16.8 percent of the shares; ConocoPhillips with 8.4 percent, and the Japanese Inpex with 7.56 percent. Kazakhstan's government expects commercial production at Kashagan to start by September 2013 or shortly thereafter (see accompanying article).
Under the consortium agreement, should any shareholder decide to sell its stake in Kashagan, the five large shareholders enjoy preemptive rights to buy that stake, subject to Kazakhstan's approval. In November 2012, Conoco announced that it would sell its stake to India's Videsh for $5 billion. In January 2013, the four major Western stakeholders in Kashagan waived their rights of preemption. Kazahkstan took five more months to deliberate on its decision. On July 2, the Oil and Gas Ministry notified Conoco that Kazakhstan has decided to exercise its right of preemption, authorizing KazMunaiGaz to buy Conoco's stake in Kashagan for the same price of $5 billion. In a back-to-back transaction, Kazakhstan will sell Conoco's stake to China's CNPC, for a likely price of $5.4 billion. Conoco has announced that it welcomes this outcome (Interfax, July 2; The Times of India, July 2; Trend, July 3; New Europe, July 8).
This marks the second time that China prevails over India in a contest for access to oil supplies from Kazakhstan. In 2005, an ad hoc partnership of Videsh and Lakshmi Mittal had sought to acquire PetroKazakhstan (in the Turgai basin, Kazakhstan's south) from Canadian and other international and local investors. CNPC, however, outbid the Indians for PetroKazakhstan. This was billed at the time as China's most expensive acquisition of energy assets in a foreign country up to that point (KazMunaiGaz subsequently became a minority shareholder in PetroKazakhstan).
From Kazakhstan's standpoint (and possibly that of other Kashagan shareholders—see below), CNPC's entry into Kashagan entails certain significant advantages to the project. The purchase price paid to KazMunaiGaz in this three-way transaction can translate into an infusion of capital into the Kashagan project. This would not have been the case in a bilateral deal between Videsh and Conoco, given that Conoco is exiting this project. CNCP's entry brings synergies with the oil export pipeline to China, the onshore inception point of which in Atyrau is the closest to the offshore Kashagan field. The pipeline's capacity is being expanded, and certain Kashagan shareholders consider using it to initiate oil sales to China.
The Indian company, had it won the contest, seemed likely to ship its share of oil from Kazakhstan via Russia. By contrast, Chinese oil companies in Kazakhstan (CNPC's subsidiaries) are using the Atyrau-Alashankou pipeline from Kazakhstan to China. Launched in 2006, built and operated by a CNPC-KazMunayGaz joint venture, this pipeline goes from the source of supply to the consumer country directly, without having to cross any transit country. The route to China brings at least a degree of diversification to Kazakhstan's oil export options, which otherwise depend heavily on transit through Russian pipelines and ports to international markets.
Chinese companies operating through joint ventures in Kazakhstan account for 22 percent of Kazakhstan's oil output, according to Kazakhstan's Oil and Gas Ministry (Interfax, July 2). Some Western companies operating in Kazakhstan, including Total and ENI, are said to be holding talks with China about possible oil supplies to that country from Kashagan's future production (Trend, June 20). China and Kazakhstan plan to double the capacity of the Atyrau-Alashankou pipeline, from approximately 12 million tons annually at present to 20 million tons annually (or from some 240,000 barrels per day to 400,000 bpd) by 2015. Moreover, with CNPC's entry into the Kashagan project, China's intake of oil from Kazakhstan looks certain to increase in the years ahead.
However, the Caspian Pipeline Consortium (CPC) plans to boost the capacity of its pipeline, Tengiz (Kazakhstan)-Novorossiysk (Russia), from 34 million tons annually as of 2012 to 65 million tons annually by 2016 and thereafter (or from nearly 700,000 barrels per day as of 2011 to 1.4 million bpd by 2016) (Interfax, July 2). This would further increase the international oil companies' and Kazakhstan's dependence on Russian transit. If expanded as planned, the CPC pipeline would absorb a disproportionately large share of oil exports from Kazakhstan's most prolific fields, including at least the first phase of production from Kashagan.