Kazakhstan Expands Economic Cooperation with Russia, but Guards Own Interests
Publication: Eurasia Daily Monitor Volume: 10 Issue: 207
By: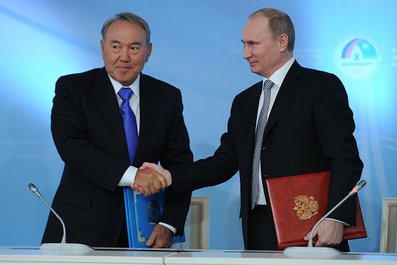 With the signing of a new friendship and cooperation treaty at a bilateral summit in Yekaterinburg on November 11, Russia and Kazakhstan aimed to move their relations to a new phase, but tensions related to regional integration evidently remain. Two weeks earlier in Minsk, Kazakhstani President Nursultan Nazarbayev accused Moscow of creating trade barriers within the Custom Union and politicizing the Eurasian Economic Commission (EEC). Despite the friendly atmosphere in Yekaterinburg, Russian President Vladimir Putin unexpectedly re-stoked the argument at a joint plenary session with President Nazarbayev (Interfax, October 25; Kommersant, November 12).
The two presidents met at the 10th annual inter-regional summit in Yekaterinburg, attended by over 3,000 government and business representatives from 16 Russian and 10 Kazakhstani regions located along the 4,254-mile border between the two countries. The new friendship and cooperation treaty defines bilateral relations in the 21st century and replaces the initial friendship treaty of 1992 (Kazinform, November 11).
Additionally, the two countries signed a number of inter-governmental agreements outlining long-term cooperation. These include a roadmap on enhancing industrial co-production arrangements during 2013–2014, an inter-agency memorandum of understanding on widening industrial cooperation, the creation of an association of the industrial colleges of Russia and Kazakhstan, an agreement on preventing and extinguishing forest and steppe fires, as well as various documents on cooperation between the regions (Kazakhstanskaya Pravda, November 12).

Perhaps the most emphasized decision of the summit was the preliminary agreement on the transportation of Russian gas to China via Kazakhstan's pipelines. The deal was signed by Igor Sechin, the chief executive of Russia's state oil company Rosneft; Sauat Mynbayev, the head of Kazakhstan's national oil company KazMunayGaz; and Kairgeldy Kabyldin, the general director of the Kazakhstani national pipeline operator KazTransOil. Rosneft is preparing to triple its oil exports to China to almost 1 million barrels per day, but will need Kazakhstan's infrastructure to ship increased volumes to Beijing (Voice of Russia, RIA Novosti, November 11).
Officials from Gazprom and KazMunaiGaz also signed a protocol to the 2010 inter-governmental agreement on developing the cross-border Imashevskoye gas field by the joint venture company KazRosGaz (Kazinform, November 11).
Most observers noted that the tone of the meeting in Yekaterinburg was much softer than that of the Minsk summit of heads of government of the Supreme Eurasian Economic Council on October 24–25. In Minsk, President Nazarbayev sharply criticized the EEC for becoming politicized and failing to implement its decisions. Kazakhstan's president pointed out that existing agreements on oil and gas transportation, rail tariffs, and electricity tariffs have not been implemented. At the same time, "unjustified proposals are being made to increase the EEC's mandate to form a common financial market and create new supra-national structures," according to Nazarbayev (Interfax, Tengrinews.kz; October 25).
"There are serious problems with the access of our products to the markets of Russia and Belarus, which are using non-tariff barriers," Nazarbayev said. He pointed out that Kazakhstan's import from the countries of the Eurasian economic space have increased since the Customs Union came into effect—from 32 percent in 2009 to 40 percent in 2012—while the desired exports levels have remained modest. Bilateral trade between Kazakhstan and Russia amounted to $22.4 billion in 2012 (Interfax, Tengrinews.kz; October 25).
But in Yekaterinburg, Putin started his remarks by claiming the opposite: that Russian exports to Kazakhstan are growing much slower than Kazakhstani exports to Russia. This prompted Nazarbayev to object and advise Russia's statistical agencies to do a better job collecting data (Kommersant, November 12).
The website of Forbes Kazakhstan responded to Putin's statements in a commentary by financial analyst Tulegen Askarov, who published Kazakhstan's official statistics on November 13. According to the Statistical Agency of Kazakhstan, between January and September 2013, exports from Kazakhstan to Russia have decreased by 3.6 percent to $4.507 billion compared to the same period last year—or a total of $166.3 million. Imports of Russian goods to Kazakhstan have increased by 4.5 percent to $12.668 billion, or a total of $545.6 million. As a result, the negative trade balance for nine months is minus $8.160 billion compared to minus $7.448 last year (https://forbes.kz/finances/integration/oshibka_prezidenta).
Putin announced that Russian investments in Kazakhstan totaled $1 billion, while Kazakhstani investments in Russia amounted to $1.7 billion. However, the National Bank of Kazakhstan estimates that Kazakhstan's investment in Russia amounts to $8.130 billion, while Russia's investment in Kazakhstan is smaller—$5.931 billion (https://forbes.kz/finances/integration/oshibka_prezidenta).
Despite the tensions between the two presidents, they concluded the summit with positive assessments. Putin noted the high dynamics of economic cooperation with Kazakhstan, while Nazarbayev compared relations with Russia to building a skyscraper—with every summit helping to build higher levels. Astana's efforts will continue to focus on furthering economic cooperation while limiting Moscow's appetite for political domination. As the minister of foreign affairs of Kazakhstan, Erlan Idrissov, stated earlier, Kazakhstan is only interested in economic integration while maintaining its political sovereignty, as one of the fundamental principles of Eurasian integration (Interfax-Kazakhstan, October 16).
Kazakhstan is also in a better position to protect its own economic interests. The European Bank for Reconstruction and Development (EBRD) has recently scaled up its GDP growth forecast for Kazakhstan from 4.9 percent to 5.6 percent, while Russia's has been cut from 1.3 to 1.8 percent (Interfax, November 11).
Nazarbayev proposed that the next annual inter-regional summit be held in Atyrau and dedicated to innovation in the raw materials industries: "It is strategically important for us to pay attention to modernizing the traditional raw materials sectors" (Interfax, November 11).