Zeynalov's Case Might Become Turning Point for Azerbaijan
Publication: Eurasia Daily Monitor Volume: 10 Issue: 207
By: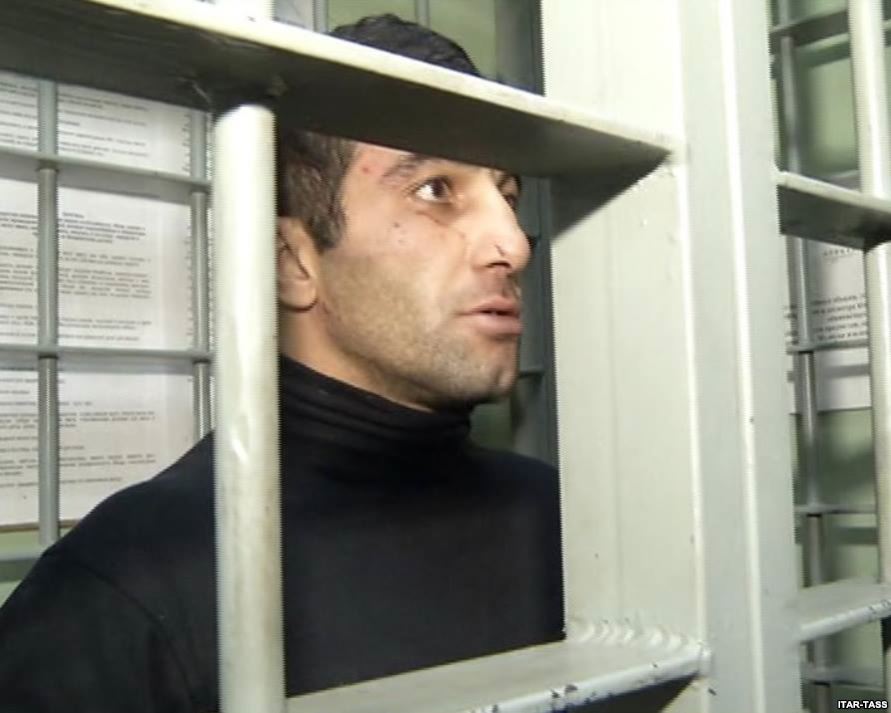 The ethnically charged riots in the Moscow suburb of Biryulyovo in early October, as well as the resulting case of Orkhan Zeynalov—an Azerbaijani citizen charged with sparking the violence—have electrified Azerbaijani society and become sources of anti-Kremlin feelings in the South Caucasus country. On October 10, Zeynalov, an Azerbaijani guest worker residing in Moscow, fatally stabbed Russian citizen Yegor Sherbakov. A few days later, angry crowds of Russian nationalists provoked riots and led to the destruction of the market in Biryulyovo. Zeynalov was arrested, but his humiliating detention and interrogation as well as media hysteria inspired waves of negative statements and feelings in his home country of Azerbaijan (see EDM, October 17, 21). Although many people understood that the Russian authorities' actions were undertaken in order to extinguish the massive violent protests in Moscow, the mistreatment of Zeynalov, nevertheless, harmed relations between the two countries.
Azerbaijan's Ministry of Foreign Affairs handed two diplomatic notes to the Russian ambassador in Baku over Zeynalov's detention. Meanwhile, Deputy Foreign Minister Araz Azimov stated that a full investigation should be conducted in line with the law. "Azerbaijan demands to hold such an investigation under the Russian legislation and appropriate international legal norms. On the other hand, this issue was exaggerated by media and, therefore, assumed a public character. I want to know who stands behind this campaign," he said. Moreover, the deputy foreign minister believed that forces wishing to harm Azerbaijani-Russian relations should properly assess the situation so that it would not backfire (News.az, October 21).
Polad Bulbulogly, Azerbaijan's ambassador in Moscow, further stressed that Azerbaijan and Russia do not have any bilateral inter-state problems. Nevertheless, some public issues exist, including the behavior of migrants. Still, according to Ambassador Bulbulogly, societies should not politicize this issue or inflate it to the level of an inter-ethnic or inter-state problem (Zerkalo, November, 2).
Finally, the Azerbaijani interior ministry's representative in the Russian Federation, Colonel Eldar Samadov, stated that Russian TV channels were unnecessarily making a show of this incident. "Such murders are committed frequently. It is a murder committed over a dispute. It is incomprehensible why the TV channels are so frequently broadcasting news stories [headlining that] 'Azerbaijani citizen Orkhan Zeynalov [was] detained.' Why do that?! An investigation should be conducted into the suspected man. However, we [the government of Azerbaijan] do not understand why they [Russian media outlets] are demonstratively showing these videos over and over again," Samadov concluded (Azvision.az, October 17).
It is difficult to predict exactly how these events will affect long-term Azerbaijani-Russian relations. In Baku, the public believes that the criminal case against Zeynalov was fabricated to put political pressure on Azerbaijan. Razi Nurullayev, the head of the "Region" International Analytical Centre, asserts that Zeynalov's case is being used by the Kremlin as one of the instruments to press on Azerbaijan due to the Baku's earlier refusal to join the Customs Union of Russia, Belarus and Kazakhstan (Salamnews, November 1). Thus, Nurullayev argues, the Zeynalov case is a prelude for Russia to implement further harsh measures against Azerbaijan, including the introduction of a visa regime—as was case with Georgia back in 2006–2007. Nevertheless, the Azerbaijani government has not shown any overt concern over such a scenario, or is at least trying to appear calm. Indeed, Azerbaijan's Ambassador Bulbulogly stressed that his country is ready should Russia introduce such a visa regime. "If the Russian side raises this issue, Azerbaijan would consider it and take [action]," Bulbulogly concluded (Zerkalo, November 2).
The Biryulyovo case also coincided with Azerbaijan's efforts to finalize an Association Agreement with European Union by the time of the Eastern Partnership summit in Vilnius on November 28–29. Some analysts have, therefore, suggested that the Biryulyovo events were actually an attempt to spoil relations between two countries and destroy Azerbaijan's prospects of ever joining the Customs Union in favor of instead moving closer to the EU. Aydin Mirzazade, an Azerbaijani member of parliament, believes that someone in Russia wants worsening bilateral relations, but he argues that this is not in Azerbaijan's interest (Trend.az, October 17).
The Russian side also understands that playing the anti-immigrant card may severely hurt Azerbaijani-Russian relations. After a short period of silence following the Biryulyovo events, Russian public officials began making public statements in an effort to pacify the tense moods that developed in both societies. Mikhail Shvydkoi, the Russian president's special envoy for international cultural cooperation, told journalists in Baku that positive relations with Azerbaijan are one of the priorities of Russian foreign policy. Another high-ranking Russian official, Leodin Slutskiy, the head of the Commonwealth of Independent States' (CIS) subcommittee in the Russian Duma, stated that provocations like the riots in Biryulyovo are intended to spoil bilateral relations; but they would not succeed (APA, October 31).

Although the media news cycle has already largely forgotten about the Zeynalov case, nevertheless, it is hard to underestimate its impact on Azerbaijan's perceptions of Russia. Seeing how Russian law enforcement agencies treat Azerbaijani citizens was enough for many Azerbaijanis to understand that the Russian-led Customs Union is not for them. Russian xenophobia and nationalism will continue to cast a shadow over how ordinary Azerbaijanis view Russia. Moreover, they have arguably further spurred Azerbaijanis' interest in closer integration with the EU, where foreign migrants are not exposed to such humiliation and are not deprived of their rights.