Kazakhstan Walking Tightrope Amid Russia-Ukraine Divide
Publication: Eurasia Daily Monitor Volume: 12 Issue: 192
By: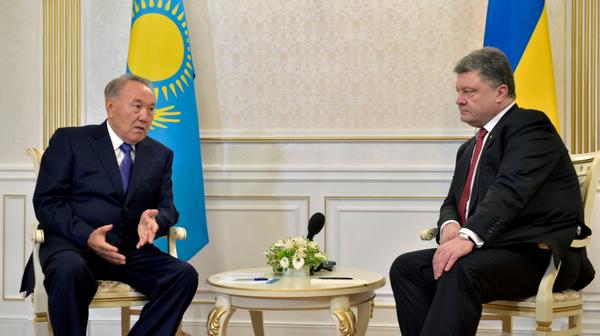 At a time when relations between Russia and the West are at an all-time low because of Moscow's meddling in Ukraine and Syria, Kazakhstan is finding it increasingly complicated to preserve the balance. In the span of a week this month (October 2015), Kazakhstani President Nursultan Nazarbayev met, in Astana, with his visiting counterparts from Ukraine and Russia. The back-to-back visits to Kazakhstan by President Petro Poroshenko of Ukraine and President Vladimir Putin of Russia represent a much deeper geopolitical balancing act for Astana than just trying to maintain warm relations with these two countries, which have been locked in a state of undeclared war with each other since early 2014. With Kyiv ever more anchored to the European Union by an association agreement, whose economic part will take effect next year, and with Moscow expanding its regional influence through the Eurasian Economic Union (EEU), Astana is, therefore, being torn between its pro-Western and Russian orientations (Akorda.kz, October 9, 16; Inform.kz, October 10).
First, to arrive to Astana was Ukraine's President Poroshenko, who, on October 8–9, paid his first official visit to Kazakhstan since taking office in May 2014. The Ukrainian delegation included more journalists than government officials, yet was explicit in its desire to strengthen and expand bilateral economic cooperation. Political instability in Kyiv and, even more so, the Russian annexation of Crimea and war in eastern Ukraine have badly damaged Kazakhstani-Ukrainian trade. According to Kazakhstan's National Statistics Committee, bilateral trade turnover dropped from $1.97 billion in January–August 2014, to $1.29 billion this year, a 34.5 percent year-on-year decline. However, during Poroshenko's meeting with Nazarbayev, the two leaders witnessed the signing of a bilateral cooperation plan through 2017, which they hope will build upon the work of over 400 Ukrainian companies and investors in Kazakhstan to further their common agenda (Kursiv.kz, Kapital.kz, October 9; Stat.gov.kz, September 3).
Ukraine is particularly interested in advancing cooperation in matters where it has a real competitive edge, for instance in agriculture—as a well-known manufacturer of farm machinery—and in defense. Following the 2014 EuroMaidan revolution and the ouster of the unpopular Viktor Yanukovych, the new Ukrainian authorities withdrew from all partnership schemes with Russian defense contractors. Russian arms producers had, heretofore, received substantial numbers of equipment and spare parts for their tanks, helicopters and fighter jets from the neighboring country. Now that their ties are completely severed, Kyiv is actively searching for alternative export markets. Despite its membership in the Russia-led Collective Security Treaty Organization (CSTO), Kazakhstan maintains close contacts with other military suppliers from both Europe and Asia. It has already expressed an interest in exploring new business opportunities with Ukraine (Forbes.kz, Lsm.kz, October 9).
It should, however, be noted that Poroshenko's main concern is to ensure his country's energy security amid an ongoing trial in Stockholm between Gazprom and Naftogaz over the latter's natural gas arrears and the risk of further supply disruptions in winter. During his meeting with Kazakhstani Prime Minister Karim Massimov, Poroshenko reportedly discussed the possibility of importing crude oil, natural gas and coal from Central Asia. Last December, when Nazarbaev was on a trip to Kyiv, the issue of coal exports had topped the agenda. Nonetheless, coal deliveries never started for multiple reasons, first and foremost due to the critical security situation in eastern Ukraine, which was to serve as the entry point for Kazakhstani coal traveling overland across southern Russia. Delivering this energy resource to Ukraine along a less direct route—which would have necessitated circumventing Russia—turned out to be too expensive an option for Kyiv to accept (Lenta.ru, Focus.ua, December 22, 2014; RIA Novosti, December 21, 24, 2014).
Oil and gas supplies are likewise problematic because 85 percent of all crude and 99.5 percent of all gas exports from Kazakhstan go via Russia. Moreover, Kazakhstan's current gas production is not enough to meet Ukraine's needs. Last year, the country technically produced a total of 43.2 billion cubic meters (bcm) of natural gas, an amount 2.2 percent higher than in 2013. But in reality, most of this produced gas is pumped back into the ground to sustain reservoir pressure in the major oilfields, which account for the bulk of Kazakhstani hydrocarbon output and export sales. Therefore, gross gas exports in 2014 amounted to a modest 11 bcm, of which 5 bcm were returned by Russia as part of a buyback scheme that allows Kazakhstan to supply its northern and southern provinces with Gazprom gas. The remaining 6 bcm were processed at a refinery in Orenburg for further consumption within Russia itself (Liter.kz, July 28; Kursiv.kv, April 22; Kapital.kz, February 27).
Kazakhstan's stance on the Ukraine-Russia dispute has, in the past, been characterized by a certain level of ambiguity—notably illustrated by Astana's at best ambivalent response to the rigged Crimea referendum orchestrated by Moscow in March 2014 (see EDM, March 27, 2014). And this attitude again became apparent on October 16 when Nazarbayev hosted and toasted the leaders of the Commonwealth of Independent States (CIS) and the EEU—first and foremost, Russian leader Vladimir Putin. While the EEU has, to date, shown rather unconvincing performance in terms of opening Russia's large market to Kazakhstani exporters and boosting cross-border trade, Nazarbayev dismissed the bloc's economic difficulties as a "temporary phenomenon." He reaffirmed the strategic alliance and the spirit of good neighborliness between Russia and Kazakhstan and publicly reiterated his full support for Eurasian integration by calling it "the right path for our nations" (Newskaz.ru, Inform.kz, Matrica.kz, October 16).
Astana's official position remains that Kyiv and Moscow still can and should reconcile. Yet, for now at least, the damage to their relations—caused by the illegal Russian annexation of Crimea, Moscow's creation and support for an armed separatist movement in southeastern Ukraine, as well as years of economic harassment of the country by Russia—appears irreparable. The Kremlin's recent overtures to Ukraine (for example in the form of the ceasefire in Donbas—see EDM, October 5) and, through them, a subtle message to the West are positive signs. But they are overshadowed by the overall inconsistency of a dualist and somewhat overstretched posture—for instance, respect for international law versus Russia's territorial expansion at Ukraine's expense. Meanwhile, small details continue to matter. In September, the Ukrainian embassy in Astana protested the publication of a high school geography book in which Crimea is portrayed as a Russian entity. Although the Kazakhstani Ministry of Education has since promised to rectify this, the bad aftertaste will linger for some time (Tengrinews.kz, September 30).