Kazakhstani-Russian Space Cooperation Set to Shrink in 2015
Publication: Eurasia Daily Monitor Volume: 11 Issue: 122
By: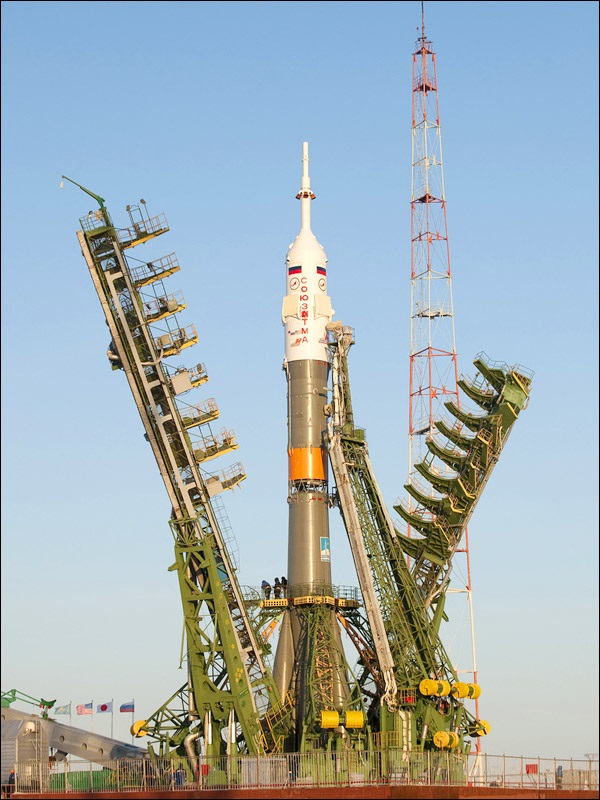 Apart from closer economic and trade ties, the Eurasian Economic Union (EEU), which its three founding members—Russia, Kazakhstan and Belarus—expect to launch as early as next January, also foresees increased cooperation in the scientific field, with an emphasis on innovations. While Russia and Kazakhstan have pledged to intensify cross-border research, their space cooperation currently remains in a state of flux (inform.kz, May 29).
On June 23, Kazakhstan's parliament invited the head of Kazakhstan's national space agency (KazCosmos), Talgat Mussabayev, to answer questions from Members of Parliament (MP) about ongoing and future projects with Russia. Not surprisingly, the Baikonur Cosmodrome, which has been leased to Russia since 1994 for the annual amount of over $115 million paid directly to Kazakhstan's budget, is on everybody's mind. In mid-2012, Russia started the construction of a new space facility called Vostochny. It is located in Russia's Far East and expected to send its first rocket into space next year, whereas the inaugural launch of a manned space aircraft is scheduled for 2018 (Newskaz.ru, June 23; Kommersant.ru, June 7).
For Kazakhstan, the Vostochny project represents a direct threat to the future of Baikonur, given that it will also offer commercial space services and may theoretically leave Baikonur without enough orders from foreign clients. However, Moscow's intention to invest billions of US dollars in the construction of a new facility is not entirely uncalled for. In recent years, Kazakhstan has repeatedly attempted to extend its authority over Baikonur while insisting on Russia's continuous financial participation in the implementation of joint commercial projects, such as the one that involves the use of state-of-the-art Angara rockets (Pravda.ru, October 29, 2013).
Back in December 2004, the two countries set out to construct an additional rocket launch site at Baikonur that would use Russian-designed Angara rockets known in particular for their limited environmental impact. Kazakhstan initially wanted to have all three types of rockets (light, medium and heavy) used within the Baiterek project, with its priority clearly being the third type, since it would allow KazCosmos to deliver its own telecommunications satellites to near-Earth orbit. Instead, Russia's intention was to focus on small-scale commercial projects and to invest as little as possible in Baikonur's infrastructure (Tengrinews, October 8, 2012).
In August 2012, the Russian daily Izvestia, which has especially close ties to the country's authorities, reported that RosCosmos was not prepared to cover the full cost of the Baiterek project estimated at more than $1.6 billion. Moscow's proposal reportedly was to shoulder the funding obligations in equal parts with Kazakhstan, even more so if Astana wished to go forward with heavy-class Angara rockets. According to some estimates, the full-scale option might have cost $800 million more than the one supported by the Russian side. In December 2013, Kazakhstan's refusal to cover half of the total expenditure led to the signing of an intergovernmental agreement stipulating that the project would not use Angara, but Zenit rockets built in Ukraine (News.rambler.ru, December 23, 2013; Izvestia.ru, August 9, 2012).
As Talgat Mussabayev recently confirmed to the Kazakhstani MPs, Russia intends to transfer control over the Baiterek section of the Baikonur Cosmordome to Kazakhstan as early as next January. It thus will no longer stay within Russian jurisdiction. "The project has strategic significance for Kazakhstan's national interests as it is the only real opportunity for us to ensure the future of Baikonur and make way for its step-by-step incorporation into our domestic law," Mussabayev said. KazCosmos already plans to train by the end of the year a handful of space professionals familiar with rocket technologies in order to be able to operate the site after the departure of Russian specialists (Kursiv.kz, June 23).
Yet, Zenit's substitution for Angara may have much wider implications for Russia–Kazakhstan space relations than initially expected. As Mussabayev said on June 23, Kazakhstan will most likely have to finance the modernization of Zenit rockets from its own budget, with the prospect of abandoning in the near future the use of Russian-designed Proton launch vehicles. Although Kazakhstan clearly has neither sufficient technical expertise nor adequate resources to make a quick U-turn away from Russia, this should be a worrying sign from Moscow's perspective. Proton is currently the most frequently used rockets within the framework of Russia's lucrative space launch contracts. It has also been a source of serious headaches for Kazakhstan's authorities (Newskaz.ru, June 23).
Last July, a Proton-M rocket carrying three GLONASS satellites crashed two and a half kilometers away from Baikonur into the steppes of Kazakhstan's Kyzylorda province. Moscow reportedly lost over $200 million, but the damage incurred by the local population was never quantified. At the moment of the crash, the rocket evidently contained some 600 tons of extremely toxic fuel that could cause cancer in human beings. Another failed Proton start occurred in May, but the rocket landed far from Kazakhstan's borders. New launches have been temporarily suspended, against the backdrop of growing anti-Russian sentiment within the country (see EDM, September 30, 2013).
As Russia is now aiming to redirect most of its space operations from Baikonur to Vostochny, Kazakhstan has few options left to save the cosmodrome. While it has no technical or financial means to fill the gap created by Russia's withdrawal, the country would probably count on foreign partners, who may potentially be interested in using the existing space infrastructure at Baikonur for their own projects. Astana may be tempted to look westwards in the first place, but the Chinese option seems more probable. Thus, it cannot be excluded that a Chinese flag may one-day hover over the greatest symbol of Russia's space power.