Ukrainian Refugees Arrival in North Caucasus May Raise Tensions in Region
Publication: Eurasia Daily Monitor Volume: 11 Issue: 122
By: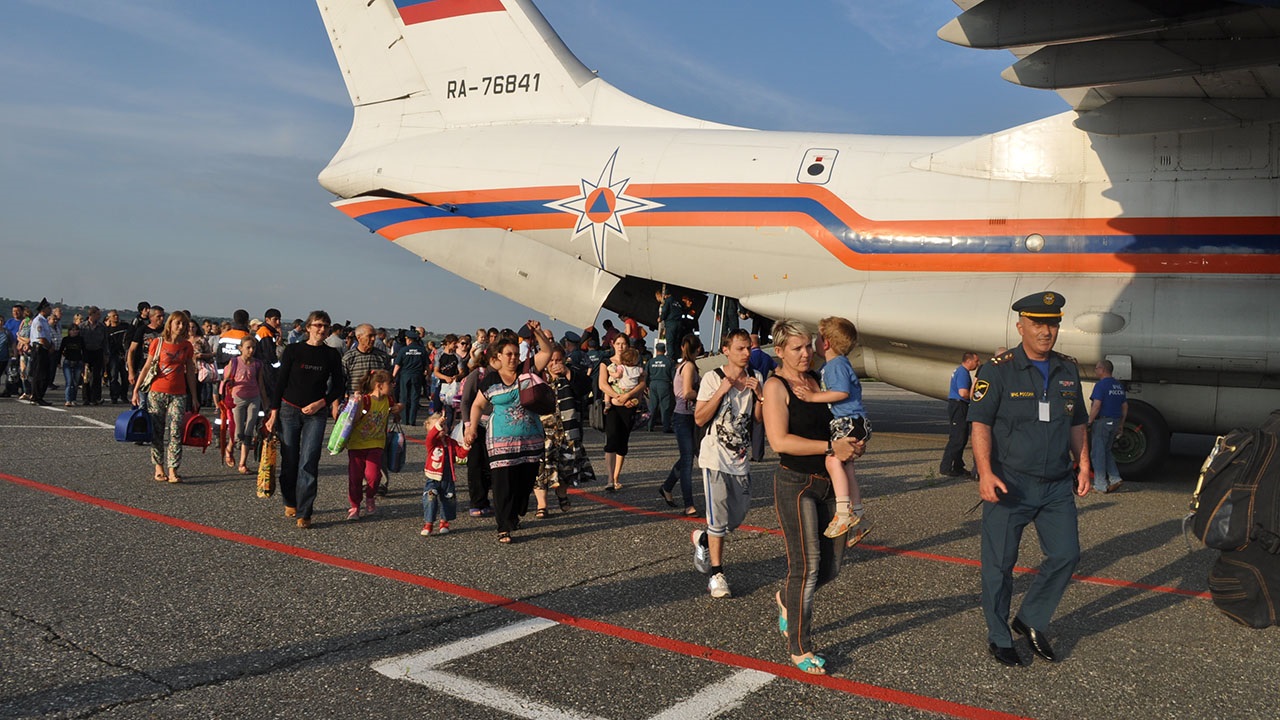 As the crisis in Russian-Ukrainian relations deepens, Ukrainian refugees are turning up in unlikely locations, such as the North Caucasus. An estimated 200 refugees from eastern Ukraine, who went to North Ossetia, have been put up in local resorts and more are expected to arrive as fighting continues. Refugees are also being used in the Russian propaganda war against Ukraine as well. The Rossiya state TV channel, for example, gave this explanation for why Ukrainian refugees cannot go home: "The new Ukrainian authorities are actively using well-known methods of instilling fear. They kill civilians, shoot at cars with refugees, and now have even started using propaganda leaflets" (Vesti.ru, July 4).
Pro-Russia refugees are fleeing to Russia, while pro-Ukraine refugees are fleeing to other parts of Ukraine. In both countries, it appears, the volunteer organizations are doing the lion's share of work to find emergency shelter and satisfy the most urgent needs of displaced individuals (Svoboda.org, July 4).
The Russian media, of course, focuses on one side of the story and ignores the actions of the pro-Russia armed forces in Ukraine. Sometimes, the approach of the Russian media takes grotesque forms. For example, after pro-Russia forces took residents of one of the villages near Luhansk hostage, the Russian media reported the news as "militias taking the villagers captive" as if the civilians in the village were a legitimate military target that can be taken prisoner (Gazeta.ru, June 18).
It is interesting to note that the refugees from eastern Ukraine were sent to the North Caucasus despite the fact that the situation there is far from quiet and stable. Resettling Ukrainian refugees in North Ossetia may still be justified, as the situation in that republic is relatively stable. However, even Dagestan, the most violent republic in the North Caucasus, has received an estimated 400 refugees from Ukraine, and more might follow (Rgvktv.ru, June 30). The head of Ingushetia, Yunus-Bek Yevkurov, stated that his republic was prepared to take in as many as 300 refugees (Ingushetia.ru, June 18), but no hosts had been identified as of July 6. Chechnya has reportedly accommodated 140 refugees from Ukraine—mostly people who had formerly resided in Chechnya and had left for Ukraine. Chechnya's government stated that it could receive another 140 persons from Ukraine (Kavkazky Uzel, July 2).
Yevkurov's readiness to receive refugees from Ukraine has irked some Ingush. "Overpopulated with its own refugees, the Republic of Ingushetia will receive refugees from Ukraine," one blogger wrote. "At the same time, as the head of Ingushetia visited the places of internally displaced persons (IDPs) from the Chechen Republic and North Ossetia in the city of Karabulak in order to squeeze them out, his government undertook measures to prepare places for the refugees, who are coming from the rebellious Donbas region" (Slonus2012.livejournal.com, July 2).
The seemingly voluntary effort by the North Caucasus republics to take more Ukrainian refugees may not be exactly voluntary. In fact, the Regnum news agency, which is close to the Russian government, reported that Russia's emergency situations ministry ordered Ingushetia's government to prepare 190 spaces for refugees from Ukraine (Regnum.ru, July 2). Tens of thousands of IDPs from North Ossetia fled to Ingushetia after the Ossetian-Ingush conflict of 1992, some of them still do not have adequate housing. The flow of IDPs from Chechnya during two Russian-Chechen wars was even higher and hit Ingushetia quite hard.
The most controversial situation can be found in Kabardino-Balkaria, which has also received dozens of refugees from Ukraine. The republican leadership announced that Kabardino-Balkaria was prepared to receive 500 children from Ukraine in its children's sanatoria and health rehabilitation summer camps (Kavkazsky Uzel, June 19). This approach is quite interesting because the Russian government was quite inattentive to Circassian demands to help ethnic Circassians, who suffered in the Syrian civil war, relocate to the North Caucasus. While it initially allowed some refugees from Syria to come to Russia, the policy was later reversed, some Circassian organizations were accused of fabricating evidence to obtain business visas for potential asylum claimants, and many refugees were deported. Moscow provided very little accommodation for the Circassian refugees from Syria, but appears to be sending around requests to the north Caucasus republics to accommodate ethnic Russians from Ukraine. This suggests that ethnic non-Russian refugees are the victims of discriminatory treatment and are part of a bid by Moscow to resettle the region with ethnic Slavs, in order to replace those ethnic Russians who have fled the region in the past several decades.
Already overburdened by unemployment, ethnic tensions and rebel violence, the North Caucasus republics now have to deal with yet another influx of refugees. Most of the refugees coming from Ukraine have little experience of living in the North Caucasus. The dozens of ethnic Russian refugees from Ukraine are unlikely to destabilize the North Caucasus republics, but if the conflict in Ukraine intensifies and the influx of refugees increases, tensions are likely to manifest themselves in the region quite strongly. Also, if Moscow has a large enough number of ethnic Russian refugees at hand, it might have the incentive to consider some sort of a social engineering project—the resettlement of ethnic Russian from Ukraine in the North Caucasus to ensure the long-term presence of ethnic Russians in the region.