Kizlyar Remains Volatile Tinderbox in Dagestan's Ongoing Insurgency
Publication: Eurasia Daily Monitor Volume: 9 Issue: 20
By: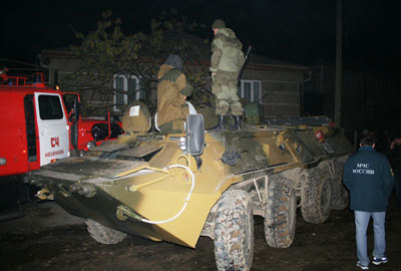 On January 27, there was a major clash between security forces and insurgents in the Kizlyar district of Dagestan. Five militants and four servicemen were killed in the incident. According to government officials, Russian Interior Ministry troops and other security units discovered a group of rebels in a forested area between the Kizlyar district settlements of Chernyaevka and Ukrainsky. The group consisted of five people armed with machine guns (https://dagestan.kavkaz-uzel.ru/articles/200039/, January 27). Quoting witnesses on the ground, the North Caucasus rebels' primary website, Kavkazcenter.com, reported that government forces used artillery and airborne missiles to overpower the militants. Despite the massive application of force, the clashes ended only after dark (https://kavkazcenter.com/russ/content/2012/01/28/88460.shtml, January 28).
Kizlyar district, situated in the northern part of Dagestan, has become one of the most violent places in this very unstable region of the North Caucasus (see "Is Dagestan's Kizlyar District Becoming a New Flash Point in the Regional Insurgency?" Valery Dzutsev, EDM, September 6, 2011). In 2011, several incidents of unusually fierce and successful resistance by small groups of insurgents were reported from this district, which may signify a new stage in the evolution of the underground forces. Since news coverage of such events is normally limited and depends heavily on information that Russian officials allow to be disclosed, the real situation on the ground may significantly deviate from officially approved portrayal.
On January 28, two successive explosions rocked a central street in Makhachkala, Dagestan. The first explosion was apparently designed to attract law enforcement personnel and the second to attack them. Two children who lived in the neighborhood were injured in the blasts (https://dagestan.kavkaz-uzel.ru/articles/200110/, January 29). This amateurish bomb attack by unknown assailants may have been carried out by one of the autonomous insurgent groups that act on their own, with little or no guidance from experienced militants. On January 27, unidentified assailants gunned down a police officer by his home near Makhachkala (https://dagestan.kavkaz-uzel.ru/articles/200055/, January 27).
Meanwhile, human rights abuses appear to be continuing in the republic along with the fighting. Early in the morning on January 21, three men were killed when their car exploded near the coastal city of Izberbash, south of Makhachkala. They were later identified as two brothers, Malik and Muslim Musaev, and their uncle, Gadzhi Gadzhiev. The preliminary official explanation was that the car was loaded with explosives that detonated when the car hit a bump. However, the mother of the two brothers and sister of their uncle, Raziyat Musaeva, told the Kavkazsky Uzel (Caucasian Knot) website that relatives who washed the corpses of the men reported conspicuous signs of torture. Some of the dead men reportedly had traces of strangulation, gunshot wounds and broken bones. The law enforcement agencies did not comment on Musaeva's statement (https://www.kavkaz-uzel.ru/articles/199902/, January 25).
A number of rights activists pointed to the security services' increasingly used practice of kidnapping suspected rebels. The suspects are then tortured and killed, and their bodies are either dumped or found later after they are killed by police in what sometimes appear to be artificially staged clashes. On January 28, another young man was found dead after disappearing. The man was reported to have left the city of Khasavyurt for Makhachkala on January 5 by car and disappeared (https://dagestan.kavkaz-uzel.ru/articles/200116/, January 29).
In the meantime, responding to mounting criticism and probably also the changing political climate in the Russian Federation, the Dagestani prosecutor general's office officially denied that law enforcement personnel in the republic indulge in kidnappings. "Information about the involvement of law enforcement agents in kidnapping people is hypothetical in nature and founded only [on the fact that] the kidnappers have firearms and are dressed in camouflage and masks," the prosecutor general's office stated. There have been several abductions in Dagestan already this year. In 2011, prosecutors received 31 complaints concerning the abductions of 32 people specifically by uniformed armed men. Eighteen of those kidnapped were freed and 13 others returned home on their own, according to the prosecutors (https://www.kavkaz-uzel.ru/articles/199959/, January 26).
While the Dagestani prosecutors reported a 100 percent success rate in kidnapping cases, they did not mention cases in which people are abducted completely clandestinely, so that no one knows about the origins of the kidnappers. Furthermore, the prosecutors implicitly acknowledged that government agencies might be implicated in abductions, stating that those people who are released by the kidnappers "voluntarily" or manage to escape are afraid to talk to the investigators because they are afraid of being kidnapped again (https://www.kavkaz-uzel.ru/articles/199959/, January 26). If victims of abductions in Dagestan are afraid to talk to investigators and the latter are not particularly concerned about that fact, it suggests that government agencies are involved in the practice of illegal detention.
In an unusual departure from its ordinary practice, the Dagestani prosecutor general's office responded extensively to reports by Kavkazsky Uzel and other news agencies about human rights abuses in the republic. However, the prosecutors either denied that such abuses have occurred or stated that they are "looking into the matter" (https://dagestan.kavkaz-uzel.ru/articles/200091/, January 28). The new wave of political change taking place in Moscow and other major Russian cities may be starting to affect the situation in the North Caucasus. Even though law enforcement agencies have not yet changed their modus operandi in the region, government officials feel the need to fend off public criticism.