Russian Oil Business Targeting EU's Entrant Croatia
Publication: Eurasia Daily Monitor Volume: 9 Issue: 20
By: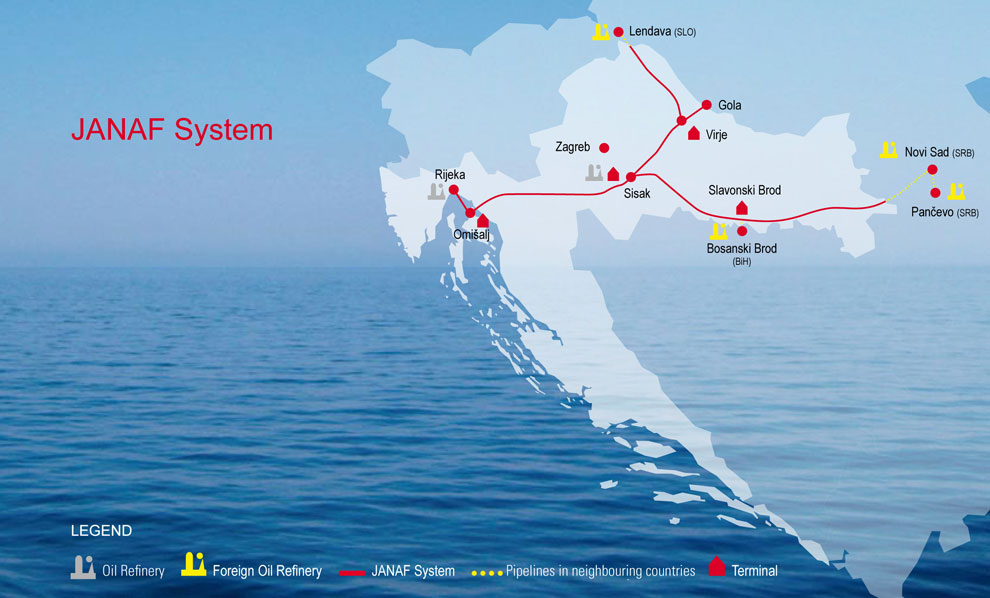 Croatia has become the newest member of the European Union, with a national referendum on January 22 capping the accession process. The government-controlled JANAF (Jadranski Naftovod – Adriatic Oil Transportation) enterprise, however, has marked the country's EU accession in its own way. It has opened the way for Zarubezhneft and, potentially, other Russian state-controlled companies to expand into Croatia and beyond, in preference to EU partners, and blindsiding Croatia's newly-installed government.
JANAF is an enterprise with strategic significance to landlocked Central Europe. JANAF's Adria oil pipeline, running from the deep-water tanker port Omisalj (Krk Island) toward Hungary, enables Central European countries to pursue supply diversification, mitigating their dependence on Russian oil from the Druzhba pipeline. Druzhba's southern branch delivers Russian oil via Ukraine to Slovakia, the Czech Republic, and Hungary. The Adria option, meanwhile, helps constrain the Russian suppliers' price leverage.
The Adria option is gaining in importance as Russia gradually reduces oil deliveries through the Druzhba pipeline, redirecting volumes toward Russia's own Baltic export terminals. Consequently, landlocked Central Europe will have to increase its reliance on the oil supply route from Croatia's Adriatic coast. This presupposes a JANAF independent of Russian oil interests. And it presages a growing role for Croatia as an energy transit country in a European energy security framework.
Zarubezhneft's move in Croatia seems mainly designed to block Central Europe's Adria option and tempt JANAF into long-term dependence on Russian business. Zarubezhneft CEO, Nikolai Brunich, first aired this offer on January 17 in Zagreb through a news conference at the Russian Embassy (implying Russian government support for this initiative), followed by JANAF board chairman Ante Markov with extensive supportive comments in the ensuing days. The offer consists of three inter-related investment projects with a combined value of more than 1 billion euros (some $1.5 billion) by this preliminary estimate (Hina, January 17, 18; Poslovni Dnevnik, January 18-20; Nacional, January 24; Interfax, January 17, 18, 24, 25). The investment projects include:
1. Reviving the Druzhba-Adria oil transportation scheme.
This familiar proposal involves using JANAF's pipeline on Croatian territory in the reverse direction, north-south, for Russian oil exports through Croatia's Omisalj port to international markets. In that case, port and pipeline capacities would no longer be available for non-Russian oil supplies in the originally intended direction, from Omisalj toward Central Europe. Reverse-use in Croatia would mirror the reverse-use of Ukraine's Odessa-Brody pipeline (2004-2010), north-south for Russian oil exports, instead of south-north for Caspian oil to Central Europe as originally intended. Reverse-use is an access-denial tactic against competitors, accompanied by below-capacity use of the pipeline, once control is achieved. Zarubezhneft suggests using the Adria pipeline and Omisalj storage tank farm for Russian oil companies' exports to spot markets.
According to Brunich, Russia's oil pipeline monopoly Transneft might buy an ownership stake in JANAF in the event of the latter's privatization. JANAF's transit system on Croatian territory comprises three main spurs with a combined working capacity of 20 million tons annually (design capacity: 34 million tons per year) (www.janaf.hr, accessed January 27). The system is currently operating far below those parameters (at 30 percent of capacity, according to some estimates). The existing spare capacities could accommodate a growing flow of non-Russian oil to Central Europe, so as to replace the Russian oil volumes re-directed by Moscow from the Druzhba pipeline. However, Russian reverse-use of the Adria pipeline (even below its capacity) could block the flow to Central Europe, and compromise Croatia's prospects as an energy transit country within the EU.
2. Building a new pipeline for transportation of oil products (mainly gasoline and diesel fuel), from Zarubezhneft's Bosanski Brod refinery (Republika Srpska in Bosnia), to run via Croatia to Omisalj port.
Storage capacities would be built near Zagreb and a new terminal for oil products would be constructed in Omisalj. This product pipeline could also be connected with Gazpromneft's Pancevo and Novisad refineries in Serbia, in which case Gazpromneft could participate in this pipeline project. According to Brunich, either Zarubezhneft or Transneft would acquire an ownership stake and operational control of this oil-product pipeline in Croatia. The Russian companies would in that case use Omisalj's terminal and storage for exporting their oil derivatives, which they plan to upgrade to EU environmental standards by 2015.
Additionally, Zarubezhneft proposes to buy Austrian OMV's network of fuel stations, which OMV intends to sell off in Croatia and Bosnia-Herzegovina. With this, Russian state companies would be moving into the core market of Croatian INA (leading shareholder: Hungarian MOL). These combined moves, if accomplished, would usher in a second phase of Russian oil companies' expansion into south-eastern Europe.
3. Launching exploratory drilling at nine Croatian oil and gas fields, including onshore sites in the Slavonia region and offshore sites on the Adriatic shelf.
If successful, exploration would be followed by production contracts. Croatia's oil and gas company INA (with Hungarian MOL as leading shareholder) plans to participate in the tender for those sites; but Zarubezhneft seems intent on circumventing that process with JANAF's help. Zarubezhneft wants 51 percent ownership in this project through a local subsidiary of its own; it has brought an obscure, untested minority partner in its tow; and it offers a 10 percent stake to JANAF. Initial investment is estimated at 100 million euros; but JANAF would only have to pay a symbolic sum of 37,000 Croatian crowns for its 10 percent stake, with a title to 10 percent of the profits, if the project is successful. JANAF also anticipates earning fees for transporting the hoped-for oil through its pipelines.
This proposal seems crafted as an outright gift to JANAF, with earnings to come at zero risk and for zero investment. JANAF's management board has embraced this rent opportunity. It looks like a reward for assisting Zarubezhneft's attempt to prevail over INA.
JANAF seems keenly interested in Zarubezhneft's proposals. JANAF claims that the second and the third compartments (of the three above) had already been approved by Croatia's government in mid-to-late 2011; or at least that the government was notified and made no objections. The parliamentary elections of December 2011 resulted in a change of government, however. The former government's key figures (prime minister, economy minister, investment minister) and the Croatian side of INA's management all deny having approved or even having been informed about those intentions.
The new Croatian government seems taken aback by these developments. Prime Minister Zoran Milanovic, First Deputy Prime Minister Radimir Cacic (responsible for energy policy) and other officials are reacting with cautious skepticism. To get at the facts they have commissioned a review of agreements concluded or approved by the previous government; and have extended the tender deadline for the nine oil and gas exploration sites while reviewing the tender's conditions. The government takes the position that JANAF must remain in Croatian ownership, in view of this transit system's strategic significance.
State-owned Zarubezhneft claims that it has enough spare cash for new investments. The company is buying a minority stake in Alrosa's Siberian gas projects (non-core business of Russia's diamond monopoly) (Kommersant, January 27).
Meanwhile, the Russian government is discussing the possibility of merging Zarubezhneft with the much larger pipeline monopoly, Transneft. This would enable Transneft to co-own or operate pipelines built by Zarubezhneft beyond Russia's borders. Such could be the case with the proposed oil product pipeline and terminals in Croatia, if this becomes a Zarubezhneft project there. Russia's Economic Development Ministry favors a Transneft-Zarubezhneft merger, but others are skeptical. Transneft vice-president Mikhail Barkov says that the company would seek the operating rights, if Zarubezhneft builds a product pipeline in Croatia (Interfax, January 18, 24).
On the whole, the proposals seem designed to draw JANAF into a relationship of dependence on the Russian state-controlled oil business. The offer implies rent-type earnings for JANAF, in return for aiding the expansion of Russian oil interests in the region. By the same token, it would undermine JANAF's strategic independence and constrain its decision-making in the future. All this would compromise Croatia's prospects as an oil transit country in the framework of the EU. The Croatian transit system, however, stands to gain in importance for diversification of oil supplies from the Adriatic coast to Central Europe. The Russian offers just made in Zagreb are another attempt to deprive Croatia of that prospect.