KOCHARIAN'S WARNING TO RECOGNIZE KARABAKH IS UNCONVINCING
Publication: Eurasia Daily Monitor Volume: 3 Issue: 44
By: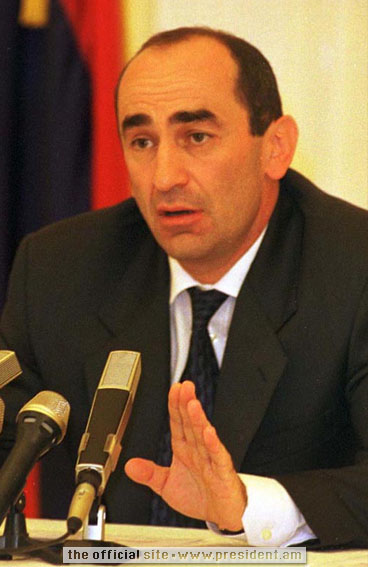 Armenian President Robert Kocharian's warning that Yerevan might officially recognize Karabakh as a state and sign a military alliance with it is being treated by Azerbaijan with composure. Despite that warning, Baku's priority is to maintain an atmosphere conducive to the resumption of negotiations, following last month's inconclusive meeting of the presidents in Rambouillet.
Kocharian launched that warning in a wide-ranging interview with Armenian and Karabakh television channels (Armenian Public TV, Arminfo, March 2). Commenting on the possibility of failure at follow-up rounds of negotiations, he outlined a three-step "worst-case scenario that the Armenian side should be ready for": First, Armenia would recognize Karabakh de jure; second, sign a package of defense agreements whereby an attack on Karabakh would amount to an attack on Armenia; and, third, reinforce the "security zone [ethnically cleansed Azeri areas around Karabakh proper] with absolutely new approaches … and certainly more active processes in defense integration" of Karabakh with Armenia.
Significantly, Kocharian declined to invoke the probable international recognition of Kosovo's independence as a "precedent" or "model" for resolving the Karabakh conflict. Rather than Kosovo, he put the international recognition of Eritrea's and East Timor's independence (through secession from Ethiopia and Indonesia, respectively) at the top of his list of "parallel cases," followed by the scheduled referendum on Montenegro's independence from Serbia and the prospect for Palestinian statehood, and listing Kosovo only in fifth place.
Authorities in Yerevan and Stepanakert (in common with Sukhumi, Tskhinvali, and Tiraspol) do not wish to tie their hands too closely with a Kosovo "precedent." They realize that their main ally, Russia — supporting its other ally, Serbia — may block Kosovo's outright independence, at the very least dragging out the negotiations and delaying the emergence of any "Kosovo precedent" for a long time to come. The Kremlin calls for a "universal model" of conflict-resolution to be established in Kosovo and applied to post-Soviet conflicts, but it deliberately maintains complete ambiguity as to what the model should entail. Moscow uses this situation to maximize its bargaining power in all these conflicts, having its cake and eating it too during protracted negotiations (see EDM, February 2, 6, 8).
Consequently, Yerevan and Stepanakert avoid using the terms "model" or "precedent," preferring to speak of "parallels" with cases of "national self-determination" from any corner of the world. In Kocharian's view, the "principle of national self-determination is gaining ground in the world" as a principle for conflict-resolution, and will continue to advance in the coming years. "All those settlements are based on the self-determination principle, and so our positions in the Karabakh negotiating process are getting stronger every year" (Armenian Public TV, Arminfo, March 2).
As Kocharian's interview makes clear, claiming that a worldwide trend works long-term in the Armenian side's favor and that time is on its side has become the retort to Azerbaijan's argument that time works in its favor through superior economic development. That presumed worldwide "trend," however, seems distant and imponderable, whereas the growing disparity of economic strength between Azerbaijan and Armenia is local and tangible. Nevertheless, the leaders of the parties in Armenia's governing coalition (Republican, Dashnaktsutiun, and Orinats Yerkir) endorsed Kocharian's warnings about recognition of Karabakh as a commensurate response to recent "threats" from Azerbaijan's President Ilham Aliyev (Noyan Tapan, Mediamax, March 3).
While Aliyev had mentioned the military option during meetings with Azeri refugees and soldiers on the Karabakh contact line on March 1-2, he made clear that it would be an option of last resort, if negotiations and other non-military options ultimately fail. In Baku, officials downplayed Kocharian's warning and avoided polemics. Presidential foreign policy adviser Novruz Mamedov, Minister of Foreign Affairs Elmar Mammadyarov, and other officials briefly characterized Kocharian's move as intended for domestic consumption, expressed hope that it would not hinder the process of negotiations, and reaffirmed Baku's determination to persevere in that process The U.S. Ambassador in Baku, Reno Harnish, publicly cautioned that "war would be a tragedy for the Caucasus" and regretted Kocharian's statement as one that "increases the temperature and inflames passions" (ANS, Trend, Turan, March 3).
Contrary to a plethora of deeply pessimistic assessments post-Rambouillet, that meeting marked neither deadlock nor a time crisis for the negotiations. That inconclusive meeting was merely the first in a planned process that has at least until the end of 2006 to be consummated, before the 2007-2008 election cycle in Armenia may freeze the negotiating process again. The window of opportunity remains a considerable one.