Kozak to Replace Surkov as Putin's Top Aide on Ukraine (Part One)
Publication: Eurasia Daily Monitor Volume: 17 Issue: 12
By: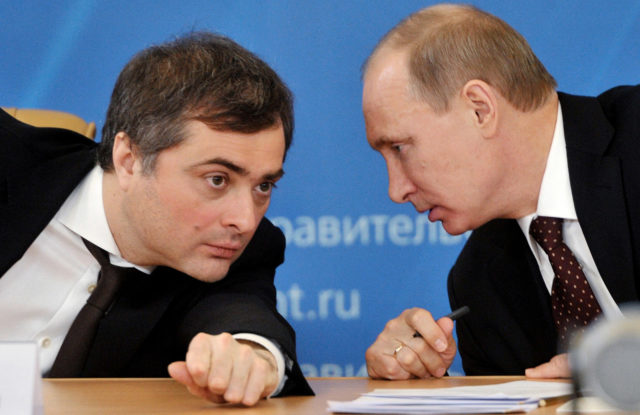 Russian President Vladimir Putin apparently intends to replace Vladislav Surkov with Dmitry Kozak as principal executant of Putin's policies toward Ukraine, including Ukraine's Russian-occupied areas. Surkov and Kozak have also covered other "frozen-conflict" theaters in their respective portfolios until now. The Kremlin has not issued official announcements about replacing Surkov with Kozak or redistributing their portfolios as yet. Nevertheless, it is the consensus view among observers in both Ukraine and Russia that the stage is set for Kozak to take over the lead from Surkov on Ukraine policy.
Surkov is closely associated with Putin's own implacable hostility toward Ukraine as a nation-state. However, Putin has apparently decided to create the semblance of a dialogue as a second track in the relationship with Ukraine. This necessitates sidelining Surkov to impress Kyiv, albeit without changing the substance of Moscow's policies.
On January 24, Putin transferred Kozak from the position of deputy prime minister to that of deputy head of the presidential administration. This move lifts Kozak to the top of decision-making processes next to Putin. The president has created this post specially for Kozak (on top of two pre-existing posts of deputy head of the presidential administration) (Kremlin.ru, January 24, 2020). It is also a more senior post entailing a wider range of responsibilities, compared with Surkov's status as presidential aide.
This triggered Surkov's resignation from the position of presidential aide and altogether "from state service" the next day (January 25). As announced on Surkov's behalf by his assistant, Aleksey Chesnakov, "He [Surkov] has resigned because of the shift in policy regarding Ukraine" and would speak up on this matter in due course (Interfax, January 25, 2020).
Delivered through a proxy, characteristically tinged with sarcasm, and hinting as he does that he might publicly oppose the "policy shift," Surkov's resignation amounts almost to slamming the Kremlin's door. Kremlin spokesperson Dmitry Peskov deemed necessary to make conciliatory statements: There is no decree (by Putin) to release Surkov from his post as yet; he remains a presidential aide de jure, and he may continue working on Ukraine; the presidential aide for foreign policy, Yurii Ushakov, will also work on Ukraine policy "as may be needed"; and assigning Kozak to work on Ukraine would be up to the president (Interfax, January 25, 27, 2020).
Surkov has served from 1999 to date variously as presidential aide, deputy head of the presidential administration, minister and deputy prime minister, during both Putin's and Dmitry Medvedev's presidential and prime ministerial terms. In his latest position, as presidential aide from May 2013 to date, Surkov has supervised the presidential administration's "department for socio-economic cooperation with CIS [Commonwealth of Independent States] member states, Abkhazia and South Ossetia, and Ukraine" (Ukraine was added in September 2013—an overlooked harbinger of things to come). That same department was renamed "for cross-border cooperation" in 2018, apparently with ambitions for a broader geographical scope.
From February 2014 at the latest, Surkov handled the political, diplomatic and informational warfare dimensions of Russia's war against Ukraine. He was a progenitor of Putin's Novorossyia project, a founding father of the Donetsk and Luhansk "people's republics" ("DPR-LPR") and a co-author of the Moscow-drafted Minsk "agreements." Surkov has been Putin's diplomatic representative in the "Normandy" forum's preparatory meetings, and he accompanied Putin to the Normandy summits (most recently in Paris, on December 9, 2019). Surkov has supervised the "state"-building efforts in the DPR-LPR (their "elections, presidents, parliaments, governments"), personnel selection, mass media and ideological indoctrination there. And his department within the presidential administration (see above) instigated destabilization operations in Ukraine beyond Donetsk-Luhansk.
All those policies have been Putin's policies, on ideas and projects that Surkov generated or helped generate in line with Putin's views, and which Surkov's office went on to implement with Putin's mandate. Surkov is a policy conceptualizer and policy manager in one, but he has not been the policy decision maker, except on tactical decisions in the field.
While pivotal in his own roles, Surkov has not been the single or even the predominant center of influence in Moscow's policy toward Ukraine or in the Donetsk-Luhansk territory. The other centers of power and influence include Russia's Ministry of Defense and the General Staff, commanding and training the DPR-LPR armed forces; the Federal Security Service (FSB), in charge of the "people's republics' " internal security; and the deputy prime minister's office (Dmitry Kozak until January 24—see above) supervising the DPR-LPR's economy, funding their budgets, supplying humanitarian assistance. The authority of Surkov's office covers the local politics of this territory of Ukraine, the international diplomacy concerned with it, and—in rapidly decreasing measure—Moscow's contacts with Kyiv.
Whether Surkov returns to work in the Kremlin or not—and even if Putin would rather avoid an open break with him, as Peskov implies (see above)—Surkov's track record makes him a hindrance to better atmospherics between Moscow and Kyiv. Any dialogue between the Kremlin and Ukraine's Presidential Office must, therefore, bypass and sideline Surkov (see Part Two).