Kremlin Forces Change of Foreign Minister in Uzbekistan After 'Ukraine Comments'
Publication: Eurasia Daily Monitor Volume: 19 Issue: 64
By: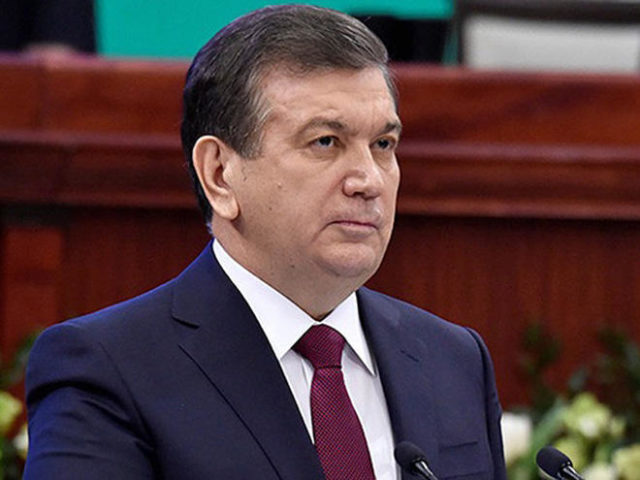 On April 27, Uzbekistan's President Shavkat Mirziyoyev promoted Deputy Foreign Minister Vladimir Norov to the position of first deputy foreign minister and assigned him the responsibilities of the foreign minister of the country. Despite reports of deteriorating health, the outgoing foreign minister, Abdulaziz Kamilov, 74, was not retiring completely. He was instead appointed to the post of deputy secretary of the Security Council of Uzbekistan to handle foreign policy and security issues, leaving him some role to play in shaping the direction and goals of Uzbekistan's foreign affairs (Mfa.uz, April 27).
Kamilov's family members and Uzbekistani officials continue to stress that the former foreign minister's chronic illnesses and advanced age were the main reasons for the sudden deterioration of his health and dismissal. Independent media reports citing insider information claimed that his health problems grew worse after his fateful speech to the Senate (upper chamber of the Uzbekistani legislature) on March 17, in which he addressed the war in Ukraine. "Uzbekistan recognizes the independence, sovereignty and territorial integrity of Ukraine and does not recognize the Donetsk and Luhansk People's Republics," he told the convened lawmakers. In the same statement, Kamilov called on both Russia and Ukraine to immediately cease all military operations and settle all disputes through negotiations (Ozodlik, March 31).
Kamilov's carefully worded statement, which reflected Tashkent's long-held position since the 2014 annexation of Crimea, apparently did not save Uzbekistan from incurring the Kremlin's "strong anger." It is believed that President Mirziyoyev had to sacrifice his top diplomat in order to placate Moscow and to salvage his good relations with Russia's President Vladimir Putin. Officially, Uzbekistan still maintains "a balanced and neutral position" on the Ukraine war (Ozodlik.org, March 31).
As the impending announcement of Kamilov's retirement increasingly seemed certain, local media outlets reported that President Mirziyoyev's office was preparing a decree to merge the Ministry of Foreign Affairs with the Ministry of Investments and Foreign Trade to create a new super-ministry (Kun.uz, April 20).
Deputy Prime Minister Sardor Umurzakov, who has also held the post of minister of investments and foreign trade since March 2020, is expected to take over the newly merged super-ministry for foreign affairs, trade and international investment. The 44-year-old Umurzakov is a rising star and one of the young Western-educated technocrats in President Mirziyoyev's government; he has close personal ties to the head of state and his family (Kun.uz, April 20).
Foreign dignitaries, diplomats and business leaders have had mainly positive things to say about Sardor Umurzakov, crediting him for leading the Uzbekistani government's efforts to simplify business procedures for foreign investors, facilitate foreign trade, and improve the overall business environment in the country. Many have also praised Umurzakov for his open-minded and friendly attitude, believing that he represents the new generation of Uzbekistani political elites who stand in sharp contrast to the Soviet-educated rigid bureaucrats of the old guard, some of whom still hold senior positions in the government (Kun.uz, November 16, 2021).
Despite such support, Umurzakov also has opponents who might resist his takeover of the Ministry of Foreign Affairs. Indeed, the foreign ministry establishment has emerged as the epicenter of critical views and opposition to Umurzakov's appointment as the next top diplomat of Uzbekistan. Media reports cite some anonymous foreign ministry officials who question Umurzakov's foreign policy credentials and believe that during these challenging times—Uzbekistani officials' euphemism for the Russo-Ukrainian war—the country needs a more experienced and, preferably, a career diplomat to steer the country's foreign relations. Moreover, they believe that merging the above two ministries, even as an experiment, is a bad idea (Ozodlik.org, April 22).
If the two ministries are merged under Umurzakov's leadership, it will be tantamount to the Ministry of Investments and Foreign Trade swallowing up the Ministry of Foreign Affairs and leading to the latter's complete overhaul. The two ministries, whose portfolios sometimes overlap, have apparently long regarded each other as rivals. Rumors suggest that they often trade accusations and shift the blame to each other for any failures related to foreign investments.
Perhaps confirming that some kind of high-stakes, inter-elite tussle could be unfolding, several local online media outlets, out of the blue, published negative stories about Umurzakov by implicating his father-in-law and wife, whose names were mentioned in investigations related to the "Pandora Papers" for holding non-transparent offshore accounts. In response to this smear campaign against Umurzakov, the Ministry of Investments and Foreign Trade denied any wrongdoing by its leader (Gazeta.uz, April 17).
Reports of the possible ministry merger are plausible for at least two reasons. First, Vladimir Norov has only been assigned to perform the "responsibilities of the foreign minister" (see above). Second, President Mirziyoyev has repeatedly engaged in experiments with reorganizing various ministries. Moreover, on several occasions in the past, he heavily criticized the Ministry of Foreign Affairs for underperforming on key economic points such as attracting foreign direct investment (FDI), opening new markets for Uzbekistani products, and bringing in international tourists. So he may well be considering a major overhaul of the foreign ministry (President.uz, January 12, 2018).
Before Norov was officially appointed de facto acting foreign minister, Minister Umurzakov was sent to represent Uzbekistan in a number of important diplomatic gatherings. For instance, Umurzakov represented Uzbekistan in the recent Third Meeting of Foreign Ministers of Afghanistan's Neighboring Countries, held in China, on March 30–31 (Mift.uz, March 31). More recently, he took part in the Fifth Central Asia–Russia Foreign Ministerial Meeting, held via video conference, on April 23 (Mift.uz, April 23).
Interestingly, even after Norov took on the responsibilities of the foreign minister from April 27, Russia's top diplomat, Sergei Lavrov, specifically chose to call Sardor Umurzakov, on April 28. The ministers discussed follow-up action on the various agreements reached between the leaders of the two countries during Mirziyoyev's working visit to Russia on November 19, 2021. In addition, Umurzakov and Lavrov discussed various foreign policy issues. This way, Russia might be hinting its preference for Umurzakov (Kun.uz, April 29).
Whoever eventually emerges as the next minister of foreign affairs of Uzbekistan will have the unenviable job of maintaining a delicate balance in relations with Moscow and defending Uzbekistan's officially neutral position on the Russo-Ukrainian war. Any perceptions of the slightest deviation might cost him not only his job, but also, as former minister Kamilov's case demonstrates, take a toll on his health.