Kyiv Raising the Level, Accelerating the Pace of the Minsk Process (Part One)
Publication: Eurasia Daily Monitor Volume: 17 Issue: 88
By: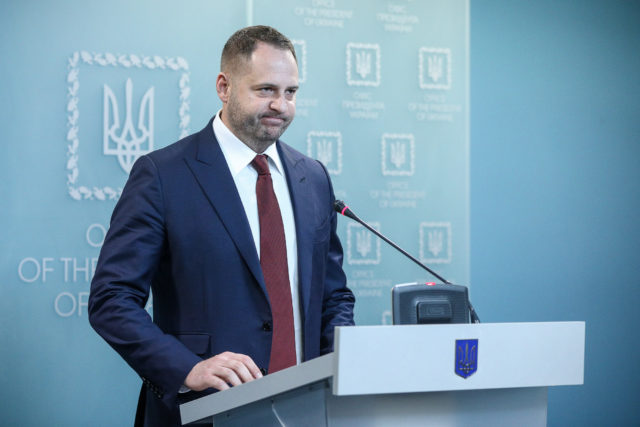 Kyiv is adding Ukrainian citizens from the Russian-occupied territory in Ukraine's east as members of Kyiv's delegation to the Minsk Contact Group (see EDM, June 15, 17). But this is only one aspect of the delegation's thorough overhaul. At the same time, Kyiv has turned its Contact Group delegation from a semi-official one into a fully governmental and parliamentary delegation, under the presidential office's and the government's hands-on management, albeit bringing Ukrainian citizens from Donetsk-Luhansk along as delegation members.
According to Presidential Office chief Andriy Yermak, Kyiv's delegation to the Minsk Contact Group until recently resembled a "charitable activity" ("volonterski"), in the sense that its key figures were no longer active-duty officials, were not mandated to make significant decisions, and (as Yermak implies) had basically volunteered their services (Levyy Bereg, June 17).
Indeed, the delegation's key figures in 2015–2019 were private personalities retired from public service (e.g., former president Leonid Kuchma, Yevhen Marchuk, Roman Bessmertnyy). Although the key members were high-level state appointees, the delegation on the whole had a semi-official character, reflecting the Minsk Contact Group's own ambiguities. Any concessions extorted by Russia from a Ukrainian delegation with semi-official status would not become legally binding on Ukraine. This arrangement also avoided situations in which Kyiv government officials would have found themselves face to face with the envoys of the unrecognized "people's republics." Being represented in the Contact Group by semi-official figures, formerly high-level but meanwhile retired, was the cautious approach for Kyiv to take at that time. It was a necessary part of Kyiv's defensive diplomacy during Petro Poroshenko's presidency, whose ultimate success has made it possible for Volodymyr Zelenskyy's administration to introduce an ambitious, proactive approach.
Zelenskyy and Yermak are in a hurry to "end the war" through a final political settlement by certain deadlines, which seem at any given moment to be measured in months or, at a maximum, one year hence, and keep frustratingly receding. Overhauling the Contact Group by raising its official status and decision-making capacity might promise to stop the peace horizon from receding.
Kyiv's delegation to the Contact Group operates since May 6 on a fully official, senior-level status, comprised of governmental and parliamentary representatives, with Yermak overseeing it from the Presidential Office.
President Zelenskyy has appointed Oleksiy Reznikov to the triple-hatted role of deputy prime minister (a newly created post for inter-departmental coordination), minister for reintegration of the occupied territories, and first deputy chief of Kyiv's delegation to the Contact Group (the titular chief of delegation, former president Kuchma, has announced his intention to resign) (Ukrinform, May 6).
Zelenskyy has seconded the Ukrainian parliament's legal affairs committee chair, Andrei Kostin, as Kyiv's chief delegate to the Minsk Contact Group's political working group (on "elections" and "special status"); Deputy Defense Minister Oleksandr Polishchuk as chief delegate to the Minsk security working group (mainly on military affairs); Deputy Economy Minister Yulia Svyridenko as chief delegate to the socio-economic working group (on the territories' reintegration); and the parliament's social policy and veterans' affairs committee chair, Galyna Tretiakova, as chief delegate to the humanitarian working group (this deals, inter alia, with prisoner exchanges, which Zelenskyy treats as a ratings-bolstering issue).
Under the Minsk process, the Contact Group should draft legislative proposals—by agreement between Kyiv and Donetsk-Luhansk—for the Ukrainian parliament to adopt as Ukrainian laws. This mechanism was designed to insert Donetsk-Luhansk deeply into Ukraine's legislative and constitutional processes. Thus, the Minsk political working group is supposed to produce, inter alia, a special Ukrainian law on "elections" in Donetsk-Luhansk and a constitutional law of Ukraine on the "special status" of Donetsk-Luhansk, as spelled out in the Minsk "agreements."
According to Oleksandr Merezhko, the chair of the Ukrainian parliament's foreign policy committee and deputy chief of the delegation to the Minsk Contact Group, more members of the Ukrainian parliament should be involved in the Contact Group's work. Their involvement in working out legislative proposals could facilitate their subsequent acceptance by the Ukrainian parliament (Levyy Bereg, May 29, June 9).
Kyiv hopes against hope to discuss such enactments ("elections," "special status") with loyal Ukrainian citizens from Donetsk-Luhansk (see EDM, June 15, 17; see above) rather than negotiate them with the two illegitimate "republics." But on the other hand, the Zelenskyy administration is in a hurry to achieve "peace" through a political settlement by self-assumed deadlines.
That would require Moscow's involvement in ways that would overrule its own proxies. And this is probably why Yermak and some other Kyiv officials are urging Moscow to beef up Russia's delegation to the Minsk Contact Group, appointing Russian governmental and parliamentary officials equivalent in rank to the Ukrainian delegation. This could clear the way for negotiation above the heads of Donetsk and Luhansk. It would also thereby negate Russia's own logic that shaped the Minsk process from 2014 onward. According to Merezhko again, a heavier Russian presence—e.g., adding Russian parliamentarians to the Contact Group—would increase the latter's authority and its sense of responsibility for decisions to be made, boost confidence in and respect for the Minsk process and its goals on all sides, and, ultimately, facilitate Ukraine's adoption of those laws that must be enacted (Levyy Bereg, May 29, June 9).