Kyrgyzstan and Tajikistan Forced Into Customs Union
Publication: Eurasia Daily Monitor Volume: 8 Issue: 196
By: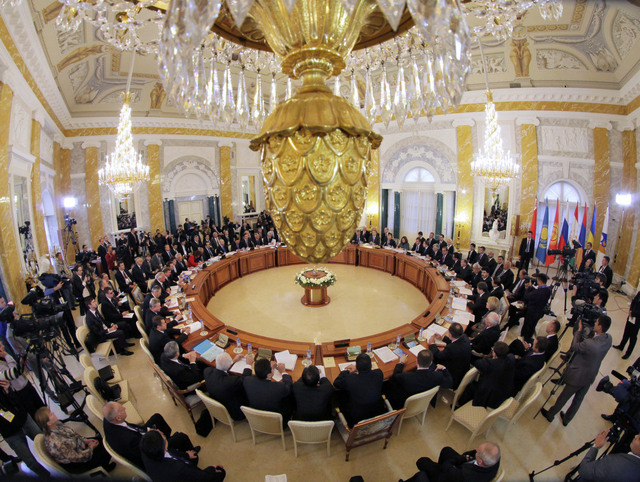 On October 19, members of the Eurasian Economic Community (EurAsEC) announced in St. Petersburg that both Kyrgyzstan and Tajikistan are eligible to join the Russia-Belarus-Kazakhstan Customs Union (www.24.kg, October 19).
Although the Customs Union positions itself as an economic alignment, it has long acquired political significance. The Customs Union's main architect, Russian Prime Minister Vladimir Putin, has used the grouping as a policy instrument in both the regional and international arenas. According to Putin, the Customs Union provides a basis for further political and economic integration among former Soviet states (see EDM, October 6). What the Russian leader does not mention is that countries are pressured to support his initiative in order to continue receiving the Kremlin's political support but despite this the Customs Union might potentially suppress local economic growth.
The main reason that Kyrgyzstan and Tajikistan have shown interest in joining the Customs Union is that Russia is the principle destination for their countries' labor migrants. An estimated one million migrants from each of these countries currently live in Russia as labor migrants. Their collective remittances comprise almost half of those countries' annual GDPs. Furthermore, Kyrgyzstan depends on Russian gas exports to run their factories and heat their homes. The Russian energy giant Gazprom enjoys a near monopoly in the country supplying up to 90 percent of its fuel.
During the meeting in St. Petersburg, Kyrgyzstan's acting Prime Minister Omurbek Babanov said that Kyrgyzstan supports the idea of a unified customs system but needs time to prepare for full membership. Yet he warned that if Bishkek joins too soon, thousands of traders from major bazaars in Kyrgyzstan will lose their competitive edge. Babanov assured EurAsEC that Kyrgyzstan will form a special commission to examine the country's potential membership. Contradicting Prime Minister Almazbek Atambayev's earlier statement, Kyrgyzstan will not join the Customs Union in early 2012. Tajikistan, in turn, has been cautious about making any statements regarding the union (www.24.kg, October 19).
Kyrgyzstan can already feel the impact of the Customs Union's work. It takes anything between two to eight hours to cross the Kyrgyz-Kazakh border. Before the Customs Union began functioning last summer, it took two hours at the most to cross the border. Travelers and cargo are scrutinized at the Kazakh border and more labor migrants are prevented from crossing the frontier. Corruption and ill-treatment among customs control personnel also flourishes.
Kyrgyz experts are divided on the potential benefits of Customs Union membership. On the one hand it will help Kyrgyz labor migrants move more freely within the union. On the other, as Babanov has indicated, traders within Kyrgyzstan might be unable to compete with Kazakhstan and Russia. Moreover, most experts agree that Customs Union membership holds an important political significance for Kyrgyzstan (www.24.kg, October 19). If Atambayev, who has temporarily stepped down from his post to run for the presidency, wins the election on October 30, Babanov will likely replace him as head of the government. If Babanov continues to insist that Kyrgyzstan needs time before joining the union, he and Atambayev will be able to lead a balanced policy toward Russia. Kyrgyzstan's full membership in the Customs Union might take months to achieve.
Meanwhile, Tajikistan has been pursuing membership of the World Trade Organization. Although Tajikistan faces a somewhat similar situation to Kyrgyzstan, the Kremlin has been exerting more pressure on Bishkek than on Dushanbe. Partly this is due to Kyrgyzstan's stronger trade ties with China and hosting the US Transit Center on its territory. Putin conditions Tajikistan's membership to Kyrgyzstan's willingness to enter the union. He claims that because Tajikistan does not have borders with the current Customs Union, it is "up to Kyrgyzstan to take the first step" (www.rosbalt.ru, October 19).
Apart from Kyrgyzstan and Tajikistan, Moldova and Ukraine have sought to loosen the customs regime with Russia. Uzbekistan and Turkmenistan are expected to announce by the end of 2011 whether they are interested in the Customs Union.
Joining the Customs Union offers economic benefits, Putin argues. He adds that post-Soviet countries should "sit down, think, analyze, get rid of political phobias of the past and look at the future." The Russian leader did not say that should some of them choose not to join they would encounter difficulties collaborating with the countries already within the Customs Union.