Russia Claims Settlement of Energy Pricing Disputes With China
Publication: Eurasia Daily Monitor Volume: 8 Issue: 197
By: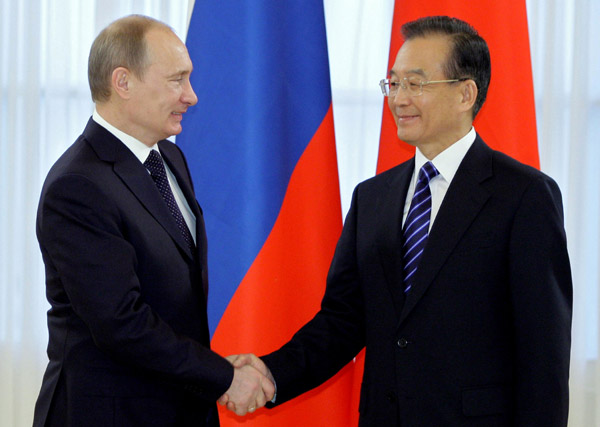 Moscow claims to have resolved energy-related pricing disagreements with Beijing and has promised to increase bilateral trade. The official visit by Russian Prime Minister Vladimir Putin to China on October 10-11 was designed to give bilateral economic and energy ties yet another boost. For that purpose, Putin held talks with his Chinese counterpart Wen Jiabao and President Hu Jintao.
During the visit, Putin pledged to raise the bilateral trade turnover up to $70 billion in 2011. He also suggested increasing bilateral trade to $100 billion in 2015 and $200 billion by 2020 (Interfax, ITAR-TASS, October 10). Putin's ambitious commercial plans were not a new development. During talks with his Chinese counterpart Hu Jintao in Moscow on June 16, Russian President Dmitry Medvedev already made exactly the same promises.
Russian officials have been prioritizing increased trade with China. In January 2006, then Russian President Putin announced plans to raise bilateral trade up to $60-80 billion annually by 2010. In 2007, Russia's trade with China reached $48.16 billion and $56.8 billion in 2008, but in 2009 this dropped to $38.8 billion. In 2010, Russia's trade with China amounted to nearly $60 billion or some 50 percent up year-on-year, according to the Russian and Chinese statistics.
Ahead of the visit, the official government mouthpiece Rossiyskaya Gazeta voiced expectations that both sides intended to signs 17 agreements. The daily also noted that it was Putin's first foreign trip following his announcement of yet another presidential bid (Rossiyskaya Gazeta, October 10). But during Putin's trip to China on October 10-11, only some minor agreements were actually signed. These deals included a MOU on bilateral cooperation in economic modernization, on exchanges between agriculture ministries and on veterinary control. Russia's petrochemical company Sibur reached an agreement with China's Sinopec to form two joint ventures to produce synthetic rubber.
Kommersant business daily commented that the bilateral pledges to join forces in modernization efforts lack substance as raw material supplies still amounted to more than 70 percent of Russian exports to China (Kommersant, October 10). Meanwhile, Russian officials also argued they were about to solve pricing disagreements. On October 10, Putin said that bilateral talks on the terms of Russian gas supplies to China "were nearing completion." Deputy Prime Minister Igor Sechin also stated that both sides achieved progress in negotiations on gas prices. When asked whether the gas contract could be signed by the end of 2011, Sechin said there was no rush, adding that both sides agreed to finalize a "roadmap" in two weeks (Interfax, ITAR-TASS, October 10). Sechin's remarks showed that both sides were yet to conclude any binding agreement on gas supplies.
Gazprom's project to build the Altai gas pipeline to China has been stalled for years as both sides struggled to agree on gas prices. Five years ago Moscow first promised to export Russian gas to China via a 6,700-kilometer Altai pipeline. In March 2006, Gazprom and CNPC signed a memorandum on the delivery of Russian natural gas to China from 2011. Gazprom first offered to supply gas at European prices, while CNPC insisted on lower prices.
In October 2009, Gazprom and CNPC signed a framework agreement on gas supplies, including construction of a gas pipeline. Gazprom and CNPC agreed that gas prices would be connected with the "Asian oil basket." Russian officials had previously expected a final agreement on gas prices to be concluded in June 2009, and gas supplies to start in 2014-2015.
The oil pricing dispute was also reported to be settled. On October 10, China's Wen Jiabao said both sides managed to settle differences on oil prices. Deputy Prime Minister Sechin said the pricing dispute would be finalized "at the corporate level" and outstanding amounts would be paid (Interfax, ITAR-TASS, October 10). However, Sechin's remarks indicated that the reported dispute resolution was yet to be cemented by any formal agreement.
Russia started crude oil supplies to China via the East Siberia Pacific Pipeline (ESPO) from January 1, 2011. According to the agreement concluded in 2009, Rosneft and Transneft pledged to supply 15 million tons of oil to China for 20 years in exchange for Chinese loans totaling $25 billion. Earlier this year, China's CNPC tried to cut the price of oil supplied from Russia, arguing that Rosneft inflated price of crude supplied via the ESPO pipeline. For example, in February the Russian companies requested payment of $370 million for oil supplies but the Chinese paid some $345 million, arguing that Transneft should not have charged for supplying oil between Skovorodino and Kozmino. Hence CNPC unilaterally cut payments to Rosneft, thus accruing what the Russian executives described as debts of some $250 million.
In May, Russian newswires quoted energy ministry sources as claiming that Gazprom and Transneft mulled a law suit against CNPC unless the Chinese company cleared its debts. In early August, Transneft indicated plans for the early repayment of Chinese loans. Although Gazprom and Transneft apparently dropped these confrontational plans, any formal price agreement with CNPC is yet to be announced.
Therefore, Moscow's endless attempts to make China pay more for oil and gas supplies remain an irritant in bilateral commerce that adversely affect Russian attempts to increase trade with China.