Kyrgyzstan Leverages Geo-Economics and Geopolitics to Expand Its Economy
Publication: Eurasia Daily Monitor Volume: 10 Issue: 20
By: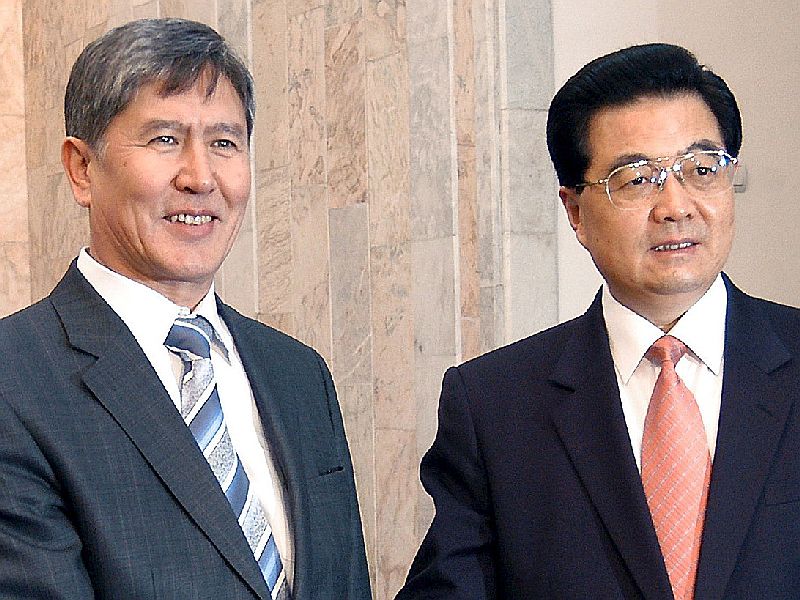 "Money loves quiet," Kyrgyzstan's President Almaz Atambayev once stated, stressing the need for a better investment climate amid occasional instability plaguing the aspiring democracy, which boasts Central Asia's first parliamentary system of government (www.members.vb.kg, February 18, 2011).
Atambayev, who gained a six-year term in 2011 in Kyrgyzstan's first peaceful transfer of power, hopes that the five-year economic development strategy, adopted on January 17, will reassure investors, bring prosperity, and enhance stability for the country that has seen two government overthrows in the last eight years and experienced destabilizing clashes between two ethnic groups in 2010.
As part of the strategy, the government has proposed a host of reforms and intends to spend $13 billion to double GDP in five years, drawing on aid and investment to fund projects in agriculture, mining, transport, power and other sectors. Doubling the GDP will require an annual growth rate of at least seven percent. Kyrgyzstan's GDP growth is projected at 8.5 percent in 2013, up to 7.5 percent in 2014, and up to 3.5 percent in 2015; inflation is projected to reach 6–8 percent in 2013 (www.analitika.akipress.org, January 16; www.tazabek.kg, January 14, 17).
Besides economic reforms, the government notably seeks to harness the region's geo-economic and geopolitical trends while particularly relying on Russia, China and Kazakhstan to secure financial resources in order to expand and integrate its economy into global markets. However, authorities face a difficult task due to the shaky domestic and regional political, economic, and security situation—especially considering the potential for regional instability after the pull-out of coalition forces from Afghanistan.
In 2012, protests by opposition groups calling on the Canadian-led Centerra Gold mining venture in Kyrgyzstan to comply with environmental standards and tax liabilities led the company to halt its operations. The loss of production by the company, in which Bishkek owns a third of the shares, led to a 1–3-percent decrease in the country's economic growth rate. The company's production amounted to 12 percent of the Kyrgyz Republic's GDP in 2011. A separate opposition protest in 2012 forced authorities to cancel or suspend the sale of mining licenses at a televised auction (www.24kg.org, January 18).
The government has since sought to persuade critics about the need to open up the country to more foreign investment in order to generate resources for the development strategy. Bishkek considers Moscow a significant partner in this effort. Russia is home to hundreds of thousands of Kyrgyzstani migrants who contributed remittances worth about 29 percent of Kyrgyzstan's GDP in 2011, making this Central Asian republic the world's third largest recipient of remittances after Tajikistan and Liberia (www.24kg.org, November 21, 2012).
In 2012, Bishkek secured a substantial military and economic aid package from Moscow, which is prepared to fund the construction of the Kamabarata-1 hydro-power station, opposed by downstream Uzbekistan, and to purchase Kyrgyzstan's crumbling gas distribution network (see EDM, November 14, 2012; December 7, 2012).
Development of the power industry is intended to boost employment in remote areas and electricity exports to Central and South Asia. However, the construction of power stations is seen as controversial given energy trade and water sharing disputes between downstream and upstream countries, which also suffer from border conflicts as the January 5 border incident in the Uzbekistani enclave of Sokh in Kyrgyzstan has shown (see EDM, January 9, 30).
Recent media reports suggest that Moscow's aid is tied to Bishkek's decision not to extend the lease for the US military base at Manas airport, which is part of the Northern Distribution Network for transporting supplies to Afghanistan. During a meeting with US Assistant Secretary for Central and South Asia Robert Blake on January 16, Atambayev reiterated that "No military component should be left at the airport" (www.en.rian.ru, January 17). Instead, Bishkek will develop the airport as a regional civilian air hub—an initiative that Moscow said it would help accomplish. Moscow operates its own military base at Kant outside the capital as part of the Russian-led Collective Security Treaty Organization (CSTO), which Kyrgyzstan recently agreed to host for another 15 years, in part because of instability in Afghanistan.
Kyrgyzstan also looks to neighboring China, the world's second largest economy, to support its development strategy in a number of areas. It intends to partner with Beijing to expand its transport infrastructure and develop manufacturing and logistics centers at what are Central Asia's largest trade markets at Dordoi and Kara-Suu in the country's north and south (24kg, January 13). The focus on the markets is noteworthy given China's expanding trade into Russia and Europe via these markets and Moscow's attempts to enlist Kyrgyzstan and Tajikistan into the Customs Union comprising Russia, Kazakhstan and Belarus. The annual trade between Kyrgyzstan and China is about $5 billion, though it is unclear if inclusion into the Customs Union would undermine Kyrgyzstan's trade with the "Middle Kingdom," which is so keen on developing the "New Silk Road" routes across Central Asia.
Bishkek further leans on Beijing to build an anticipated railway line connecting China and Uzbekistan via Kyrgyzstan, a planned refinery in the country's north, a proposed Kazakhstan-Kyrgyzstan-China oil pipeline, and a projected gas pipeline from Turkmenistan through the southern part of Kyrgyzstan (Azer News, December 4, 2012; Central Asia Online, April 27, 2012). According to the development plan, this should enable the country to bridge its geographic and economic divides despite mountainous terrain and evolve as a critical transit route for expanding trade and energy flows across entire regions.
Kazakhstan is emerging as an important source of investment for Kyrgyzstan as well. Kazakhstan has already invested about $1 billion in the country's banking, construction and energy sectors. It has also set up a joint $135 million investment fund with Kyrgyzstan enabling the construction of the Datka Kemin power transmission line to export electricity from Kyrgyzstan to Kazakhstan (see EDM, January 25).
The reliance on geopolitical and geo-economic trends as well as outside powers is an important component of Kyrgyzstan's development strategy. However, the government needs to first implement its proposed reforms and improve the country's business climate in order to maintain a steady inflow of investment and aid. It also needs to work with neighbors to address, in earnest, the region's potentially destabilizing border disputes, energy trade, and water-sharing issues. Finally, it needs to ensure—in cooperation with its partners—that the region's security is not jeopardized upon the exit of coalition forces from Afghanistan.