Language Is National Security in Belarus
Publication: Eurasia Daily Monitor Volume: 11 Issue: 193
By: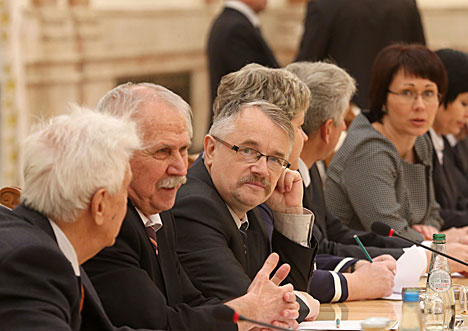 On October 23, President Alyaksandr Lukashenka met with a group of Belarusian writers. In any country surrounding Belarus, a meeting like this would probably not be similarly newsworthy. The country has two writers' unions and a PEN-Center. Only one of these entities, called the Union of Writers of Belarus is loyal to the government and uses its funding. The other, called the Union of Belarusian Writers (UBW), is one of the mouthpieces of the opposition, as is the Belarusian PEN-Center. The members of the two latter institutions write exclusively in Belarusian and have never participated in meetings with the head of state. They routinely complain that the publication of material written in the Belarusian language is sidelined and that the government does not do anything to raise the stature of the national language. Indeed, in Belarus where two languages, Belarusian and Russian, enjoy official status, Russian is used almost universally, whereas Belarusian is the first language of communication within a certain part of the opposition. Speaking Belarusian in public is a rarity in the city of Minsk where, in 2013, only 1.6 percent of all secondary school students were enrolled in classes with Belarusian as the language of instruction (tut.by, August 22), and no single institution of higher learning uses Belarusian across the board.
It seems, however, that the wind is changing direction. The peculiarity of the October writers' meeting with President Lukashenka is that the members of all three writers' organizations were invited, and the sorry state of affairs in regard to Belarusian was openly discussed. For example, according to Barys Piatrovich, Chairman of the UBW, only 5 percent of Belarus's population prefers Belarusian-language books whereas, just three years ago, in 2011, 14 percent did (Belorusskie Novosti, October 23). At the meeting, Lukashenka pronounced some paragraphs of his speech in Belarusian—in fact, he claimed that for him to switch completely and effortlessly to Belarusian it would be enough to communicate with a Belarusian speaker for just two hours (tut.by, October 23).
Ironically, the same day that Lukashenka expressed his friendly feelings to both the Belarusian language and Belarusian-language authors, a book presentation by one of them, Viktar Martsinovich, at a Greek Catholic parish in Grodno was broken up by police (tut.by, October 23). Incidentally, the book's title is Mova (Language). Subsequently, however, an official in the Grodno City Hall informed Radio Liberty that the authorities have nothing against Martsinovich or his book but only objected to a public gathering being held in a building that has not yet been commissioned. The same official, however, acknowledged that police displayed excessive zealotry (tut.by, October 24). The handling of the event in Grodno resembled Soviet-era friction whereby provincial authorities need special instructions from the capital city to start treating actual or potential dissent less zealously than before; but such orders are usually delayed or are issued only after some sort of an embarrassing accident.
Artiom Shraibman, a political analyst at Belarus's major non-government news portal Tut.by, believes that Lukashenka's and his entourage's current attention to the Belarusian language is opportunistic; but it, nonetheless, has to be taken advantage of. It would be a grave mistake to shrug it off. One has to understand that the system of power in Belarus is strong and nobody inside the country can overturn it, Shraibman argues. Yet, for the first time in 20 years, motivated by self-interest, the powers that be are ready to do something that their opponents have long advocated. So it is important not to frighten away this mood but lobby the authorities to open new Belarusian-language schools, name streets after Vasil Bykau and Rygor Borodulin (major Belarusian prose writer and poet, respectively), and erect new monuments to Belarusian princes and activists. This should be the minimum program for all those concerned about strengthening Belarus's independence, believes Shraibman (tut.by, October 24). As for the reason behind Lukashenka's attention to the preservation of the Belarusian language, Shraibman points to the lessons learned in Ukraine this past year. Namely, a preponderance of Russian speakers turned out to be heaviest in those regions of Ukraine where Ukrainian identity has been relatively weak. In this regard, all of Belarus is vulnerable, he concludes.
Incidentally, one recent attempt to conduct a free Belarusian-language course for those willing to master the language has failed because of political disagreements. Its organizer, Yekaterina Kibalchich, who was born in Minsk and graduated from the Belarusian State University, has, since 2003, been affiliated with Channel One of Moscow TV. She spent her own money to run the language course on the premises of Tut.by in Minsk, and some opposition-minded Belarusians worked as course instructors. When, however, it became clear that Kibalchich did some TV reporting in support of separatism in eastern Ukraine, the language instructors left in protest. Writing in Belarusian, the philosopher Piotra Piatrovsky suggests that language and politics should not mix; dedication to one's native language should unite people of different political orientations, and only egotism stands in the way of unity (Belorusskie Novosti, October 16). Indeed, in the words of Yury Zisser, the founder and owner of Tut.by, "language is national security" (Svaboda, October 23).
Some, like the editor of the major Belarusian-language newspaper Nasha Niva, Andrei Dynko, opine that Lukashenka's attempt at preserving and reviving Belarusian is too little, too late (Belorusskie Novosti, October 23). Whether or not this is true, it is unlikely that concern over Belarusian sovereignty is being blown out of proportion. In 2016, for example, as TASS reported earlier this month, a new Russian military airbase will appear in Bobruisk (Belorusskie Novosti, October 15); and just days ago, Prime Minister Dmitry Medvedev of Russia warned about the consequences of Belarus's resistance to five major privatization agreements that would hand over major Belarusian businesses to Russian tycoons (tut.by, October 21).
To what extent the Belarusian authorities' newly revived interest in the national language will strengthen Belarusian identity remains to be seen. But any movement in this direction is arguably a welcome development for those concerned with the country's safeguarding of its sovereignty.